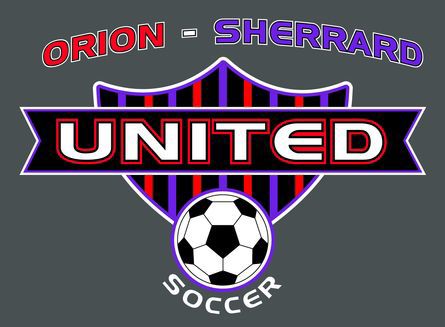 PORT BYRON — After a four-loss showing at the Oregon Tournament in late August, the Orion-Sherrard boys' soccer team was at a low ebb.
Nearly a month later, O-S United is now riding a wave that it hopes is a long way from cresting.
Taking on a much-improved Riverdale club here late Saturday morning, Orion-Sherrard did all of its damage in the first half and cruised to the finish as it topped the Rams 4-0 for its sixth straight victory.
With Riverdale having shut out Kewanee 2-0 this past Wednesday, O-S United coach Rick Cline was figuring on nothing coming easy for his 8-5 squad.
"We talked about respecting every opponent, and taking nothing for granted," Cline stated. "Riverdale had beaten Kewanee 2-0, and we'd beaten Kewanee by a single goal (2-1 on Sept. 7, which started O-S's current winning streak).
"We've got big respect for our friends from Riverdale, and they brought it today."
Junior center-midfielder Cole Kimball tallied three goals for his second consecutive game and also added an assist for O-S United.
"Winning really helps with positive feedback and boosting morale," said Kimball, who also scored three times in an 8-0 win over Canton this past Wednesday.
"Right now, I definitely feel more of a connection between myself and my teammates. The chemistry is at where we need it to be, and I feel like with every win, we keep improving and making strides."
That connection clicked just over a minute into Saturday's game when Kimball scored off a Trey Erdmann assist. Twelve minutes later, he beat Riverdale goalkeeper Patrick Gannon to put O-S up 2-0.
"In any game, the first few minutes of the first quarter or the first half are the most important," Kimball said. "You want to get that first strike, that sets the pace and the tempo."
Kimball wasn't done, picking up his third goal with 12 minutes left in the first half off a helper from Peyton Maynard.
That proved to be more than enough for O-S United keepers Cody Dutton and Bob Johnson, who combined for three saves and their club's second consecutive shutout.
"We were missing three starters today," said Riverdale coach Gerald King, "but credit Orion-Sherrard, they played good."
At the close of last month, that definitely was not the case as far as Cline was concerned.
"At Oregon, we drastically underperformed," he said. "There've been times where I've had to continue to bark at the boys a bit because of the greatness and the potential I see in this team."
With three goals in his pocket, Kimball helped teammate Alyus Johnson into the scoring column for O-S United's fourth goal, coming with a minute left before halftime.
The second half saw the Rams (2-5-3) dig in and deliver a stronger defensive effort, but by then the damage was done.
"It was a good game, but if we had played the first half like we did the second, it would've been a much better game," said King, whose team was outshot 13-3, with Gannon notching five saves.