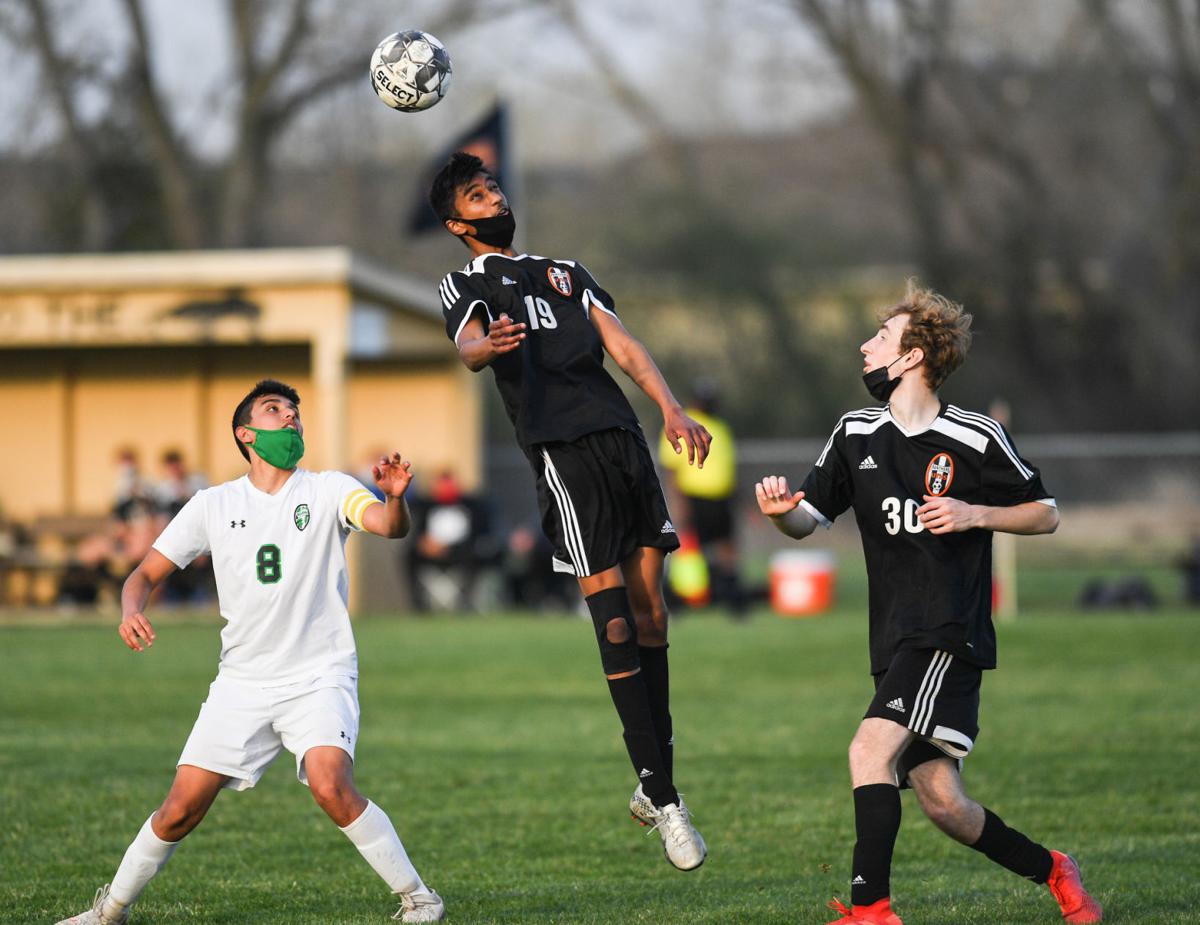 SILVIS — Through seven games, the United Township High School boys' soccer team had constantly knocked at the door in regards to getting into the win column, but each time there had been no answer.
The door finally opened for the Panthers on a breezy Wednesday against Western Big 6 Conference rival Alleman, and it opened wide.
Scoring its first goal just over a minute into Wednesday's match, United Township scored three times in the first seven minutes and kept on rolling to a 7-0 victory over the Pioneers at the Panther Pitch.
"Finally," UT coach Phil Weaver said of the long-awaited first win for his 1-6-1 club (1-4 Big 6). "We'd been in a winning position before, but we'd have a combination of making silly errors and losing players at key times in games. In our previous games, our errors cost us a lot.
"We discussed tightening up the discipline on the field, and we did a lot better tonight."
The tone for the game was set just 1:18 in, when a shot by UT junior midfielder Chris Wells hit the crossbar and dropped behind Alleman goalkeeper Ben Raymond (nine saves) and went over the line to get the Panthers on the scoreboard.
"I got a good ball from my teammate (Abdelakim Bao-Traore), and I knew it was in as soon as I kicked it," said Wells, who also tallied a pair of first-half assists.
Just over five minutes after Wells' goal, senior forward Cameron Winters connected on a direct kick to put the hosts up 2-0. Just 22 seconds after that tally, Wells returned the favor by setting up Bao-Traore for a 3-0 UT lead.
Before the first half was over, senior midfielder Michel Kossivi Agbade scored off a Wells feed with 7:59 on the clock to cap the Panthers' four-goal first half. He then scored his second goal 30 seconds into the second half for a 5-0 UT lead.
"I'm very pleased," said Agbade. "We've been doing our best to win, so this feels good."
Goals by Bayan Albani and Masrour Gani capped the scoring as UT applied relentless pressure on the Pioneers (3-5, 0-5 Big 6), outshooting them 21-5.
"We know Alleman's light in terms of numbers, and obviously we were able to capitalize on it," said Weaver. "Still, you've got to play who's in front of you."
While United Township got in the win column, Alleman remained frustrated in its bid for its first conference victory. The Pioneers' wins have come against Abingdon-Avon, Orion-Sherrard and Riverdale.
"I thought we had some good possessions, but we've been starting slow," said Alleman coach Carey Sodawasser. "We were just slow getting the ball off our feet and causing turnovers. We did it to ourselves in both halves; we started slow in both halves.
"Give UT credit for putting away the opportunities they had, but we counted five of their goals coming solely off our mistakes."
Rock Island 3, Sterling 0: The Rock Island Rocks were not hospitable guests Wednesday, topping Sterling 3-0 at Prescott Memorial Pitch to beat the Golden Warriors, who were celebrating senior day.
Rained out: Two other Western Big 6 matches scheduled for Wednesday were rained out. Quincy was scheduled to play at Geneseo and Moline was set to travel across I-74 to face Galesburg, but both were victims of the day's wet weather and forecast that called for evening storms. Quincy and Geneseo are scheduled to play Thursday in Geneseo and the Moline-Galesburg match was rescheduled for next Thursday.