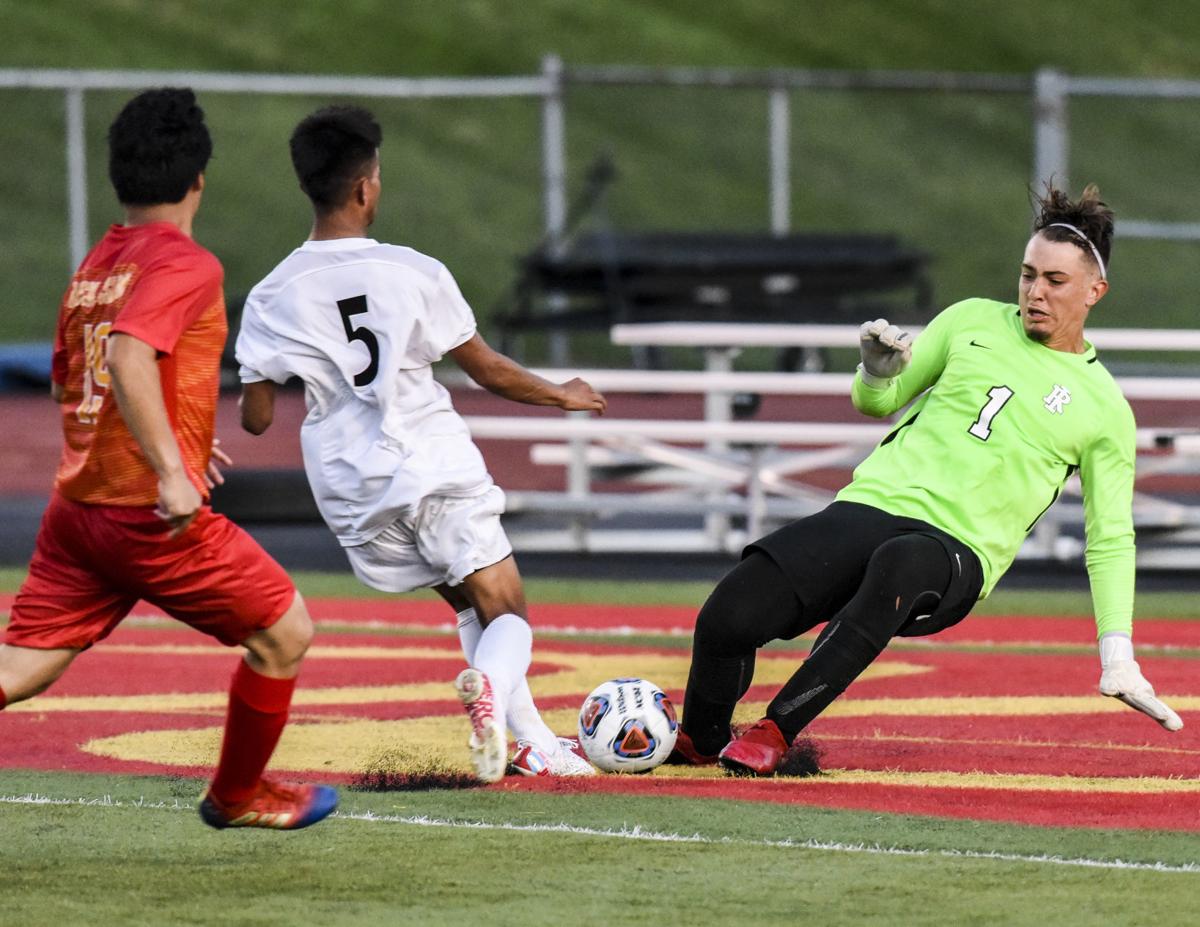 Rock Island keeper Ben Samuelson showed his leg can be as valuable as his saves in Tuesday night's 3-0 Western Big Six boys soccer victory over United Township.
Samuelson's free kick goal from just past midfield put the Rocks (6-1-1, 3-0 Big Six) on the board first in the win over UT (4-4, 0-2-1) in RI's home opener.
Samuelson, a senior, said he's scored a long-range bouncing goal in club soccer, but Tuesday's line drive missile right into the upper back of the net was his first in high school.
"Scoring a goal like that is almost a 1 in 100 chance in happening," Samuelson said. "But to have that 1 in 100 chance go my way feels like I'm on top of the world. I kept saying to the ball boy behind me, I'm higher than a kite right now when I score. It felt as if I was the No. 1 person in the world."
He also scored two weeks ago playing offense late in an 8-1 win over Alleman. He had a trio of saves in Tuesday's shutout, with Michael Manchuca closing out things in net.
Nsiyengiyumva Landry cleaned up a deflection and scored in the 45th minute and Jordan Rice fired a strike in the 51st minute to put the Rocks up three.
Rocky coach Rudy Almanza said Samuelson, who takes free kick duties beyond midfield, said they've been working on those strikes in practice. Samuelson struck Tuesday's chance just right on the Almquist Field turf.
You have free articles remaining.
"I knew eventually one would go in, it just happened to be today. It was an excellent shot, a rocket," Almanza said. "That was a perfect strike, hands down."
The Rocks outshot UT 11-4 on goal.
Panthers coach Phil Weaver said his team rebounded after the Quincy loss with a 4-1 win over Dunlap at home last Thursday, but Tuesday night did not show the consistency he was after.
"We couldn't deal with the long ball all game," Weaver said. "They've got powerful guys up front that were winning headers and knockdowns and forcing corners, and I don't think we won a header in the backfield all game."
Almanza said his team continues to improve, and the work on crashing the net also paid off on Landry's goal.
"Everyday at practice there's something we add or implement just to challenge them," he said. "Overall chemistry; they're believing in each other quite a bit."
Sameulson said finishing the ball is still an area for improvement on the team, but having multiple players capable of scoring is a good thing.
"Winning this game is just like another day at the office," Samuelson said, "but as long as we continue to have these good days and come out and play our style of soccer, we can come out with a dub any day."