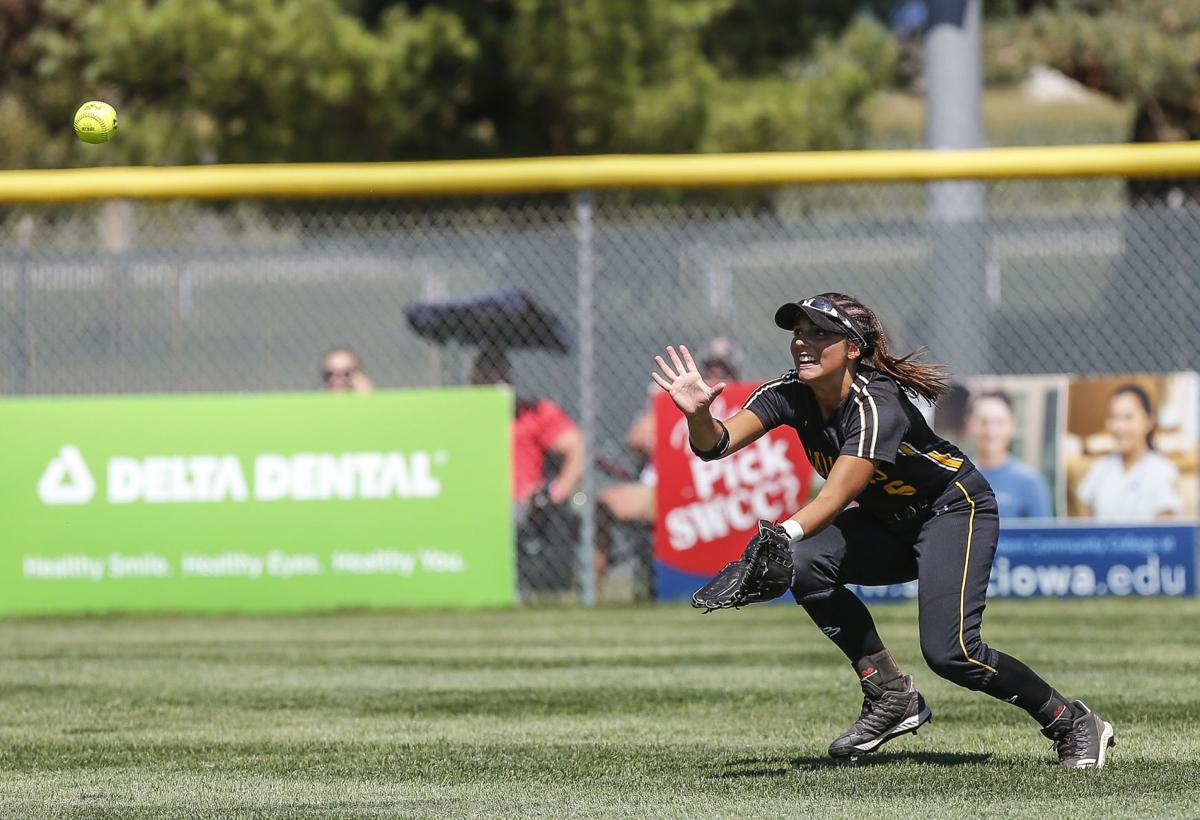 FORT DODGE, Iowa — Sophia Del Vecchio tried about every pitch in her arsenal to get Jalen Adams out in the third inning Monday. The Fort Dodge standout fouled off seven pitches with two strikes.
"It was quite a battle," Del Vecchio said. "It was whoever could last longer."
On the 11th pitch of the at-bat, the sophomore deposited a changeup over the fence in center field and top-ranked Fort Dodge never looked back in collecting a 7-0 win over 13th-ranked Bettendorf in a Class 5A state quarterfinal at the Rogers Sports Complex.
"We threw her four different pitches in that at-bat," Bettendorf coach Bob Matthys said.
"I just stay relaxed and was looking for that changeup," Adams said. "I knew she was going to throw it at some point. I could feel it off my bat that it was gone."
Adams thrived in the circle, too. The right-hander tossed a two-hitter and struck out eight to send Fort Dodge (27-3) into the semifinals for the first time since 2006.
Bettendorf, coming off a road win at seventh-ranked Johnston, never could get comfortable against Adams. Her riseball gave the Bulldogs fits as she retired the first 12 hitters of the game.
"Her riseball was really good," Del Vecchio said. "We thought we were going to be able to see it off the hip, but it was a really good pitch. We could have been a little more disciplined at the plate today."
Emily Rigdon and No. 9 hitter Olivia Anderson had the only hits for the Bulldogs, who came into the game as the second-best hitting team in 5A at .406. It marked just the second time in 26 games this season Bettendorf was held scoreless.
"We didn't execute our game plan as much as we wanted to," Matthys said. "We preached staying off the riseball. When you get up here and the stage is the way it is, it is tough. We were probably pressing a little bit."
Conversely, Bettendorf (19-7) allowed eight walks in the game. Five of those came around to score, including a one-out walk in the third before Adams' blast.
"It is a smaller strike zone here," Rigdon said. "We were ready for that, but obviously things didn't go our way. We weren't hitting our spots like we normally do. Pitching was a little bit of a struggle."
Fort Dodge added two runs in the fourth on a two-run single from No. 8 hitter Chloe Wertz. The Dodgers blew open the game with a three-run fifth, including a two-run double from Haley Wills.
Bettendorf was making its first state appearance in five years. It graduates five players who were in the starting lineup Monday — Maggie Erpelding, Breanna Newton, Alexis Mulvehill, Madison Temple and Sarah Rogers.
"I couldn't be more proud of the girls. We had a wonderful season," Matthys said.
The Bulldogs bring back their top two pitchers in Del Vecchio and Rigdon.
"It was really important we got to experience this," Rigdon said. "It is a bigger stadium and you have all eyes on you."
Matthys doesn't plan on it being another five years before the Bulldogs return.
"We're not looking to rebuild, we're looking to reload," Matthys said. "We've got some areas we need to fill, but we're excited to be back here next year."
Get in the game with our Prep Sports Newsletter
Sent weekly directly to your inbox!