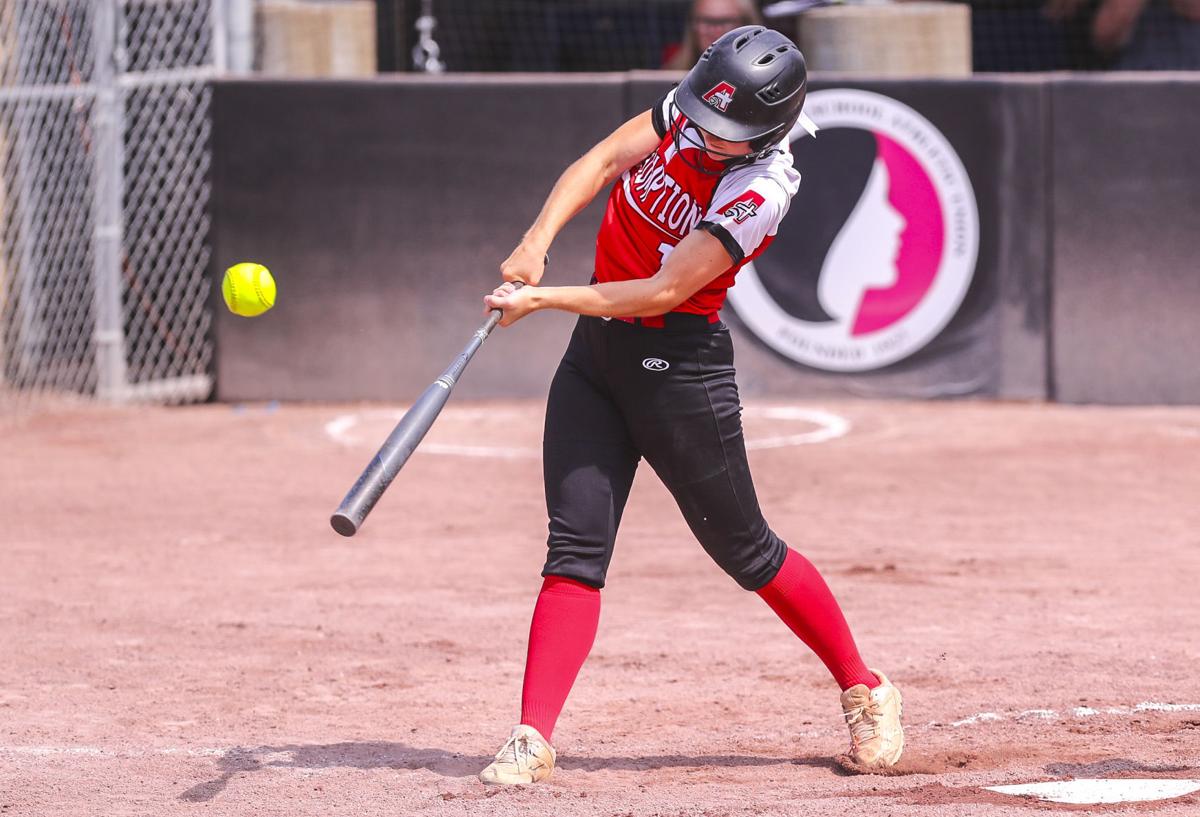 FORT DODGE, Iowa — Davenport Assumption's softball team has not been pushed in the postseason.
It has scored double-digit runs and not allowed more than one in all five playoff games. It has not gone a full seven innings yet.
There is one opponent standing between the top-ranked Knights and a fourth state championship in five years.
Second-ranked Mount Vernon, among the top three all season in the Class 3A rankings, takes its shot at Assumption in the title tilt at 2:30 p.m. Friday.
"The girls are definitely locked in," Assumption coach Ron Ferrill said. "(Mount Vernon) should be nervous, but we're smart enough to know they're a good competitor and extremely well-coached.
"They'll come with a good game plan against us and we'll have to counter it. Are we confident? I am."
It is the only state final among the five to feature the top-two ranked teams.
Assumption beat Mount Vernon 4-1 in the third-place game at the state tournament last year. The Mustangs (36-4) have reeled off 10 straight wins.
Junior pitcher Jenna Sprague is 28-2 with an ERA around 1. Junior Maia Bentley hits better than .500 with nine home runs and 42 RBIs.
Mount Vernon, in the program's first final, beat Estherville-Lincoln Central 7-0 in the quarterfinals and thwarted Wamac rival Williamsburg 6-2 in the semifinals.
"We have to bring all the energy in the world," Assumption senior Anna Wohlers said. "It is my last game as an Assumption Knight. We want to strike first and strike hard."
Assumption has not had any trouble remaining focused throughout the season. All three losses are to top-tier 5A programs — Muscatine, Fort Dodge and Pleasant Valley.
During the Knights' current 11-game win streak, they've outscored opponents 116-9. Four of those victories were against ranked 5A schools.
"This team is really well led, minus our mishap last year (in the semifinals)," Ferrill said. "That started several years ago when we had a big senior class that were awesome leaders. These girls were young with that group and saw how to do things, and they've done a good job of carrying that along.
"They're a very tight-knit group very focused on what they want to do."
It would be a fitting sendoff for nine seniors, who are 185-15 since their eighth-grade season. Four of them will play softball in college and three others had opportunities but decided to pursue other interests. 
"I'm so grateful for all the opportunities," Wohlers said. "Most schools don't get to go to state as much as we do. We're blessed we get to go to state and take every opportunity we can get for that state title in any sport we play."