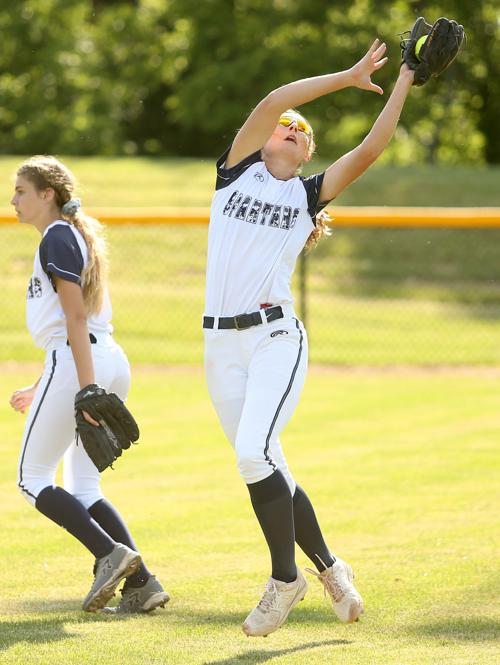 PV's Carli Spelhaug
Memorable career: Carli Spelhaug leaves Pleasant Valley as one of the program's most decorated softball players.
A five-year starter, Spelhaug earned all-state honors three times from the Iowa Girls Coaches Association. She was the Mississippi Athletic Conference player of the year twice, captain of the Class 5A all-tournament team twice and was part of the program's first two state championships.
Spelhaug said the 2017 championship, the first in school history, was "hands-down" the best moment of the past five years.
"It was amazing to be able to be part of the PV program for five years," she said. "It blew by fast, but they made me into the player I am today and created the opportunities I have today. It truly has been a blessing to be part of Spartan softball."
Spelhaug finished her career with 286 hits (52 doubles, 10 triples, 27 home runs) and 175 RBIs. She also stole 97 bases and scored 241 runs.
The right-hander was the only senior on PV's squad this season. The Spartans still managed to win 27 games and came within an eyelash of getting back to the state tournament. They lost to Johnston 9-8 in a regional final.
"Obviously, the season didn't end the way we wanted it to, but I'm very happy going out the way we did," she said. "I have no regrets with my senior season."
Adjustment in the box: Spelhaug admitted she had to change her approach in the batter's box this summer. Moving from the top spot in the order to No. 3 along with the graduation of all-staters Alexia Lara and sister, Ellie, led to Spelhaug seeing fewer hittable pitches.
"I had to be ready from the get-go," she said. "Teams caught on to the way I swing and the pitches I like, so I couldn't take a first-pitch strike because often times that was the best pitch I could get in the at-bat.
"I had to be more ready to take the ball the opposite way because teams wanted to pitch me inside. So it was more base hits than home runs this year."
Spelhaug believes that can help her moving forward.
"I grew a lot this year as a hitter," she said. "I had to adjust a lot to different pitchers and how they pitched me."
Next chapter: Spelhaug moves to Ames on Aug. 18 to begin the next phase of her life. She'll be part of the Iowa State softball program this fall.
Spelhaug said a position change could happen. After manning second base the past five years at PV, there could be an opportunity for Spelhaug in the outfield. Iowa State has a couple veteran middle infielders returning.
"I have to be ready and open to any option," she said.
The last time she played outfield?
"There were a couple ASA games where they put me out there," she said. "Otherwise, I've never really been out there."
Spelhaug understands there will be a learning curve.
"I'll be playing a much different role going into college," she said. "I'm there for the team, and I have to pay my dues.
"I'm very excited to focus all my time on one sport. I'm excited to see how much I grow as a player."