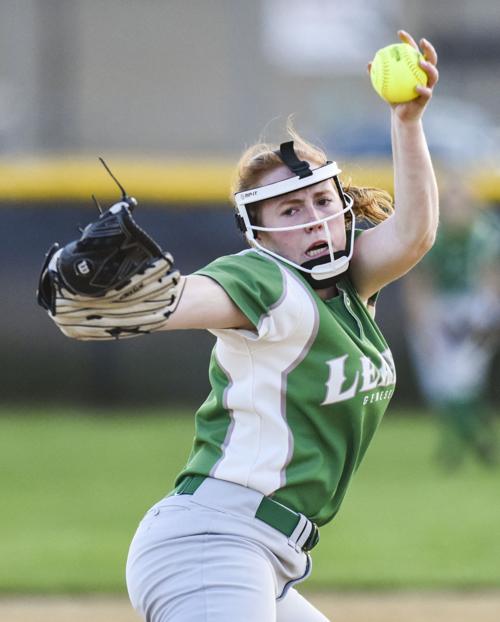 GENESEO — Throughout the years, Western Big 6 competition has been a regular part of the Geneseo softball team's regular season.
Now, after a one-year delay because the 2020 spring season was canceled due to the COVID-19 pandemic, the Maple Leafs hope to use those prior meeting to their advantage in their new conference.
"We've always played all the Big 6 schools except for Quincy in the past; I always felt like with our schedule, we were unofficial members already," said Geneseo head coach Pat Mitchell. "Now, it counts. We left one good conference (the Northern Illinois Big 12) for another good one, and it's time.
"We start with Quincy, and we're going to take it, like they say, one game at a time."
In 2019, their final season as members of the NIB-12's West Division, the Leafs finished 24-11 and posted an 8-5 conference record to finish third behind only Sterling (27-4) — which won its 10th straight conference championship with a 9-2 record before joining Geneseo in transitioning to the Western Big 6 — and Ottawa (24-8-1, 8-4-1), now a member of the Interstate 8 Conference.
A large number of the players from the '19 squad that earned its second IHSA Class 3A regional championship in four years and reached the Sweet 16 have since moved on. The lone returning mainstay is senior second baseman Natalie Baumgardner.
Among those moving up through the pipeline is senior pitcher Anna Narup, who gained some experience two years ago when senior ace Delaney Ostrowski battled through injuries. Narup has made that work pay by posting all of the wins in the Leafs' 4-0 start, including a five-inning perfect game in a 10-0 victory over Riverdale.
"Like others before them, our kids this year have been waiting their turn," said Mitchell. "It sure would've been nice for them to have gotten experience last year, but the two weeks we had them (before the season was canceled), they benefited from good leadership from our seniors.
"We prepared Anna to be more or less the ace of our staff last year. This year, we'll rely on two of our juniors, Maya Bieneman and Lauren Johnsen, to give her some pitching support."
In joining the Western Big 6, Geneseo and Sterling bring their respective legacies — 13 regional championships, five sectional titles and a trip to the 2A state quarterfinals in 2001 for the Maple Leafs; 12 regional crowns, three sectional titles and a pair of 3A state appearances (fourth in 2013, third in '14) for the Golden Warriors — to a league filled with winning softball tradition.
With Rock Island's Class 4A state championship in 2018 being the most recent, the Big 6's original six members have produced 35 state-tournament appearances and 14 titles. Alleman (15 state trips) and Moline (14) have six titles apiece, while Quincy and Rock Island each have one state championship.
Even with last year's planned Big 6 debut shelved, Mitchell feels that the eight seniors who graduated nearly a year ago did their job even without taking the field.
"Having eight seniors being the leaders, they've done a nice job of preparing the younger kids for what's ahead in the Western Big 6," he said. "Last year, it is what it is. We mention how difficult it was not getting to play, but we don't talk about it much."