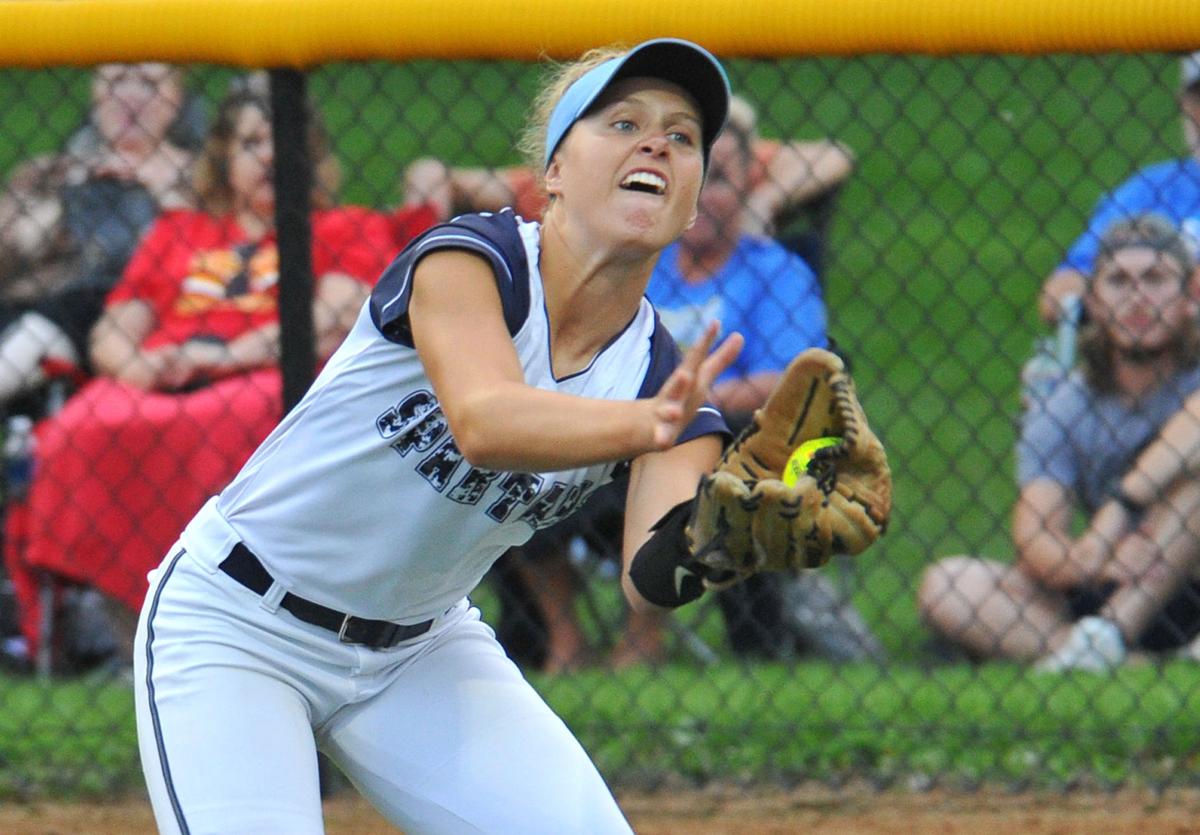 Denis Menke played in the big leagues for 13 seasons. Don Menke won more than 900 games as a high school softball coach and is in the Iowa Coaches Hall of Fame.
For Pleasant Valley High School sisters Addie and Avery Menke, there are strong family ties to the game.
"My start in softball came from playing wiffle ball with my grandpa (Don Menke) in his front yard and going to Dowling Catholic softball games when I visited him," Addie said.
When second-seeded and fifth-ranked PV opens the Iowa Class 5A state tournament at 5 p.m. Tuesday against Southeast Polk, Don and Mary Menke are expected to be among the spectators at the Rogers Sports Complex.
"He plans on going and making a day of it, watching his old teams he coached play," Addie said.
Denis and Don Menke grew up in Bancroft, Iowa, located about 15 miles north of Algona in northwest Iowa. Baseball was the thing to do.
The town produced two major leaguers from a community of 1,000 — Joe Hatten, who pitched for the Brooklyn Dodgers in the 1947 World Series, and Denis Menke, Don's first cousin. Denis played for the Cincinnati Reds' Big Red Machine in the 1970s along with Milwaukee, Atlanta and Houston.
"When we baled hay together, which was often, he got to quit early because he had a game that night," Don recalled. "I think his dad may have seen the dollar signs with his game."
Don leaned toward softball. He played years of fastpitch in Iowa and Illinois before a coaching career that included stops at Boone, Estherville, Des Moines Hoover, Linn-Mar and Dowling. He won 918 games and was named the National Softball Coach of the Year in 2012, a year after his retirement.
His love for the game filtered down to his granddaughters.
"Going back and knowing how important softball was to him and how passionate he was about it and working with him and giving us pointers along the way was big," Addie said.
Addie and Avery are a critical part of the Spartans' success this season.
Addie, a senior outfielder, is batting .373 with eight doubles, two home runs and 33 RBIs. Avery, a sophomore, has carved out a role late in the season as the team's designated player. She delivered a big double in the Spartans' comeback win over Bettendorf earlier this month.
"Those two definitely keep the mood light in the dugout," senior third baseman Sophia Lindquist said. "Avery didn't have a starting role at the beginning of the season, but she's come in and been a great player. She is what we needed in the lineup, a puzzle piece we didn't know we were missing.
"When she came in, things look a lot clearer now."
Avery describes it as a love-hate relationship between her and Addie.
"We get along most of the time, but I'm shy and I follow her and hide behind her a lot," Avery said. "Once in a while at practice, we can't talk to each other because we'll just start yelling at each other."
Disagreements aside, Addie said it has been a memorable experience.
"We argue like sisters, but we still have a lot of fun," she noted.
Don and Mary reside in Indianola. They've been to games when the Spartans play in the Des Moines area. Otherwise, they'll follow through Facebook Live.
Addie and Avery have heard about his coaching experiences.
"We played West Des Moines Valley one time and grandpa will talk about distinct plays that happened when he played against them," Avery said. "So we've heard about his success and games he's won."
Addie will continue on with softball next season at Coe College. Avery has two more high school seasons remaining.
"I'm excited to see how (Avery) goes forward," Addie said. "She is going to make her own name. It isn't going to just be the Menke sisters."
The Spartans are vying for a third state championship in five years. When PV won its last, Addie was a freshman on the varsity roster.
Her and four other seniors have a chance to leave with a storybook ending.
"I think we're peaking at the right time," said Lindquist, whose team has won 18 of its last 19 games. "We've had dips here and there, but we're figuring everything out and coming back even stronger.
"I like where we're at going into the tournament."