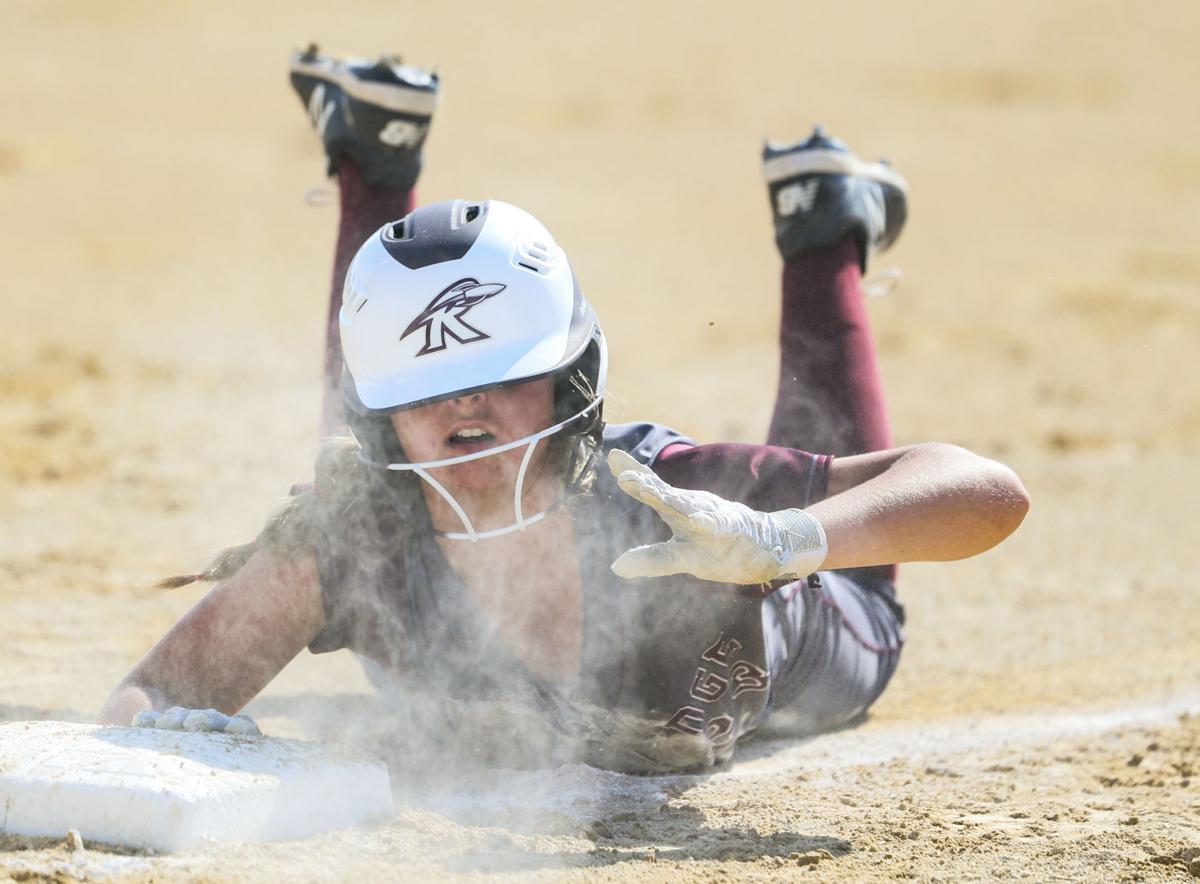 EDGINGTON — Nearly 24 hours after putting a bookmark in its Class 2A sectional softball semifinal against Tremont, the Rockridge Rockets returned Wednesday afternoon ready to finish what they had started.
After snuffing out a potential big inning by the Turks in the top of the seventh, the Rockets worked some two-out magic in their half of the inning as their No. 9 hitter, junior third baseman Taylor Sedam, came through in the clutch to deliver a 4-3 victory.
With courtesy runner Billie Dieterich on second base, Sedam took two strikes and a ball from Tremont senior pitching ace Paige McAllister. A couple of foul balls later, she dropped a single into shallow right field to score Dieterich with the winner and send Rockridge (25-0) into Thursday's sectional finals.
"Going up there, I was told to go through with our typical approach. I was able to take her deep in the count, I was looking for my pitch and I got it, and it ended up working out for us," said Sedam, whose winning knock has 2A's top-ranked Rockets headed to No. 3 Stanford Olympia (20-3) for today's 4:30 p.m. championship game.
"Our focus is one game at a time," Sedam added. "We're going to come back ready to go."
To start the Rockets' winning rally, junior catcher Bailah Bognar (3-for-3) belted a lead-off base hit and moved to second on an error, with Dieterich coming in to run for her. McAllister (15-2) got the next two outs, but could not shut the door on Sedam.
"I think all of us, we have a connection," Bognar said. "We knew deep down that we'd pull through."
Before the game was suspended on Tuesday due to heavy rain, Rockridge had found itself down 3-1 early after a two-run, second-inning home run by Tremont catcher Jenna Getz. The Turks (15-3) maintained that lead until bottom of the fifth, when Payton Brown scored on a wild pitch and Bognar singled in Olivia Drish just prior to play being stopped.
"I guess it hit me when we started the game that this could be the last one," Bognar said. "It (Tuesday) was a wake-up call, and we knew we'd have to find it in ourselves to come back, especially if we want to make it to state."
When play resumed on Wednesday, the Rockets looked set to add on to their two-run fifth when Lea Kendall walked to load the bases, but McAllister was able to get out of trouble and keep the game tied.
After the Turks left runners on the corners in the top of the sixth, they loaded the bases in the seventh as Rocket freshman hurler Kendra Lewis allowed two singles and a walk.
The next batter, Olivia Avalos, hit a grounder to third baseman Sedam, who threw out McAllister at home. Lewis then got Anna Parn on a groundout.
"Knowing I've got a strong defense behind me, that feels so good in stressful situations," said Lewis (13-0), who recorded nine strikeouts. "After (the top of) the seventh, we were really pumped up; all of our energy was there. We brushed it aside and went to it."
After overcoming perhaps their biggest challenge of a perfect season, the Rockets now have less than 24 hours to prepare for today's road trip to rural McLean County and a shot at their fifth straight sectional championship.
"This is a group that loves playing every single day and doesn't like any down time," said Rockridge coach John Nelson. "This was a one-of-a-kind game between two equally talented teams. Hats off to Tremont, their pitching and defense was just as tough as ours."