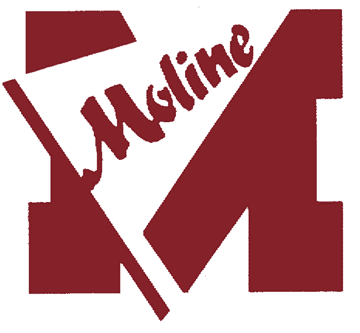 Facing Dunlap is a challenge the Moline girls swim team has looked forward to in recent years, and Saturday afternoon's 43rd annual Rock Island Relays provided another chance to match up against the sectional rival, this time in a non-traditional format early in the season.
Moline and Dunlap were separated by just one point with two events to go, but the Eagles finished stronger down the stretch to take the 10-team meet with 232 points.
The Maroons, who won the Rock Island Sectional last season to end Dunlap's run of seven straight sectional plaques, placed second on Saturday with 218 points. Galesburg (165) took third, with Rock Island (138) fifth, Monmouth-Roseville (91) eighth, and United Township (69) ninth.
Dunlap won six of the 12 events with Moline taking five and Richwoods winning the duo diving event Saturday morning at Augustana. Dunlap won the final two events to secure the invite win.
Moline senior Hannah Gault paired with classmate Sophie Greko to win the 2x200-yard medley relay, also joining Hailee Messerly, Clara Van Note and Greko to take the 200 freestyle relay. Gault also swam on runner-up finishes in the 2x100 backstroke relay and anchored the 400 free relay to close the meet.
The anchor position made for some extra pressure for Gault in a new role, but she enjoyed the challenge.
"It's a great first big invite of the year, especially going up against Dunlap. They're very competitive, very fast girls," she said. "We know what we need to work on and I think we have a great season ahead of us."
Other Moline wins included Van Note and Messerly taking the 2x200 free relay, Messerly and fellow sophomore Erin Fixen taking the 2x100 butterfly relay, and sophomore Ava Navarro joining Fixen, Van Note and Greko to win the 500 free relay.
Three-time defending Western Big 6 Conference champion Moline is led by a strong trio of seniors in Greko, Gault, and Van Note.
Gault said the winning culture of recent years helps encourage the younger swimmers to come in and succeed.
"They know it's competitive, but we are all there for each other and we're a really close team," she said. "All of our younger girls are really great people, really great swimmers, and I think we'll have a great season."
Rock Island's best finish came in a runner-up performance in the 200 medley relay as Bailey Hecker, Olivia Sholl, Ava Dietz, and Abbie Roos took second.
Moline coach Michael Roche said the meet was closer than he expected.
"I saw some good swims out there," he said. "All across the board, the girls swam their hearts out, so as a coach that's all you can really ask of them. But we have work to do."
Roche relishes his team facing faster competition, and Saturday was another opportunity to get better.
"This was a good competitive meet for us, Dunlap is pretty strong and pretty deep this year," Roche said. "We've got to keep the end goal in mind, and that's the goal is to shoot for another sectional title. I think it's going to be a little tougher than it was last year, but it's good to have something for the team to work toward."