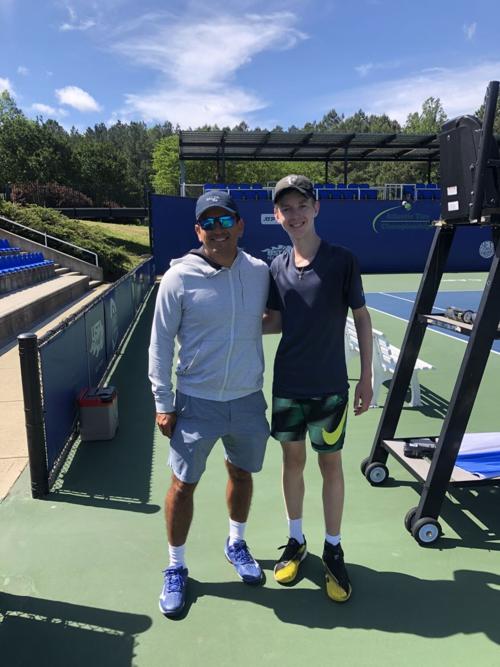 After a summer of training in Naples, Fla., nationally-ranked tennis player Nicholas Patrick feels better equipped than ever as he gets into the swing of his freshman year at Alleman High School.
Patrick trained with a small group under Nestor Nunez in Florida at Kalea Bay over the summer, playing against other high-level players his age as well as adults. He was joined by his friend and doubles partner, Calvin Baierl, a Naples resident and the top-ranked player in the country in the class of 2026. Patrick stayed with the Baierl family during his time in Florida.
He said he made strides physically and mentally as a tennis player after the experience.
"I got a lot better in many ways," Patrick said. "I got to play with some guys around my level, guys a little bit better than me, and guys that are worse, which is what I needed."
Last summer he trained at a different academy in Naples.
Another dedicated training schedule in the Florida heat allowed him to better his conditioning, which has become a strength of his. His tennis training included a strength and conditioning program that began early in the morning and included a wide variety of exercises, along with time set aside to work on mental aspects.
He said his biggest improvements have come in the aspect of controlling his nerves and anxiety.
"I've come to learn to just accept that everything happens for a reason and to control the controlllables," he said. "Control what I feel I can control, which is my attitude, my effort, my preparation. Odds are, if I'm doing that the best I can, I can win. But if not, I say congratulations to my opponent, they outplayed me that day and sometimes that happens."
Patrick has also grown to 6-foot-1 and continues to take advantage and adjust with his growing length.
A highlight of his year came in early May at a USTA tournament in Cary, North Carolina, where he went 7-0 to win a boys 14 singles title.
"That was probably the biggest confidence booster I could have asked for," he said. "North Carolina, everything kind of came together and I really found my game."
He won six of seven matches in straight sets to take gold.
Guiding him through the ups and downs from the start, his dad, Dan Patrick, has been a big help.
Dan Patrick, a 1980 Alleman grad, played tennis for two years at Black Hawk College before finishing at Eastern Illinois University in 1984. The certified USPTA teaching professional has taught at the Quad-City Tennis Club (then the South Park Tennis Club) and coached Augustana men's tennis from 1997-2002.
Patrick is currently the director of tennis at the Life Fitness Center in Bettendorf.
His dad is Nicholas' main coach, along with Jim Scott.
"I couldn't do anything I've done without him," Patrick said of his father. "He's set up my matches, set up my practice, helped me around here with limited resources. I'm very fortunate to have him on my team."
Dan Patrick said his son's physicality has stood out as he has grown about seven inches the past two years.
"He just keeps growing and getting stronger," Dan Patrick said. "He never wears out. … He wears his opponents down."
An elite backhand and serve are his son's strengths, the veteran tennis coach said.
Locally, Patrick plays with other top players, including former Augustana player John Feehan, Feehan's son Conor (ranked second in Iowa in the class of 2028) and Moline freshman Pranith Sepuri (ranked 12th in Illinois). Patrick beat Sepuri 6-0, 6-0 in the Bettendorf Open finals last June.
Throughout the COVID-19 pandemic, Patrick continued to work on his game thanks to a local family with a tennis court of their own.
"Ever since I was younger, I always wanted to be the best," he said. "It's just something I've always been very passionate about. … I don't want to be just average at it, I want to be great.
"I think I was very fortunate at a young age to win quite a bit, I gained a lot of confidence. I was very lucky to have a great family, great support team around me."
He hopes to play tennis at a Division I school eventually if he does not go pro, mentioning Notre Dame and Stanford.
"Grades have always come before tennis and thankfully I've had great teachers at Seton (Catholic) and will at Alleman," he said.
Many top-ranked junior tennis players are home-schooled, do online class and attend a tennis academy in Florida. Patrick also has played baseball and takes pride in attending school and having a social life. Many highly-ranked players do not even play high school tennis.
"I really enjoy being at Alleman, a great school, and just having a better social life and not only focusing on tennis," he said. "I have a lot more fun, I'm happy where I'm at."
As involved as the sport of tennis is when it comes to rankings and different ways to grade a player, Patrick tries to just block all of that out. All that matters is what happens when he is present on the tennis court and sticking to his game plan.
It's a lesson he learned at the Easter Bowl tennis tournament in San Diego from Jon Glover, a tennis coach who has helped Patrick since he was a kid.
"He told me something that I have been sticking with ever since," Patrick said. "He told me not to look at rankings, not to look at draws, applicants, UTR, not to look at any of it. Because it can screw with your mind. You start looking past your first round to the semifinals when you still have to get through your first four rounds. You have to be so careful with that stuff."
"I don't look at any of it, I just play who I play."