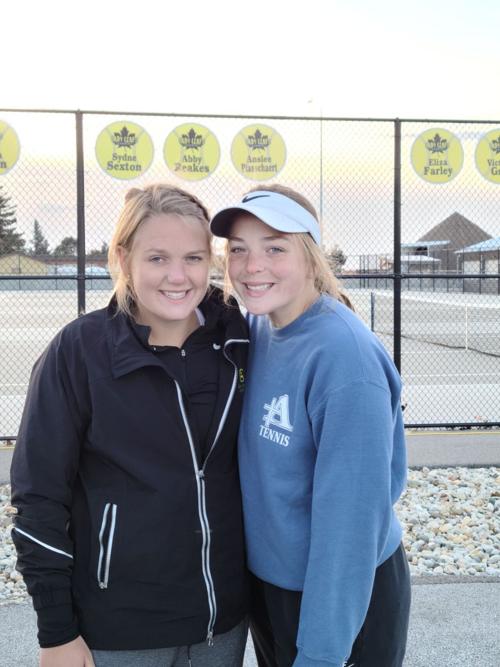 GENESEO — Saturday afternoon marked the last time Alleman's sister duo of Kate and Lucy Rector will compete on the tennis court wearing their school's colors.
With a pair of second-place finishes at the Western Big 6 Conference meet and last year's sectional runner-up performance marking the siblings' all-too-brief time together as Pioneers, they were determined to make their last prep match together good as gold.
Rolling into the doubles championship of Saturday's Class 1A Geneseo Sectional having won 36 straight games in a trio of straight-set victories, the Rectors found themselves challenged by Dunlap's Shikha Agarwal and Mary Meghrian. The Eagles' duo worked their way to set point several times, including twice in the second set.
Each time, though, the Pioneer standouts found a way. After reeling off three straight games to take the first set 7-5, the Rector sisters dug out of an even deeper hole in the second set, rallying to force a tiebreaker and then taking the tiebreaker 7-3 to nail down a 7-6 win and their first sectional title.
"This was our biggest goal, especially after being runner-up last week at Big 6," said Lucy, the senior member of the duo that opened Saturday with a 6-0, 6-0 semifinal sweep of another Dunlap pair, Regan Duchaine and Maggie Waller.
"We were out for a sectional title today."
That goal faced its toughest test in the second set, when Agarwal and Meghrian won the first two games and quickly worked their way to a 5-2 lead. At that point, most thought a third set was inevitable. Not the Rectors, though.
"I was thinking, we're still in it," Lucy said. "We didn't even think about playing a third set. We knew we just had to get back to doing what we do."
The Pioneer pair won three straight games to forge a 5-5 tie, then answered again after Dunlap's duo forged another set point at 6-5. In the tiebreaker, the Rectors quickly gained the upper hand and had control nearly the entire way.
"We felt like we definitely had to prove ourselves," said Kate, a sophomore. "This was redemption for last year. This is super-special, especially playing with my sister for her senior year. It'll be sad, not having Lucy here next year, but she had a great four years here. It's definitely really special to play with her and win this with her."
In the first set, the Rectors won the opening game to run their streak to 37 in a row, but that was when Agarwal and Meghrian dug in. The Dunlap combo won the next two games, before the teams traded games back and forth until the Rectors found themselves trailing 5-4.
But in what could be seen as a preview of their second-set rally, the Pioneer twosome responded by reeling off three straight games to take the opener, including coming back from being down 30-0 on Dunlap's serve.
"We were definitely down; we had tough opponents and tough weather, but we just had to keep our focus," said Kate. "We had to keep together and get through it. We had to get our confidence back."
Maple Leaf duo finishes fourth: Geneseo doubles tandem seniors Emma Claeys and Emma Dunker took to the court in Saturday's semifinals wanting nothing more than a chance to compete for a championship on their home court.
However, things did not go as planned for the Maple Leaf senior duo. After dropping a hard-fought semifinal to Agarwal and Meghrian by a 6-2, 3-6, 7-5 score, Claeys and Dunker could not parlay a first-set win into a third-place finish as they fell 1-6, 6-3, 6-1 to Duchaine and Waller.
"It was tough, but we were trying our hardest," said Dunker. "We were ready to come out and fight hard to get third place. I think the conditions with the wind gave us a lot more trouble, and (Duchaine and Waller) picked it up and played better."
In the team standings, the host Maple Leafs ended up settling for third with 16 points, just two behind runner-up Alleman. Dunlap racked up 33 points to win its third straight sectional plaque.
"We've worked hard all year," said Claeys. "We were just trying to battle, and we'd be happy to get whatever we got as a team."
Get in the game with our Prep Sports Newsletter
Sent weekly directly to your inbox!