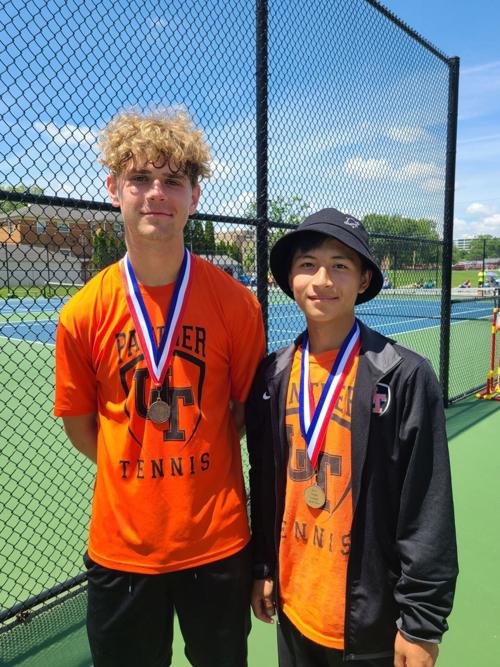 United Township doubles partners Dylan Kastner and Kawl Mang expected this season to be one of simply gaining experience and building the team up for next year.
The juniors are ahead of schedule.
Kasnter and Mang followed up a third-place finish at the Western Big 6  meet with another bronze at the Class 2A Normal Community Sectional last weekend, punching their ticket for a debut at state, which takes place this week at various sites in the Chicago suburbs.
The duo's finish helped the Panthers place third as a team as UT got its first state doubles qualifier in mant years. UT coach Diego Cross thought  it was UT's first state duo since Chad Vinzant and Greg Clark in 1983.
UT tennis has ended some long droughts recently in the fifth year of a two-class system for tennis. In 2019, Ben Downey was UT's first state singles qualifier since Cross qualified in 2000. Kastnter said he and Downey are close friends. In 2018, freshman Reese Williams was UT's first girls state qualifier since 2010 and first singles state qualifier since Isabel Araujo in 2003.
Add Kasnter and Mang to the latest drought-busting Panthers.
The two face the 3-4 seed duo of John Fakouri and Dean Kamenev from Hinsdale Central in their opening match.
After dabbling in singles early in the season and as freshmen, the two friends have clicked as a duo.
Kastner, the taller, more-fiery and vocal player, is better suited to playing at the net. Mang's ability to handle ground strokes fits playing behind.
Cross says the two have gotten better match by match. He was happy the two could take him by surprise after entering a year full of unknowns. Cross did not expect the two to improve so quickly this season.
"It's a testament to them," he said. "They are naturally athletic and good kids. They listen and practice and try everything I ask. I couldn't ask for more."
Their performance against Geneseo's Big 6-winning duo of Mason Miller and Thomas Robinson was an eye-opener for Cross. The two competed but fell 6-4, 7-5 to the Geneseo duo that won doubles again last weekend to help the Maple Leafs win a Class 1A sectional title.
Cross' belief that Kasnter and Mang could reach state this season grew after that match.
Cross said seeding the sectional was a challenge with a lack of familiarity between the local teams and the ones from Normal.
Kastner said the two were confident playing unseeded teams as the second-seeded duo.
Playing their way into some history has been a good feeling for Kastner, who also plays varsity and travel soccer.
"It's an honor, it's really cool," he said. "A lot of people are reaching out to me and telling me congrats and everything. It really does feel good."
Kastner said staying focused and driven has been key to constant improvement for the two.
"We both know things we need to work on, so practicing on those things will make us better and more confident going into the match," he said. "If we're just determined, I feel like we can actually go pretty far and do well together. It's just a mindset."
The goal for state is gaining experience and making good memories, hopefully setting the stage for a return to state next season.
"I want to have fun, but I also want to win," Kastner said.
Mang said chemistry has helped fast-track the duo's improvement. They met through soccer freshman year, also their first playing tennis. During last year's cancelled season, they did not even play tennis at all together.
The chemistry between friends makes for some brutal honesty that also makes for constructive criticism in practice.
"If one of us messes up, we just laugh it off," he said. "It's common for us now. If one of us messes up, we forgive each other right away and just focus on the next point after that."
Mang said Kastner is more of the vocal guy while he is the "physical" guy. The soft-spoken Mang said he was ironically called for racquet abuse at the sectional.
"Me and Kastner, we are a good one-two punch," Mang said. "Whatever goes past him, I cover it for him. And whatever goes towards him, he gets it and kills it for me. It's teamwork."
Mang said he is confident but does not want to be too prideful and jinx himself for state. He said he got the goal of qualifying for state last season. Mang hopes playing at state will help the two find more weaknesses to work on during the off-season.
He credited coach Cross for pairing the two together after singles was not fitting.
"I'm really glad he put us together," Mang said, "because everything worked out perfectly."