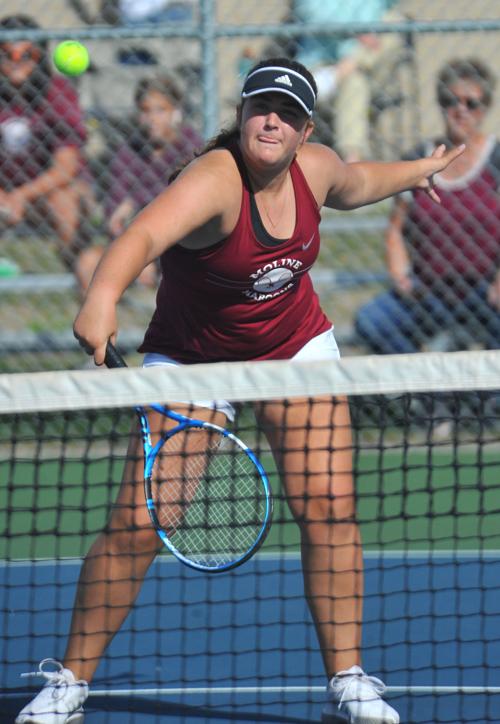 Home cooking was especially tasty for the Moline girls' tennis team last weekend.
So much so, the Maroons are hoping for a second helping today and Saturday.
Hosting last weekend's Western Big 6 Conference meet, Moline extended its run of conference titles to four in a row, scoring 19 points to come out on top in a competitive field.
With the Maroons set to host this weekend's IHSA Class 2A Moline Sectional, they look to extend another streak as they seek their third straight sectional team title.
"I think our girls are excited for sectionals in general," said Moline head coach Brooke DeVol. "This determines what takes them to state, and that's always a huge goal for them. To have it at home makes it more special, especially for our seniors.
"They've won the Western Big 6 all four years they've been here along with winning sectionals the last two years. Playing this at home makes this an extra special event."
Two of the Maroons' three seniors, Sarah Gustafson and Camille Keys, have been a key part of their team's conference and sectional-title runs. Classmate Charis Wang has stepped into the lineup this fall and has also been a strong contributor.
The trio helped Moline (19 points) overcome conference rivals Alleman (13 points), Geneseo and Quincy (12 points each) to take the Big 6 title last weekend after the Maroons went 6-1 during regular-season league play.
Among the other teams on hand at Moline High School today and Saturday, DeVol looks at Normal Community and Normal West as strong challengers for team gold, with Bloomington another possible contender.
"Normal Community has a very strong team, and so does Normal West," she said. "Bloomington usually has been at 1A, but now they're up at 2A, so they throw in some new variables."
With that in mind, DeVol feels that the home-court advantage could be the ace in the hole for her squad.
"You think about it, all of the parents, family members and friends will able to be there to support us at home," she said. "I think that'll give us an extra boost of confidence, which is always helpful going into big tourneys like this."
1A: Geneseo Sectional: Two of the other Western Big 6 teams that only lost once during regular-season competition — Alleman and Geneseo (both 5-1) — will be the local headliners at this weekend's Class 1A Geneseo Sectional.
For their part, the Lady Leafs also hope to cash in on home-court advantage as they seek the program's first sectional championship, but head coach Kevin Reed knows that will be a tall order.
"Right now, it should be Peoria Richwoods' tourney to lose, if they put the proper people together," he said. "They have the No. 1 seeds at singles and doubles."
Reed looks at his No. 1 doubles duo of seniors Ali Rapps and Annie Turpin, the runners-up at last weekend's Big 6 meet, as having the best shot to represent the Leafs at state.
"They should have the best shot at it," he said, "but you never know; we could squeak a singles player or an extra doubles team through."