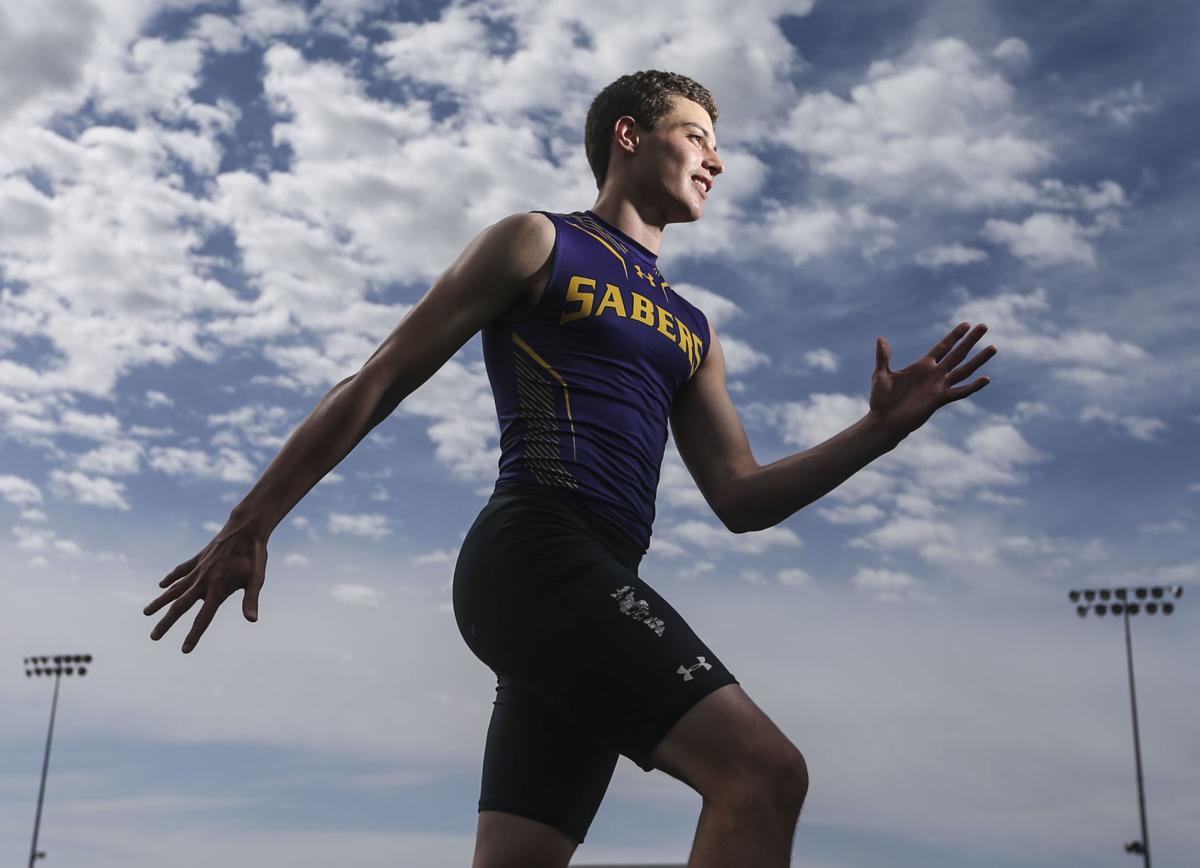 DEWITT — About a week before Central DeWitt's first outdoor competition of the track & field season, the program conducted an intrasquad scrimmage.
There was one performance that immediately grabbed coach Jason Lansing's attention. Junior Lucas Burmeister posted a hand-held split of 21.9 seconds in the 200.
So when Burmeister went out and clocked a 22.41 last Thursday to prevail in the open 200 at Pleasant Valley's Spartan Challenge, it was not a shock.
"I knew it was coming," Lansing said.
The 22.41 is the second fastest time in Iowa Class 3A, sixth best in any class this spring and more than seventh-tenths of a second faster than what he ran as a freshman. It also is second on Central DeWitt's all-time list, trailing state champion Brandon Jasper's time of 22.03 in 2011.
"I was really hungry last year to make it to state in a couple more events than I did my freshman year and then the season was off (because of COVID-19)," said Burmeister, this week's Iowa Pacesetter.
"When the season was canceled, I just kept going with my training. I didn't want to have to start over."
Already in the first few weeks of the outdoor season, Burmeister is showcasing his versatility.
He ran 15.55 in his first 110-high hurdle race at Tipton on March 30, among the eight quickest times in 3A. Then in Tuesday's meet in Eldridge, Burmeister completed his first 400-hurdle race in 58.17, among the six quickest times in 3A.
"When you've got a real special athlete, you kind of build your lineup around him," Lansing said. "We're trying to see what he can do in different events. We know any relay we put him on, we've got a good chance of getting to state and scoring."
Unlike others who do track & field to prepare for other sports, Burmeister is passionate about running, even though he also plays football, basketball and baseball.
His mom, sister and cousins all did track and had success.
"I want to try and be on that board and have people look up to me as I've looked up to them," Burmeister said.
Kasper and Kevin Ellis (school record holder in the 110 highs) have influenced Burmeister. He wants to provide that inspiration to the next crop of Central DeWitt track & field athletes.
"Lucas is pretty easy to get along with, very relaxed and very committed," Lansing said. "He's a weight room monster, just super strong and shows up. He gets good grades, does anything you ask and is a good leader.
"He's the type of kid that is easy to root for."
Burmeister was on Central DeWitt's shuttle hurdle relay team that qualified for state two years ago.
The Sabers, though, didn't use Burmeister in the 110 highs at that time as they were still trying to build up his top-end speed.
There is a different mentality required for hurdles.
"You can't be scared of the hurdles," he said. "You've got to go right through them. You have to focus on what's ahead of you, not behind you.
"That has taken me some time to get to that point."
The open 200 isn't among the events at the Drake Relays, but the two individual hurdles races are, along with the 800 relay. Burmeister is currently above the cutoff time in the 110 highs.
"My goal for this season is to get the 200 school record, go to Drake in a couple events and hopefully win the open 200 at state," he said.
At this stage, he's undecided if he will run track in college. With last season nixed, Burmeister has not heard from too many college programs yet.
That could change in the coming weeks and months.
"He'll definitely run in college," Lansing said. "He was talking about how nobody was showing interest, but I told him the last time they saw you was as a freshman.
"They'll find him. He'll start turning some heads and people will take notice. He just needs to give it time and let the process work out."
If there is anything that rivals Burmeister's love for track, it is becoming a firefighter.
He plans to pursue fire science as a major in college and eventually follow in the footsteps of his father, uncle and grandfather as firefighters.
"I think it fits into my personality," Burmeister said. "I want to help people, no matter if it is big or small."