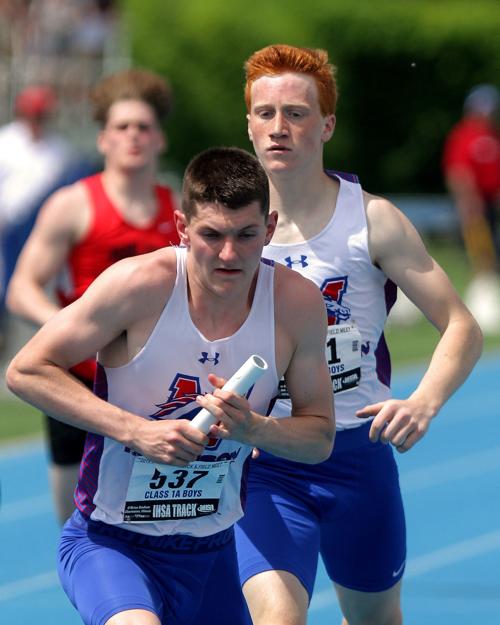 MORRISON — Right up until April 21, the senior members of the Morrison boys' track and field squad had high hopes for a season they had looked forward to for so long.
With good reason. Not only were the Mustangs returning intact all the members of a 4x800 relay that had won back-to-back titles at the Class 1A state meet, they felt everything was lined up to bring home their first state team championship from Charleston.
But on that fateful Tuesday in late April, the IHSA reluctantly made the decision to pull the plug on the 2020 spring sports season because of the COVID-19 pandemic, bringing to a halt all of the goals and dreams Morrison had been working to achieve.
For the senior quartet of Nick Allen, Keegan Anderson, Koby Brackemeyer and Nathan Mickley, who as eighth-graders teamed up to help bring home an IESA state championship, that decision brought an untimely end to their days of wearing the Mustangs' red and white.
"It's still really heartbreaking," said Brackemeyer. "Anytime I see something on social media or read something about it in the newspaper, it makes me more upset. We were ranked No. 1 to start the season, and winning a state title was the goal we wanted to achieve."
Brackemeyer, a standout in cross country and track, knew a thing or two about titles. Two years ago, he teamed with his aforementioned classmates to win the first of their back-to-back golds in the two-mile relay. Prior to that, Sammy Biggs' 2006 state titles in the 100- and 400-meter races were Morrison's only boys' track gold medals.
Last spring, he teamed with Anderson, Mickley and then-freshman Hunter Newman to repeat that feat; Brackemeyer, Mickley and Newman's classmate Alex Anderson — Keegan's younger brother — also teamed up for a silver medal in the 4x400 relay as the Mustangs finished fourth in the team standings, their best state showing since placing third in '06.
"All we could do was hope," Brackemeyer said of the season-to-be that ultimately never was. "I kept working out, running and lifting, and it was all coming down to (chasing a team title). Now, it's all a question of, 'What if?' and wishing it could've happened."
Individually, Anderson and Brackemeyer combined for five state medals. For Anderson, who ran at Charleston a year ago despite a stress fracture in his right leg, a season without competition has only added to an overall surreal feeling.
"It's not just track. It's realizing right now, nothing's open, you can't do anything. It's kind of weird," said Anderson, whose father Nate also earned four state medals in the sprints for Morrison in the 1996 and '97 seasons.
"This year, it was almost overwhelming, leading up to the season; we'd all been training so hard and looking forward to qualifying in so many events and winning as many as we could. We'd been working up to this since we were in seventh grade, so it definitely feels like we were cheated out of this."
Although a final state series run, which would have began at Friday evening's 1A Erie Sectional, will not happen for the senior foursome, their post-high school plans have mostly been made.
Allen will play football at Wisconsin-Platteville following an All-State campaign last fall for Morrison's quarterfinal squad, with Anderson planning to run track at Illinois and Brackemeyer doing the same at Hawkeye Community College in Waterloo.
Mickley, meantime, is still trying to choose between going to Illinois State and walking on to the Redbirds' track team, or going to North Central College in Naperville to compete in both track and football. He still dwells on what this season could have meant to himself, his classmates and the Mustangs as a group.
"I still feel real depressed about this," said Mickley. "I drive by the high school and see the track, and I think about what could have been. We all felt like we could've won it this year."
At the same time, Mickley looks back at the last two seasons, which includes a sectional team title in 2019 and a second-place finish in '18, a season capped with a 14th-place state showing, and knows there is still plenty to be proud of.
"We can look back, especially on our two (4x800) state titles," he said, "and realize that we did accomplish a lot."
Get in the game with our Prep Sports Newsletter
Sent weekly directly to your inbox!