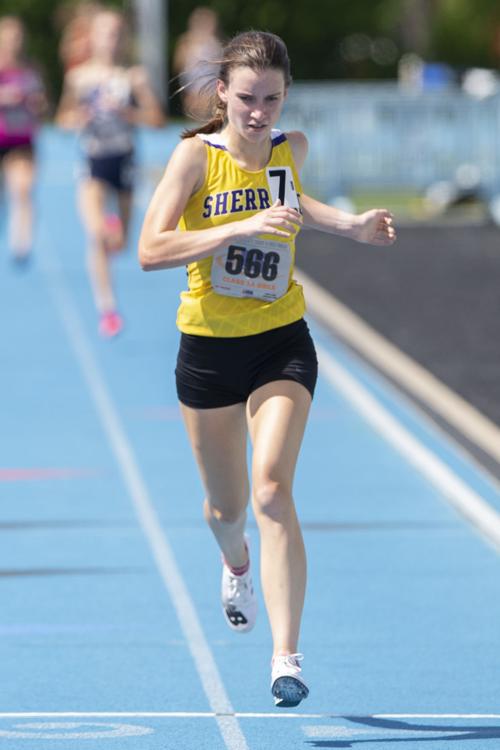 CHARLESTON, Ill. — With one lap to go in the second flight of the 3200 at the IHSA Class 1A state meet Thursday afternoon, Mattie Kindelsperger was exactly where she wanted to be.
Kindelsperger was one of three athletes in the lead pack going into the last lap and about 50 meters into the final lap, she made her move, surging to the finish to become the state champion with a time of 11:19.93.
She was seven seconds ahead of second place and 12 seconds faster than her state qualifying time.
It was only after she finished that Kindelsperger realized she had won the race, and by a large margin.
"Right when I crossed the line I realized that I had done it," Kindelsperger said. "I knew that I needed to get uncomfortable at the end and really push myself, because I wanted it so much."
Sherrard coach Todd Volkert was happy with how Kindelsperger executed the plan that they had set up for her to follow.
"We told her to follow the plan of sticking with the front of the pack, no matter what the pace was," Volkert said. "We told her that when she made a move, it needed to be a decisive one."
Kindelsperger was in either second or third the entire race until she made her planned move, and once she did, there was no looking back.
Volkert had high praise for his senior, who transferred to Sherrard recently after spending time at Alleman.
"She works hard and is one of the hardest working distance runners I've coached," Volkert said. "She has incredible mental toughness and doesn't let any set backs affect her."
The win for Kindelsperger meant more to her than just another race, as she was doing it for the woman who inspired her to start running a little over two years ago.
"I wanted to get after it and do this for my grandma, Carol Seitz," Kindelsperger said. "She did a lot of marathons and had me run a 5k once and I really liked it and never looked back. She passed away this past November, and I felt her pushing me on at the end."
Kindelsperger only really started getting serious about running during the early days of the pandemic when there was nothing else to do. 
"This title encompasses everything to me, from the late night practices to the extra work put in and missing out on fun with friends on occasion to go and run," Kindelsperger said. "It really means a lot to be here with the team by my side since I didn't get that chance last season. It hasn't really set in what this all really means and that my hard work actually paid off."
For Kindelsperger, the title is a culmination of lots of dedication to the sport, but that hard work will never stop.