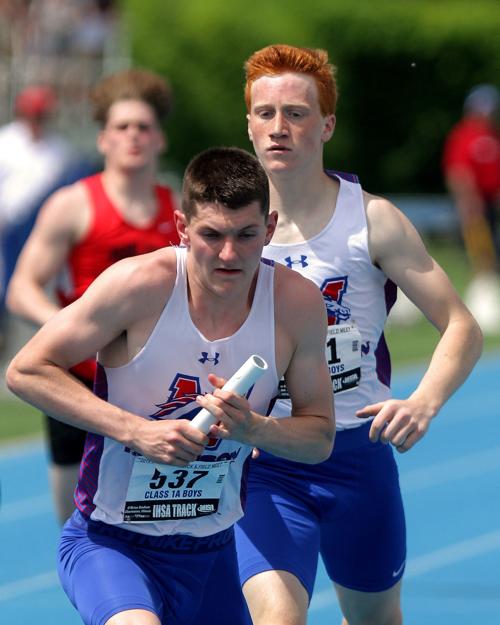 Last year's Illinois Class 1A boys' state track and field meet was, at the time, a showcase for a wealth of junior talent that still had another season to showcase their talents.
Nine juniors made their way to the Saturday finals in Charleston a year ago, including Morrison's trio of Keegan Anderson, Koby Brackemeyer and Nathan Mickley, who teamed with freshman Hunter Newman to capture a state championship in the 3,200 relay. Anderson also won an individual sectional title in the 400.
In that same event, Erie-Prophetstown's eighth-place 3,200 relay featured two juniors in Tyler Holldorf and Chris Link. Individually, the Mustangs' Brackemeyer scored a fifth-place finish in the 800, an event in which his younger teammate Newman placed second. In the 1,600 relay, Brackemeyer and Mickley teamed with the freshman duo of Newman and Alex Anderson to capture state silver.
Also in the mile relay, Rockridge's senior-dominated, third-place foursome had one junior who was looking ahead to this spring in Gabe Vroman.
Three more members of the class of 2020 put up strong state showings in the field events alone. Annawan-Wethersfield's Julian Samuels won Lincoln Trail Conference and sectional titles and then finished fifth in the long jump, while E-P classmates Cameron Abell and Levi Cole each had ninth-place finishes in the pole vault and high jump, respectively.
Cole also won a sectional high jump title, while Abell took second to graduated state-champion teammate Kyle Kruthoff at the sectional meet, and Link and Holldorf helped the 1,600 relay to state as the Panthers finished a half-point behind sectional runner-up Sherrard.
Unfortunately for that group and other area seniors, the COVID-19 pandemic and the resulting termination of the spring sports season deprived them of the chance to put together a prep career-capping encore to the performances they put together on that late May weekend at Eastern Illinois University.
Sectional team champion Morrison will also lose the services of Nick Allen, who along with Mickley was a part of a sectional-winning 800 relay as well as — with Brackemeyer also on board — a Three Rivers Conference-winning 3,200 relay quartet.
Sherrard, which finished third at the TRAC meet in addition to its second-place sectional finish behind Morrison, will graduate Gavyn White, the 110 high hurdles sectional champion as well as the 300 intermediate hurdles runner-up, and Michael Moritz, part of the Tigers' state-qualifying 800 relay.
Another sectional-winning team, Orion, will graduate a four-event state qualifier in Caleb Spranger (triple jump, 300 hurdles, 800 and 1,600 relays). Rockridge's Tyler Kibling, who with Vroman ran at Charleston in the 3,200 relay, also graduates this spring.
Lincoln Trail champion Mercer County loses three-fourths of its conference-winning 800 relay (Seth Crawley, Tristan Essig and Seth Speaker) to graduation; the trio also reached state in the 400 relay and Speaker was a state qualifier in the high jump. Also moving on is Riley Coulter, who helped the Golden Eagles' 3,200 relay to a conference title.
Galva's Peyton Sopiars, the 2018 1A triple jump state champion who captured LTC and sectional titles in that event last year, will also have his prep career come to an early close.
Who to watch in 2021
Among top area boys' competitors who get to look ahead to the 2021 spring season are the aforementioned Newman from Morrison, who won TRAC and sectional titles in the 800 and was part of league and sectional winning 1,600 and 3,200 relays. Classmates Anderson and Justice Brainerd struck sectional gold with the Mustangs' 800 relay.
Sherrard does return one component of its senior-dominated, state-championship 1,600 relay in junior standout Corbin Crippen.
Riverdale returns junior David Arney, a sectional runner-up in the long jump and a state qualifier in the 1,600 relay, which does lose a returning senior in Jason Smith. From E-P's 1,600 relay, junior Alex Gustaf will return in 2021. Orion sophomore Alec Noyd will be back to build on his state experience in the 800 relay.
Mercer County junior Brady Fluette, who earned LTC gold in the 800 relay and ran at state in the 400 relay, is also coming back, along with two sophomore conference winners in Robby Holtschlag (3,200 relay) and Jared Cheline (discus).
A-W junior Kaynen Bond is also returning after a state long jump appearance last spring, while Kewanee junior Melcon DeJesus will be back after a 2A sectional runner-up finish in the 400.
Get in the game with our Prep Sports Newsletter
Sent weekly directly to your inbox!