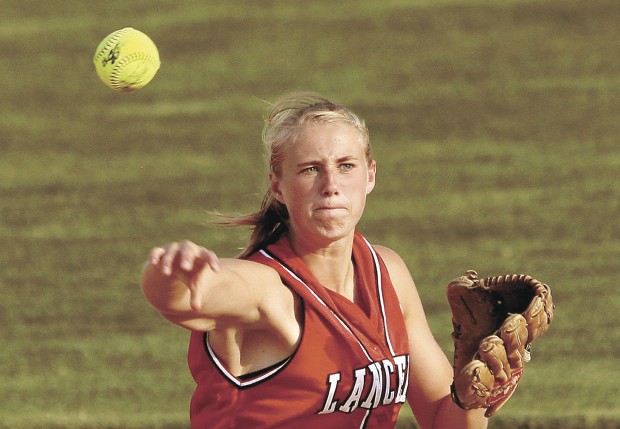 Fans might not have been pleased by the delay. My deadline respectfully disagrees.
Because the Iowa Girls High School Athletic Union waited until this morning to release its first-ever 5-class regional pairings, that gives your friendly neighborhood softball beat writer time during the day to pore over the brackets and decide which teams got lucky, which teams got the shaft and which teams got a fair shake.
Coming Sunday: a look at how Iowa came to create 5 girls classes, and how coaches and athletic directors feel about it going forward
Large schools (Class 4A/5A): North Scott. It's been a dreadful Mississippi Athletic Conference slate for the Lancers to this point, averaging scarcely two runs a game during a seven-game losing streak that dropped North Scott from the league race. Yet they did enough in weekend tournaments, including perfection at Western Dubuque and Iowa City West invites, to nab a Class 4A Region 4 first-round bye. No. 13 North Scott would hit the road for No. 7 Washington in a regional final, a far more pleasing outcome than potentially facing top-ranked Clear Creek-Amana.
Nod to: Muscatine, which just needs to win a pair of home games to give coach Dennis Schuur his 12th state tournament appearance. The Class 5A Region 5 title game could be against No. 10 Burlington, which got swept at home by the fourth-ranked Muskies on June 7. Muscatine, though, has to shake some game one doldrums it showed against Bettendorf and Pleasant Valley, since the playoffs are all on one game. Going outside the area, Iowa City West should sail through, and Ottumwa's draw is relatively cushy for its No. 8 rank.
Small schools (Class 1A/2A/3A): Durant-Bennett. The Wildcats earned their Class 2A No. 2 ranking on both sides of the plate, with the state's sixth-highest batting average and slugging percentage as well as Iowa's best pitching mark with a 0.56 ERA. Durant has a tendency to leave too many runners stranded, if we're nitpicking. No reason Durant can't get to Mount Vernon, knock off No. 13 Iowa City Regina or whomever meets it there, and end up in Fort Dodge for the second time in school history (2007).
Large schools: Davenport West. No. 9 ranking. Gets MAC minnow Davenport Central in the semis. Then off to Cedar Rapids Jefferson, at No. 7. Basically, a coin-flip proposition to state. That's about right. The Iowa City West Classic to finish up June, when the Falcons play Waukee and West Des Moines Valley, will be a fine test. Question is who Steve Saladino will hand the ball to against the J-Hawks.
Nod to: Davenport North. Yeah, the Wildcats travel, but Mount Pleasant's a beatable opening-rounder, and then who knows against No. 7 Washington? We'll see how far North has come.
Small schools: Preston. Probably got a Class 1A first-round bye on reputation, but remember, Kelcie Bormann has the floor no more. The Trojans now feature a tag team of Cassie Aldis and Lizzie Meier in the circle, along with a decent hitting lineup. Preston could have trouble with either Bellevue Marquette or Calamus-Wheatland, and its June 21 doubleheader at No. 5 Lisbon could be a semifinal preview.
Large schools: Bettendorf and Pleasant Valley. It was probably inevitable the friendly rivals would draw each other in the same Class 5A Region 4 pod, but it's a shame that somebody from the 2011 state field won't even survive to the regional finals. PV is extraordinarily well-rounded, well-coached and battle-tested, and Bettendorf's success has been a rebound surprise in some circles. The Bulldogs have swept Dubuque Senior and beaten Mid-Prairie, Lisbon and Crestwood, while going 9-3 in MAC games so far including a split with mighty Muscatine. That's really a round of 32 matchup? In the reduced Class 5A field? Geography 1, Pleasantdorf 0.
Nod to: Burlington, which doesn't match up well with Muscatine. Not a totally great outcome for the tenth-ranked Grayhounds. Outside the area, No. 5 West Des Moines Valley won't have it easy with Southeast Polk or Dowling Catholic.
Small schools: Everybody local in Class 3A. Camanche and Northeast duel in Region 5 for the right to end up in top-ranked Solon's teeth, while the Region 6 top half includes No. 13 Wilton, Louisa-Muscatine, Davenport Assumption and West Liberty. Somebody in that quartet will make a regional final … most likely against No. 2 West Burlington-Notre Dame. Doesn't look good for our Class 3A squads.