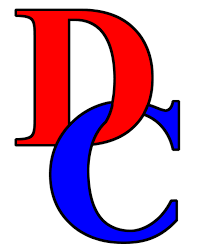 The Davenport North girls volleyball team probably wished that Davenport Central's Lexi Huntley had waited one more match to return from an ankle injury.
That's because the Blue Devils senior setter torched the Wildcats for 15 service aces to help lead Central to a 23-25, 25-21, 26-24, 25-21 win in Mississippi Athletic Conference action Tuesday night at George Marshall Gym.
Huntley, who has healed from a left sprained ankle from three weeks ago, used a jump serve that the Wildcats simply could not handle. Even on the serves that did not end in an ace, North was thrown out of its offense, which limited its attacking chances in a close match.
"She was just in a zone and we never could figure it out," Wildcats coach Heath Donath said of Huntley. "She just did a great job. Me and Jake Fiesler (North assistant coach) both serve that kind of ball in practice and we usually can control it pretty well but we just didn't have it. But that takes nothing away from what (Huntley) did. It was just her night."
It wasn't simply the number of aces. Huntley's service runs came at big times for the Blue Devils, who evened their conference and season record at 1-1 with the win. She nearly helped Central rally in the first game as North led 22-16 before Huntley served three straight aces and six straight points overall to tie the game at 22-22.
The Wildcats (0-2, 0-6) pulled out the first game behind some smart plays from Bailey Ortega and big kills from Justyus Jackson.
The Wildcats, who had a tougher server on their side in Halle Walkup (five aces in the match), jumped out to a 10-4 lead in the second set and eventually led 16-10 behind more Jackson kills and some big finishes from McKenna Rebarcak and Olivia Falborg.
The Cats seemed poised to possibly go up 2-0. But it was Huntley's turn at the service line again and her three more aces and two service points got the home team back in the game at 16-15. Huntley also finished with 28 assists during the contest and she set for two Central sophomores, Morgan Barker and Noelle Smith, who combined for eight kills down the stretch.
You have free articles remaining.
Barker led Central with 12 kills for the match while Smith chipped in seven kills and two blocks. Fellow sophomore Lilly Campbell also chipped in four kills and a pair of blocks.
The third game went back-and-forth as Jackson continued to be tough at the net but the visitors had trouble getting anyone else going in the attack. Jackson finished with a match-high 21 kills but no other Wildcat had more than three kills after the opening-set win.
Central got contributions from Campbell, Smith, Barker, Julia Houghton and Miya Wilkins. Wilkins, a senior, was the most steady player for the Blue Devils with seven kills and only two hitting errors.
With the third game tied at 24, Central got a block from Campbell to go up 25-24 and it was Huntley's turn to serve. She closed out the set with an ace. Blue Devils coach Janelle Hester said she actually kept Huntley from doing her jump serve in the fourth set, just to be a little cautious with the ankle. It didn't matter as Huntley's normal serve racked up three more aces in the match-clinching set.
Huntley said she's worked really hard in the offseason to develop her serve and said the preseason injury is fully healed.
"It's good, it didn't hurt or anything," she said. "Everything felt really good. I have been just training a bunch and getting a lot of reps in and just working really hard. Being in the weight room, we do a lot of lifting, getting stronger is key. I have been lifting year round."
In the final set, North was up 19-15 when it came time for Huntley to serve again. She put up three aces during a six-point run that put the hosts up 21-19. North eventually tied it at 22 then Houghton served up a couple of aces to put the Blue Devils in control at 22-20. Barker and Smith had kills and a North error eventually led to the final tally.
Lindsey Smith had 16 digs and Wilkins chipped in another 13 digs. Walkup had 13 digs for the Wildcats while Emma Janecek chipped in another six digs for North.
As for Huntley, there did not appear to be any strategy to where she placed her serve. Instead it feels like she hits it and try and return it if you can.
"She's powerful and athletic and she is a year-round volleyball player and she really puts the work in," Hester said of Huntley. "She is in a leadership role now and, by far, she is the motivator for this team to keep improving."