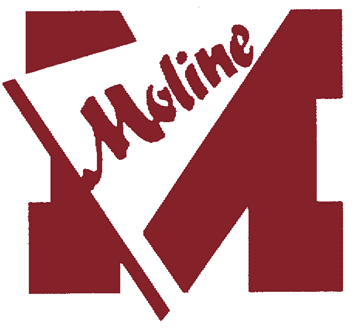 GENESEO — The sigh of relief could be heard all the way back in Moline.
The Moline High School volleyball team held on for a dramatic straight-set victory (25-16, 26-24) over Geneseo on Thursday to claim the outright Western Big 6 Conference title.
The Maroons were down 24-22 in the second set in a rowdy road environment and looked rattled. Coach Sarah Fetter called timeout and brought her girls in for a huddle.
"I just told them that wins aren't going to be handed to us," Fetter said. "We can't come in complacent and expect teams to make errors and give it to us. We have to work hard for a reason, and that lit a fire under their tails."
The tension in the room was undeniable. The Maroons (12-0 WB6) had just won their 23rd conference set in a row, and the Maple Leaf crowd knew the importance of the next point.
And that's where Ella Ramsay came in.
The Maroons' savior, for seemingly the entire season, was fed the ball three times in a row. Two connected for kills that brought the game to a tie, and a pair of errant Geneseo kill attempts clinched the Maroons a 26-24 set victory and the Big 6 title.
"It was chaos," Fetter said. "Geneseo came out hard tonight and we knew they would. They wanted to avenge their loss to us earlier this season and they served super aggressive. It took us off guard and we just weren't in system as much as we would like. They did a great job. I'm glad we pulled it out there in the second set."
It was Moline's first conference set this season to go to extra points. 
"I don't really think they realized we (won conference) until after the game when I told them," Fetter said. "It's been a goal of ours since the beginning."
For a majority of the game, it looked like Moline would coast to another sweep. Junior outside hitter Caylee Brandes controlled much of the offense in the middle and Geneseo had no answer in a 25-16 first set win.
The Maple Leafs (9-4 WB6) played better visually than what the score showed, however, diving for balls and putting in the extra effort.
In the second set, the effort paid off. Geneseo jumped out to a 3-0 lead and its service game seemed to fluster the Maroons.
"The whole night we were talking about finding that extra 1%," Geneseo coach Casey Komel said. "We were doing some great things, but we weren't always finding it. I think they finally found that 1% we have been talking about these past couple weeks tonight and it was very rewarding for them and myself to see that on the court."
Geneseo star Hannah Copeland was kept quiet in the first set but made her presence felt in the second. The Maple Leafs began running plays that allowed her to find space.
"We kind of noticed that Moline's defense locks in on middles," Komel said. "I noticed it on film against us, and when they played other teams. When teams have strong middles, they want to shut them down. We knew that our middles were going to be used as a little bit of a decoy when needed and so our setters did a nice job to slide that ball outside."
For the most part, Moline's strategy still worked. Copeland only finished with two kills on 14 attempts, but she started to get on a roll in the second set. Even on hits in which she didn't get a kill, they would throw Moline out of system.
That allowed Geneseo to battle in the second set as it went back and forth until Moline seemed to break away with a 22-18 lead. That's when Ramsay and Moline got all out of sorts, leading to a 6-0 Geneseo run.
"They definitely got us out of system," Fetter said. "Those rotations where (Ramsay) plays middle we are unable to run her. Our passing was a little off the net so our setters were running around which didn't allow them to place the ball as well as they normally do. But we still found our hitters and did a good job of staying aggressive."
Gigi Tertipes and Carly Rouse were a major part of the Maroons' second set escape. The two setters had pivotal assists to Ramsay in the final points to put the game away. After Geneseo's 6-0 run that put the Maple Leafs ahead 24-22, Moline's 4-0 run ended the game.
"The games between these two teams are always fun and competitive" Fetter said. "We just had to try and keep the ball alive. When another team is scrappy, we try and match that ourselves. It was a great match of volleyball tonight."
Rock Island, who Moline defeated twice this season, dropped its match against Sterling on Thursday to seal the Maroons' outright conference title.
But that is just one of many boxes that Moline wants to check this season.
"We are going to continue to work hard for our final two games next week and beyond," Fetter said. "Our goals aren't finished."
Ramsay finished with a team-high nine kills. Tertipes and Rouse had 12 and eight assists, respectively. 
Geneseo returns to the court Saturday for the Dixon Invite. The tournament will begin at 9 a.m.
Maroons will play next at 7 p.m. Tuesday against Galesburg on the road.