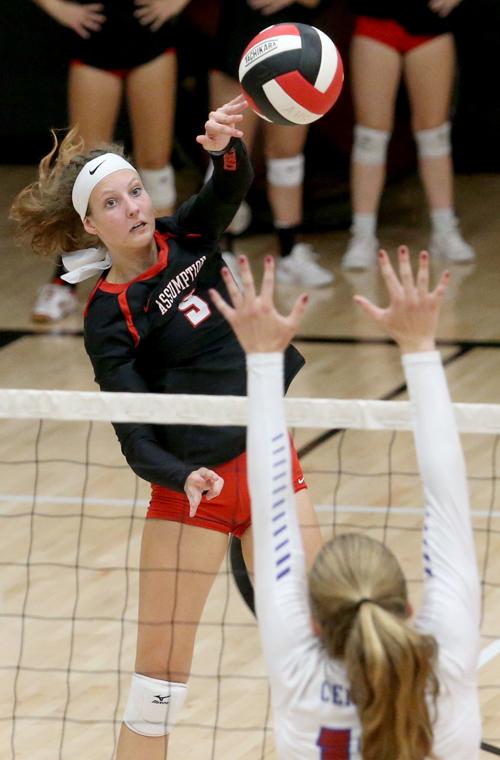 First team
Kora Ruff (C)
School/year: Pleasant Valley, sophomore
Height/position: 5-7, setter
Serving it up: Selected all-tournament at state after 60 assists in two matches, Ruff was facilitator for MAC champion Spartans. She was third in Iowa Class 5A with 8.94 assists per set, averaged more than 2.1 digs per set and was second on team with 39 aces. She has 1,639 assists in two seasons.
Maddi Barickman
School/year: Geneseo, junior
Height/position: 5-9, setter/right side
Serving it up: Barickman finished season with 280 assists, 177 digs, 130 kills, 41 service aces and 30 blocks. Named all-tournament at the Geneseo Invitational and first team all-Western Big Six, Barickman helped the Leafs win 26 matches and finish third in their inaugural season in the league.
Justyus Jackson
School/year: Davenport North, senior
Height/position: 5-11, outside hitter
Serving it up: Headed to Tulsa, Jackson led the MAC in kills for conference matches at 3.83 per set. She had 28 kills against Clinton, the most by any player in a match in the conference this season. She averaged 1.47 digs per set and collected 36 blocks. She finished her career with 595 kills. 
Brooke Mulholland
School/year: Clinton, senior
Height/position: 5-8, setter
Serving it up: The Kirkwood commit and first team all-MAC choice was six-rotation standout for the River Queens. Three-year starter led Clinton in assists (5.65), kills (146) and aces (28) along with second in digs (2.9). Mulholland distributed more than 1,900 assists the past three seasons. 
Maddie Peterson
School/year: Moline, senior
Height/position: 5-4, libero
Serving it up: A recent Bradley signee, Peterson was a three-year starter for the Big Six co-champion Maroons and second team all-conference. She averaged more than 5.2 digs per set for Moline, among the best in the conference. She tallied almost 100 service aces the past two seasons.
Emma Powell
School/year: North Scott, senior
Height/position: 6-0, outside hitter
Serving it up: A repeat first team all-Metro choice and four-year varsity contributor, Powell powered the Lancers back to the state tournament for first time in seven years. She averaged 2.86 kills and 3.44 digs per set (both among the league's top five) along with serving at a 95% clip. 
Ava Schubert
School/year: Assumption, freshman
Height/position: 6-0, right side hitter
Serving it up: Named MAC's player of the year, the southpaw led conference with 3.05 kills per set and helped Assumption reach Class 3A state tourney. She recorded 2.6 digs per set along with 42 aces and 42 blocks — both among MAC's top 10. Schubert had season-high 20 kills in state quarters.
Kylie Welch
School/year: Assumption, senior
Height/position: 5-8, outside hitter
Serving it up: Three-year varsity contributor, Welch was first team all-MAC. She was fourth in league in kills per set (2.84) and hit at a .311 efficiency. Welch led conference in aces (79) and was among team's top three in digs (2.56). Her 190 aces are a conference-best the past three seasons.
Second team
Name;School;Height;Year;Position
Erica Brohm;Pleasant Valley;6-1;senior;middle hitter
Kamara Dickerson;Moline;5-8;senior;outside hitter
Kendall McNaull;North Scott;6-1;senior;middle hitter
Bailey Ortega;Davenport North;5-11;senior;setter
Ilah Perez-Johnson;Pleasant Valley;5-9;senior;outside hitter
Raghen Walker;Rock Island;6-0;senior;middle hitter
Maggi Weller;Geneseo;5-3;junior;libero
Emily Wood;Pleasant Valley;5-8;junior;outside hitter
Honorable mention
Alleman: Colleen Kenney, so.
Assumption: Annabelle Costello, jr.; Emma Schubert, jr. 
Bettendorf: Riley Deere, jr.; Maggie Erpelding, sr.; Claudia Johnson, sr.; Breanna VerMeer, sr.
Clinton: Rylie Mussman, jr.; Kelly Clark, sr.
Davenport Central: Alexis Huntley, sr.; Lindsey Smith, sr.
Davenport North: Halle Walkup, jr.
Davenport West: Cassidy Schaeffer, sr.; Isabel Castel, sr.
Geneseo: Abbi Barickman, jr.; Hannah Copeland, so.
Moline: Sophia Potter, jr.; Ella Ramsay, so.; Kayla Veto, sr.
Muscatine: Rylie Moss, jr.; Maddie Petersen, jr.; Kaylynn Salyars, jr.; Hannah Wieskamp, sr.
North Scott: Rachel Anderson, sr.; Grace Graham, so.; Ella McLaughlin, so.
Pleasant Valley: Sara Hoskins, sr.; Kaitlyn Morgan, sr.
Rock Island: Emily Allison, so.
United Township: Jade Hunter, jr.