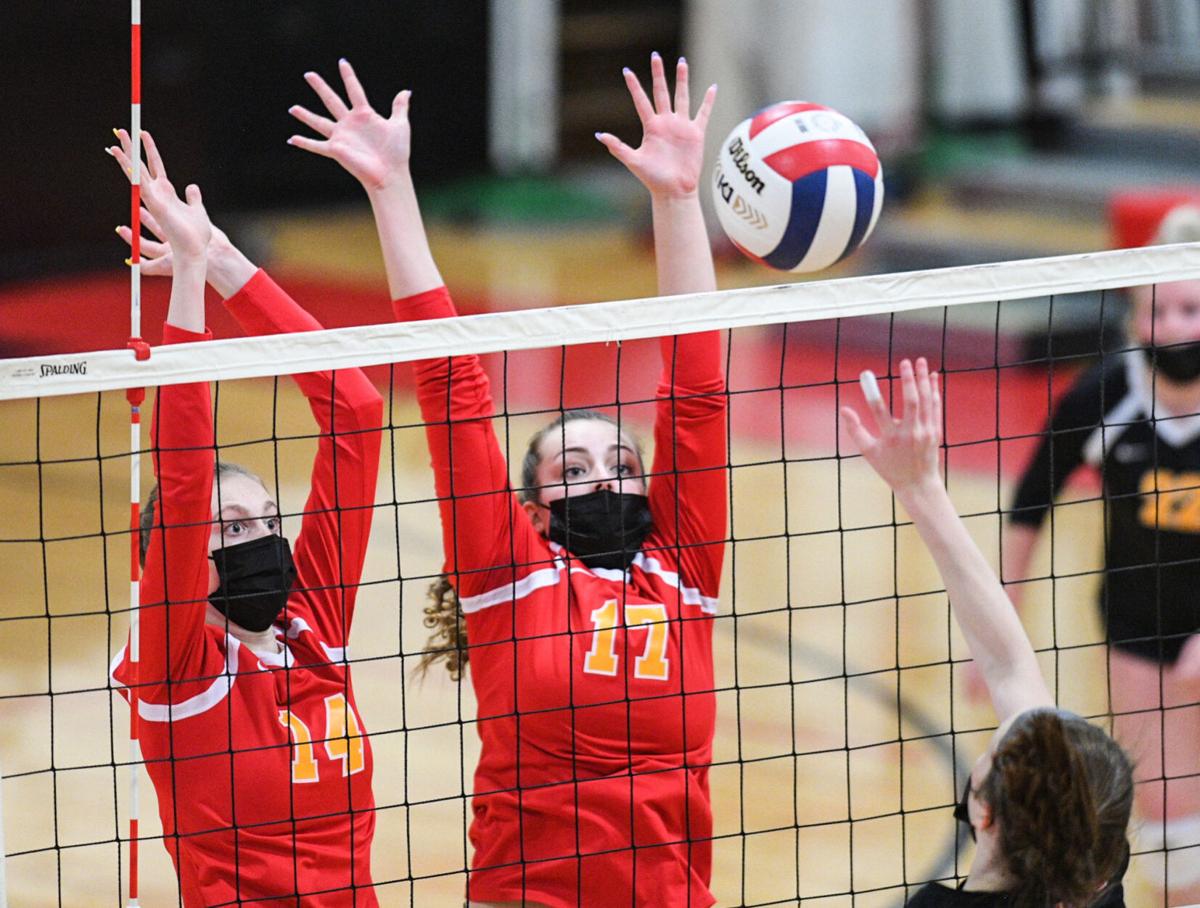 ORION — With just two matches remaining in its season, the Rock Island volleyball squad wanted badly to recapture the winning feeling it had just over a week ago.
Winners in seven of 11 matches entering last week's action, the Lady Rocks came in Wednesday with a five-match losing streak going up against an Orion club looking to rebound from back-to-back setbacks.
Fueled by a solid all-around match from freshman outside hitter Addie Bomelyn and with sophomore right-side hitter Alexia Clark making a strong varsity debut, the Rocks swept the Chargers 25-23, 25-23.
"We were getting discouraged for sure; it seemed like nothing was going our way," said Rock Island coach Morgan Gray, whose 8-9 club finishes its season tonight at Western Big 6 rival Sterling (20-1), a squad that clinched a conference title share on Tuesday with a 25-8, 25-10 sweep of United Township.
"We were making errors and beating ourselves. Even (Wednesday), you can still see it's a work in progress. We were up 20-12 in the second game, and Orion came back to tie it. When you're up eight, you have to close it out sooner."
The Chargers (12-7) rattled off a 9-1 second-set run to draw even at 21-21 on an Ashley Awbrey service ace. Rocky then tallied three straight to reach match point, and again Orion rallied, closing it to 24-23 on Anna Silversmet's ace before the Rocks secured the sweep.
Playing a key role in the second set was Clark, whose six kills matched Bomelyn for team-high honors, and who added three kills to match junior teammate Lexi Thompson for match-best honors.
"I was really nervous. I actually didn't think I'd get put in," Clark said. "I usually play middle, but I was right side, and there's a lot of difference. I was just trying my best to be big. After a couple of blocks, I adjusted well."
The efforts of Clark and Thompson up front along with setters Sophia Sigler (12 assists) and Bella Allison (10 assists) were augmented by the play of Bomelyn, who had a match high with 20 digs and also dished out a pair of service aces.
"I feel like if we want to win, we need to step up our energy," said Bomelyn. "If we get down and the other team's running, we get down on ourselves."
That seemed to be the case in the first set as seven straight Rock Island hitting errors enabled Orion to get out to a 9-4 start. However, Rocky righted the ship as an ace by Campbell Kelley (nine digs, five kills) highlighted a 6-0 run that put the crimson and gold up 12-10.
A pair of Kelley kills enabled the Rocks to work their way to a 21-16 lead, but the Chargers rallied with a 7-1 spurt to go up 23-22 and seemed ready to take the first set.
However, the Rocks scored their final three points to win the opener, and that momentum carried into the second game, forcing Orion to have to play catch-up the entire set.
"When you get down by eight in the middle of the game, it's hard to come back," said Orion coach Sydney Adams, who got seven kills from Rachel Bowers and five from Hailey James, with Awbrey adding 14 assists and Anna Silversmet tallying 16 digs and two aces.
"We worked hard and made a comeback, but it was a little too late at that point."
After three straight losses this week, including setbacks to Moline and Monmouth-Roseville prior to Wednesday's match, the Chargers look to finish strong when they host Ridgewood in Friday's finale.
"Playing Big 6 teams and competing with them, we're trying to get across that we can compete with those schools," said Adams. "Playing Mon-Rose was nice, especially with them coming into the Three Rivers next year; we get to see what competition they'll bring."