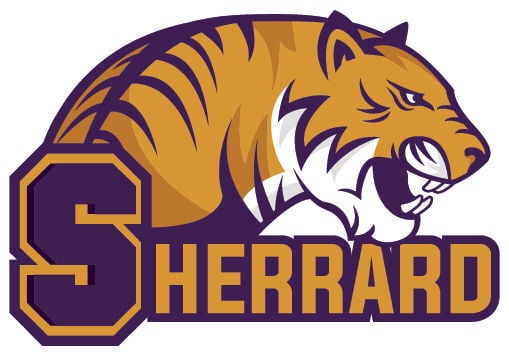 SHERRARD — Needing a win Tuesday night to clinch at least a share of the Three Rivers Conference's West Division title, the Sherrard volleyball squad once again showed a flair for the dramatic.
Down by four points to fellow TRAC West title contender Monmouth-Roseville in the third game after dropping the second set to the Titans, Sherrard lived up to head coach Amy Mitton's post-match words.
"We always battle back. Never count us out," said Mitton after her Tigers rallied to take the final game and the match, besting Mon-Rose 25-22, 18-25, 25-23 at Harry Hunt Gymnasium.
"That's been our M.O. all season," she added. "We have a share of the title, and hopefully we take it officially next Tuesday."
Now 10-1 in the Three Rivers West, Sherrard (24-3) heads to Monmouth next Tuesday for a rematch with the Titans (18-5-2, 8-2) to wrap up its conference schedule.
Also remaining in the hunt for a possible title share is Rockridge (20-5-3), which is 9-2 with one league match left after sweeping Erie-Prophetstown 25-17, 25-10 Tuesday evening.
"We definitely have to learn from this match," said Sherrard junior outside hitter McKenna Blackwell. "Fix our mistakes, and continue to keep learning and keep on getting better."
After a hard-fought first set, Sherrard found itself faced with a winner-take-all third game after Mon-Rose used an 11-1 run early in the second game to open up a 10-point lead, which enabled the Titans to fend off several Tiger rallies and even up the match.
The front-line duo of junior Mattie Gillen (13 kills) and senior Brooke Kane (nine kills, four blocks), aided by freshman Brianna Woodard (six kills, three blocks) stepped up their efforts and gave Sherrard fits all evening.
"We needed to step up our game," said Sherrard sophomore hitter Eva Zimmerman. "I felt like we needed to get our energy up and have more confidence, and that's what we did."
Zimmerman and Blackwell (13 kills apiece) sparked the Tigers in the third set, with Zimmerman shining early in the game after Mon-Rose got off to an 8-4 start, helping get the Tigers back to within one at 12-11.
After the Titans took a 15-11 lead, Sherrard answered with five straight points to go up by one. With the Tigers trailing 18-17, Blackwell stepped up in a big way for the hosts.
She had a run of five straight kills for the Tigers as the teams traded points back and forth, the last of which tied the final set at 22-22. Zimmerman's 13th and final kill of the night got the hosts to game point at 24-23.
"Everyone on this team knows they have opportunities," said Blackwell. "This person can get on a run, that person can get on a run. ... We're all capable of relying on each other."
Aside from clinching a conference title share, Tuesday night's win was a nice bounce-back effort for Sherrard after having its 17-match winning streak snapped this past Saturday.
But, much like in Tuesday's win, Blackwell feels the Tigers can learn from their loss to Princeton in last weekend's Princeton Tournament title match and use those lessons in the upcoming IHSA Class 2A postseason.
"The winning streak was something that gave us more confidence as we kept going, and we used it as motivation," she said, "but we learned a lot from the Princeton game."