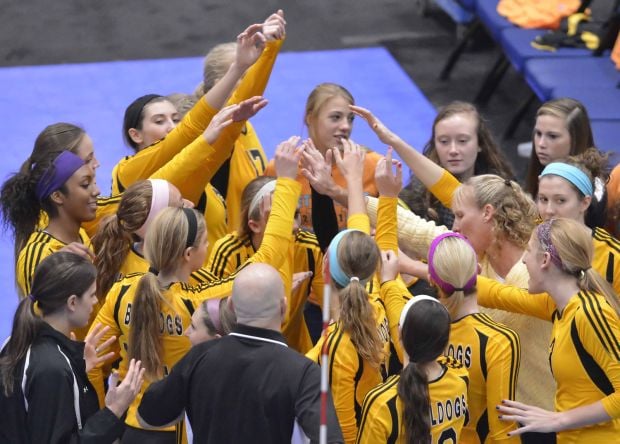 VOLLEYBALL
No. 3 Ankeny Centennial (33-8) vs. No. 2 Bettendorf (35-2)
When/where: 10 a.m. today/U.S. Cellular Center Court 2
At stake: The winner advances to the championship match at 10 a.m. Friday against West Des Moines Dowling or Urbandale.
Key players: Ankeny Centennial — Jaali Winters, 6-2, jr., OH (5.02 kps, 2.86 dps); McKenna Pierson, 5-9, jr., S (8.91 aps., 45 blocks, 38 aces). Bettendorf — Devan Porter, 6-0, sr., OH (3.07 kps., 2.53 dps., 59 blocks); Anna Willey, 6-0, sr., S/RH (2.14 kps., 2.14 dps., 55 blocks, 42 aces).
Need to know: Centennial, in its first season as a high school, swept Johnston in the quarterfinals. Winters, among the top hitters in Class 5A, is the daughter of former Iowa basketball player James Winters. Bettendorf has dropped only two sets in best-of-five matches this season — 3-1 wins over Pleasant Valley and Assumption. Porter led the Bulldogs with 10 kills in the quarterfinals.
You have free articles remaining.
No. 7 Assumption (32-6) vs. No. 2 (Solon 32-2)
When/where: Noon today/U.S. Cellular Center Court 2
At stake: The winner advances to the championship match at noon Friday against Charles City or Harlan.
Key players: Assumption — Danielle Cabel, 6-2, sr., OH (4.41 kps, 2.24 dps., .348 efficiency); Lexi Flynn, 6-5, Libero (3.27 dps., 43 aces). Solon — Jordan Runge, 6-0, jr., OH (3.38 kps., .387 efficiency); Rylee Smith, 5-2, Libero (4.78 dps., 34 aces).
Need to know: Solon knocked off Assumption 21-19, 22-20 in the final match of the Durant round-robin tournament Oct. 12. Runge had 21 kills and a .545 kill efficiency in the four-set quarterfinal victory over Indianola. The Knights won the school's first state tournament match Tuesday with a five-set triumph over West Delaware.