DES MOINES — Julien Broderson has gleaned insight from every workout and every match the past four years at Davenport Assumption.
The final product was on display at Wells Fargo Arena on Saturday night.
One of the most dominant high school wrestling careers in Quad-Cities history ended with his arm raised and another state championship.
Broderson recorded a 16-0 technical fall win over Central Lyon's Kolton Bus in the Class 2A 195-pound final to become just the second three-time state champion for the Knights.
"I'm very, very satisfied," Broderson said. "You have to have a killer instinct to be a very good wrestler. I go into every single match ready to take whoever steps in front of me."
Broderson finished the season 53-0 and his career with a 112-match win streak. He became the 93rd wrestler in Iowa history to capture three championships.
He becomes the seventh Iowa Q-C wrestler to make that claim, joining Assumption's Josh Watts, Clinton's Dan Knight, Maquoketa's Eric Juergens and Cole Pape along with Bettendorf's Fredy Stroker and Jack Wagner.
Watts won three titles at Assumption in 1998, 2000 and 2001. Coincidentally, Watts was inducted into the Hall of Fame before Saturday's finals. 
Broderson finished with 174 career wins, third all-time at Assumption behind Watts (190) and Brody Grothus (175). 
The Iowa State recruit didn't allow a takedown or reversal all season. 
"I think Julien is top five historically in the Quad-Cities," Assumption coach Jon Terronez said. "It's a different time period compared to some of those guys. It is like comparing LeBron (James) to (Michael) Jordan.
"Julien is in his prime right now, and he's one of the best around."
Broderson took Bus down and cradled him in the first period. He had Bus on his back for almost 30 seconds but didn't get the pin.
"In my opinion, he was pinned, but obviously I can't be a ref in the match," Broderson said. "He didn't score a point on me. It shows another level of dominance."
There were a couple scramble situations, one where Broderson almost was rolled onto his back.
"Any other wrestler, I would have been worried," Terronez said. "If you saw my face, I wasn't worried one bit. It gets kind of boring when you pin everybody in 40 seconds.
"He tried some things, the kid scrambled and wrestled well. To me, a tech fall is more dominating than a pin. You beat a guy for an entire match."
Broderson had his pinkie finger bit during the match.
After it was bandaged up between the first and second periods, he took Bus to his back two more times before the match concluded with 42 seconds left in the third period.
He raised his arms in jubilation.
"It doesn't sound real yet," Broderson said. "It hasn't hit me that was my last time wrestling in an Assumption singlet. It will take a few minutes to feel that, but I'm excited for baseball this summer and then getting to Iowa State.
"But this will always be a huge milestone in my life."
West Liberty's Will Esmoil lost a 4-3 decision to Humboldt's Joey Busse in the 2A 145-pound final. Busse scored a reversal in the third period to break a 2-all tie.
Esmoil, a junior, finished the season with a 36-3 record.
"I want to win next year," Esmoil said. "I just need to have a little more confidence with my wrestling."
021619-qct-IA-HS-Wrestling-001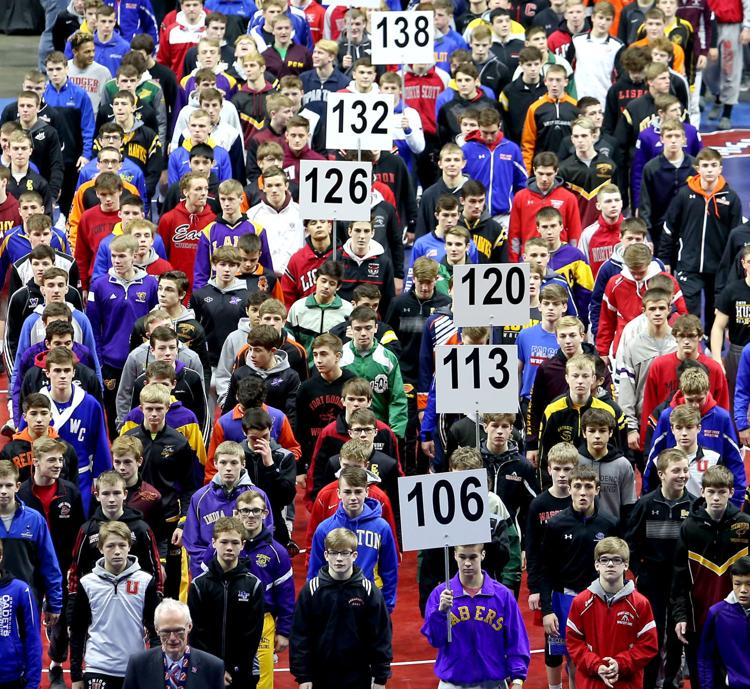 021619-qct-IA-HS-Wrestling-002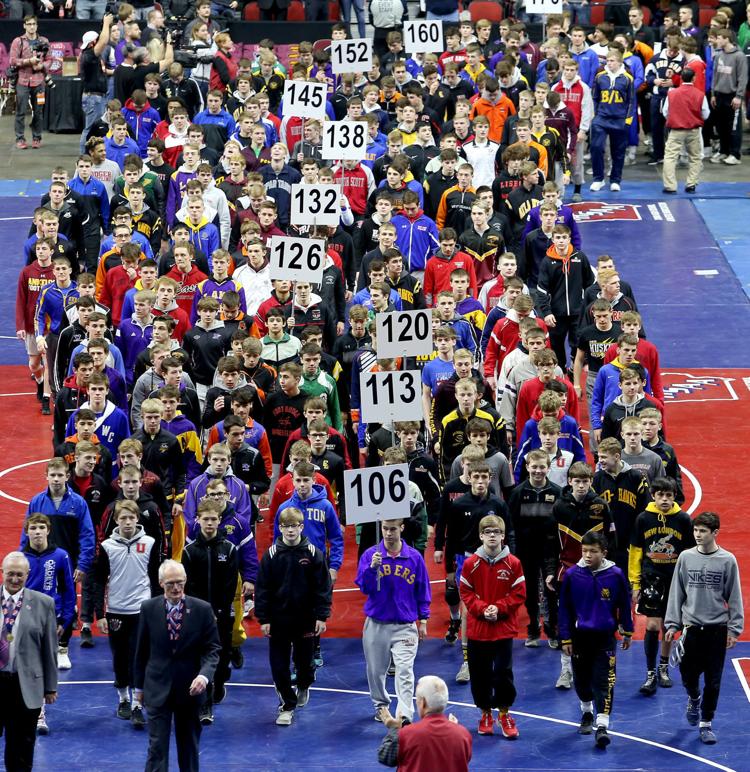 021619-qct-IA-HS-Wrestling-003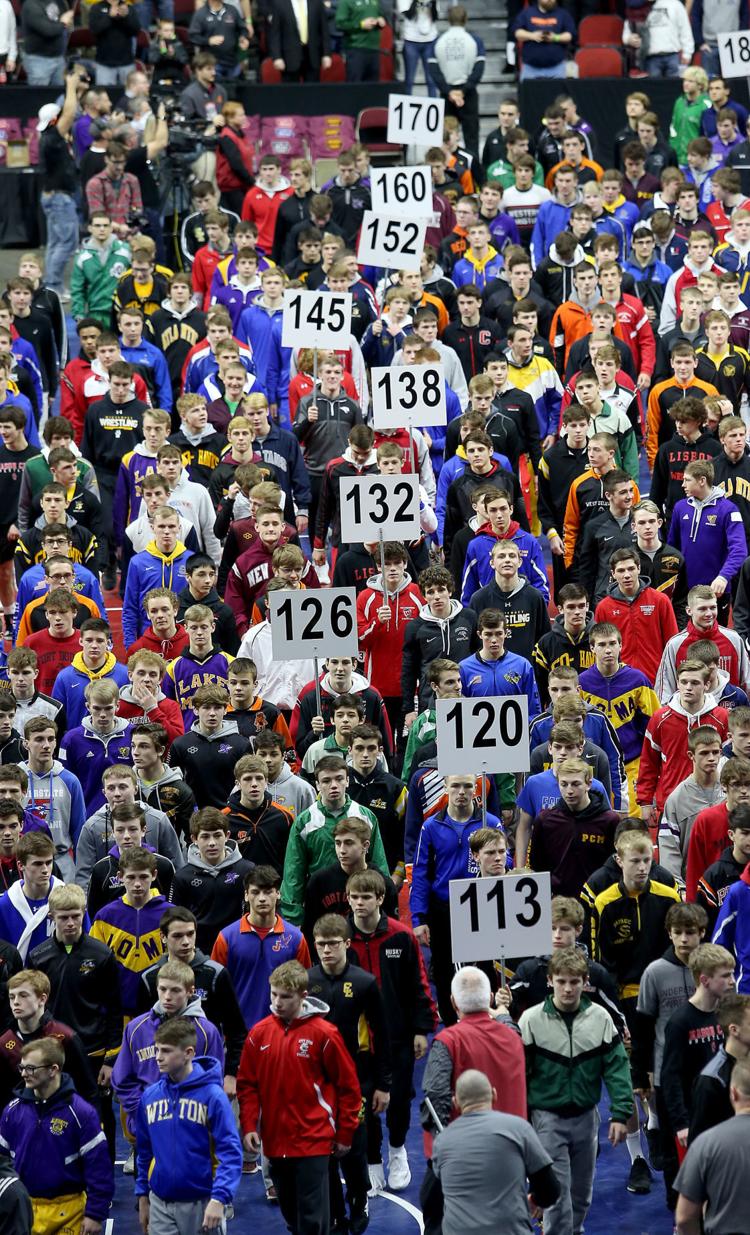 021619-qct-IA-HS-Wrestling-004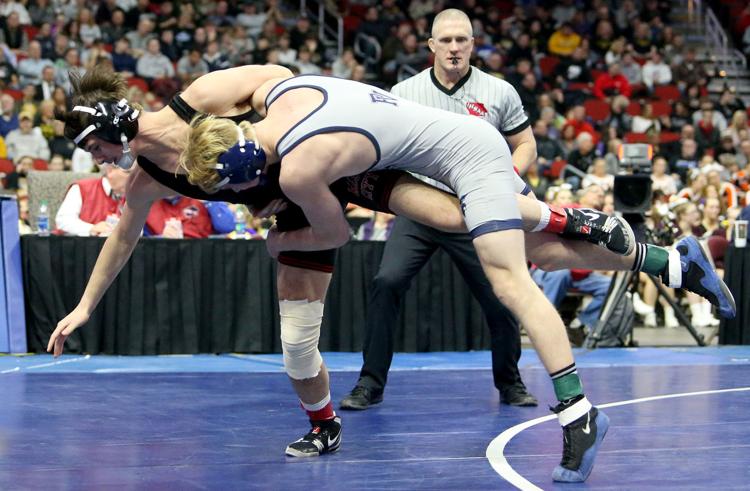 021619-qct-IA-HS-Wrestling-005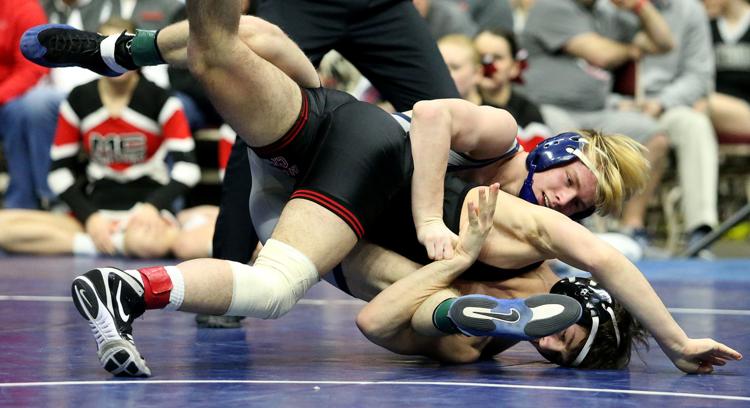 021619-qct-IA-HS-Wrestling-006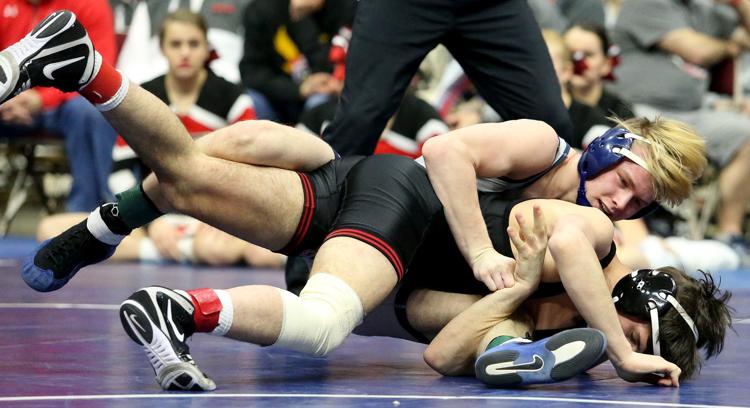 021619-qct-IA-HS-Wrestling-007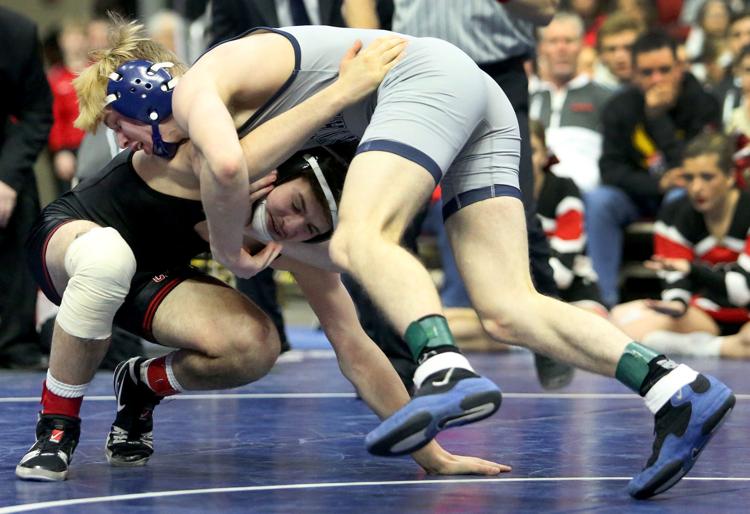 021619-qct-IA-HS-Wrestling-008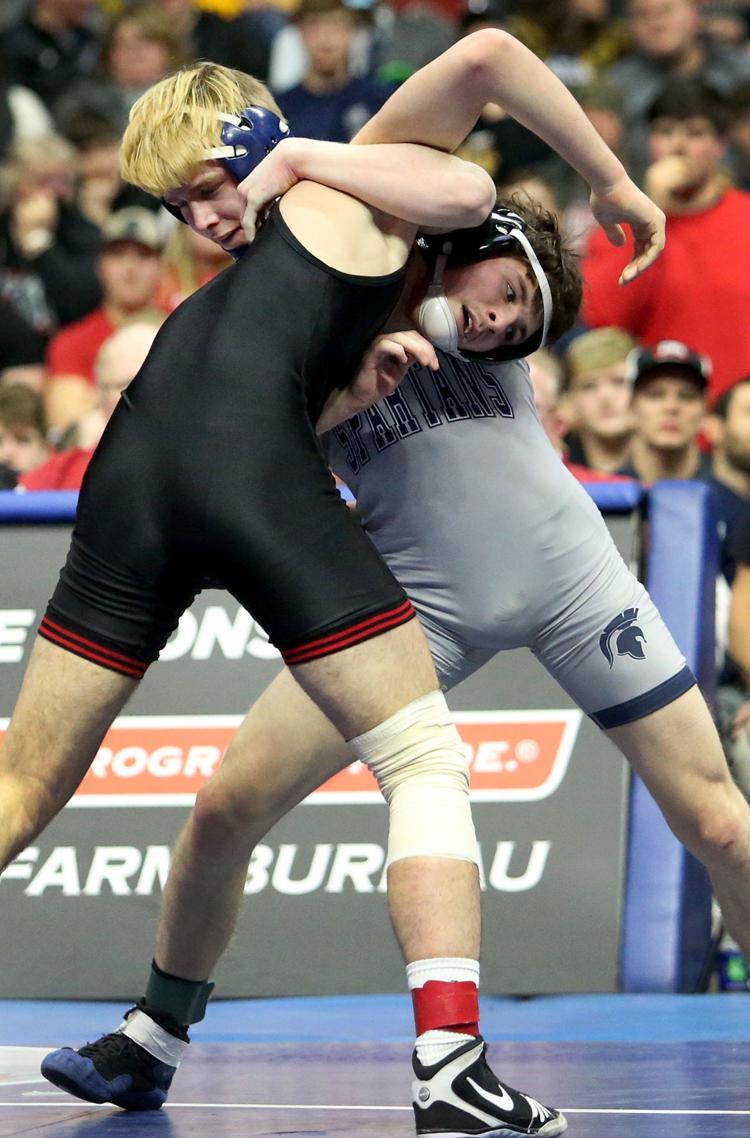 021619-qct-IA-HS-Wrestling-009
021619-qct-IA-HS-Wrestling-010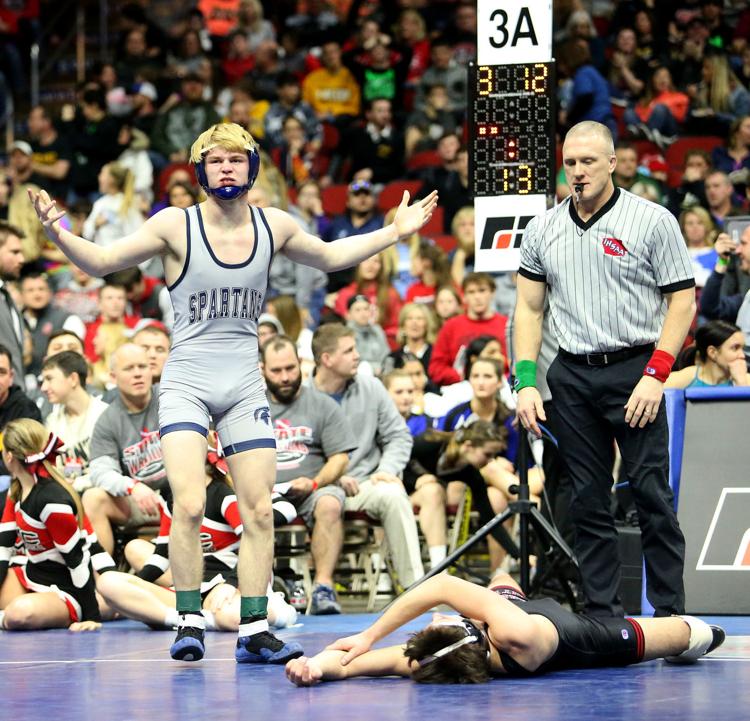 021619-qct-IA-HS-Wrestling-011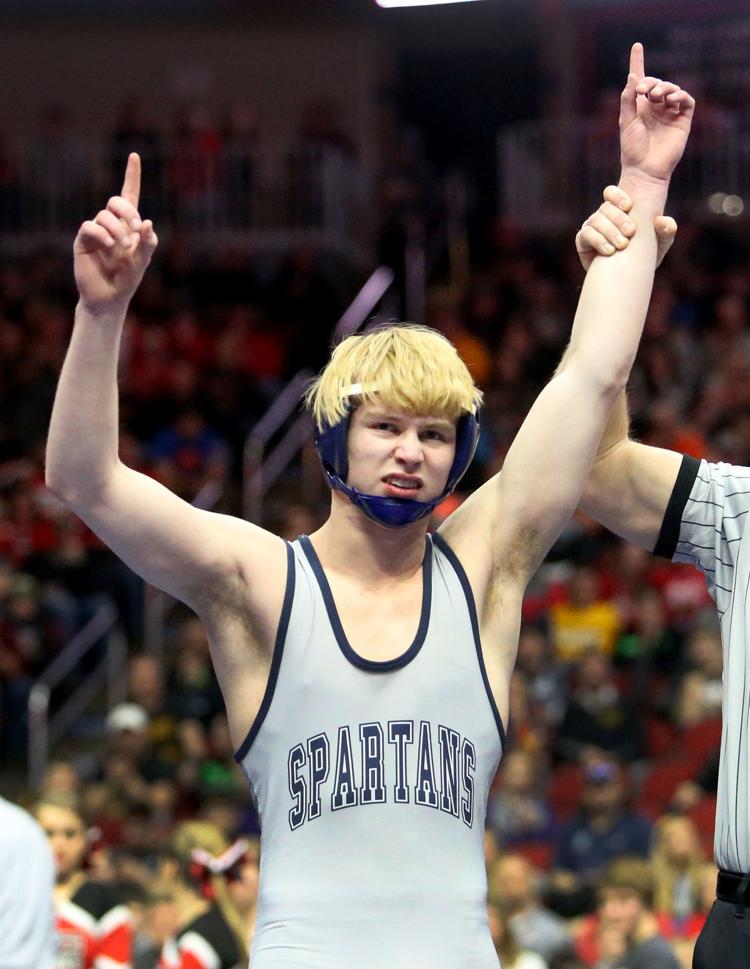 021619-qct-IA-HS-Wrestling-013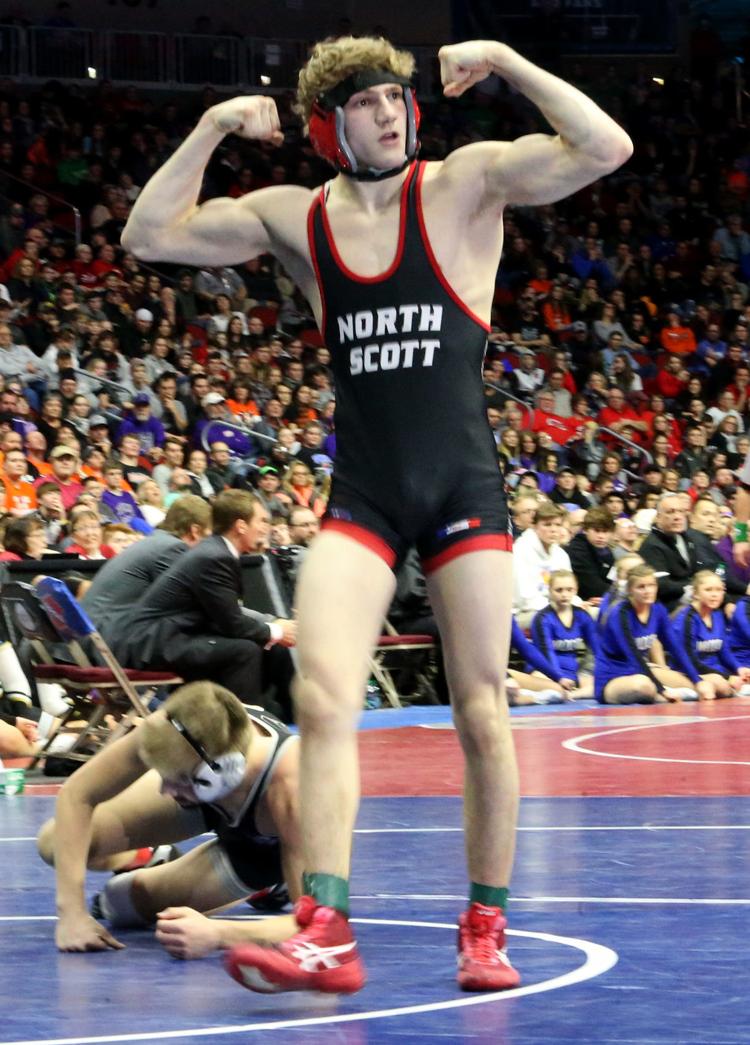 021619-qct-IA-HS-Wrestling-014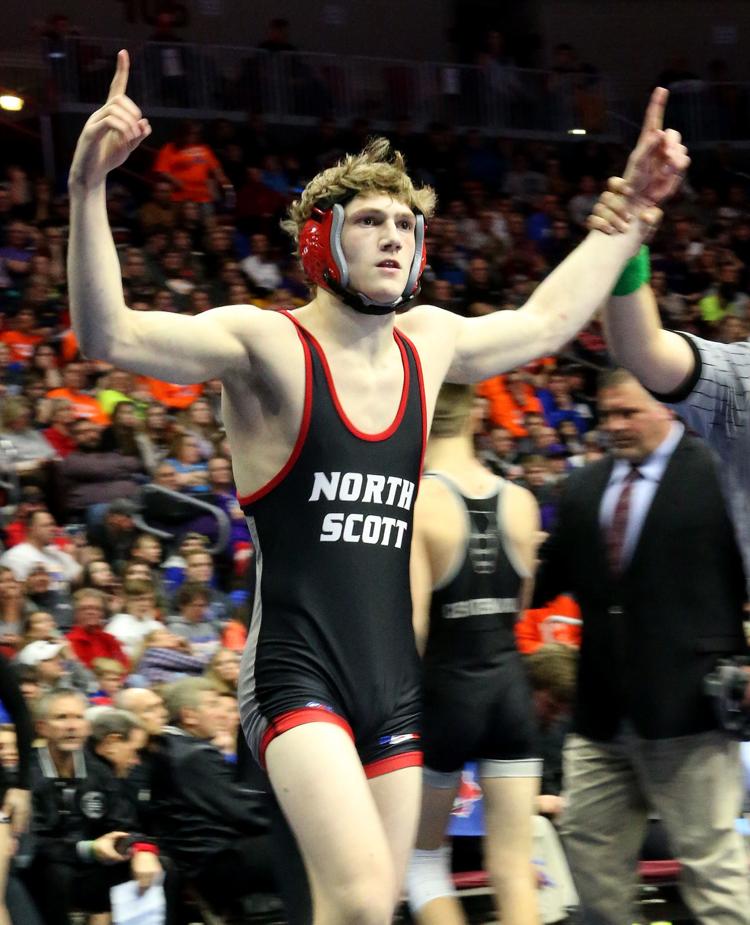 021619-qct-IA-HS-Wrestling-015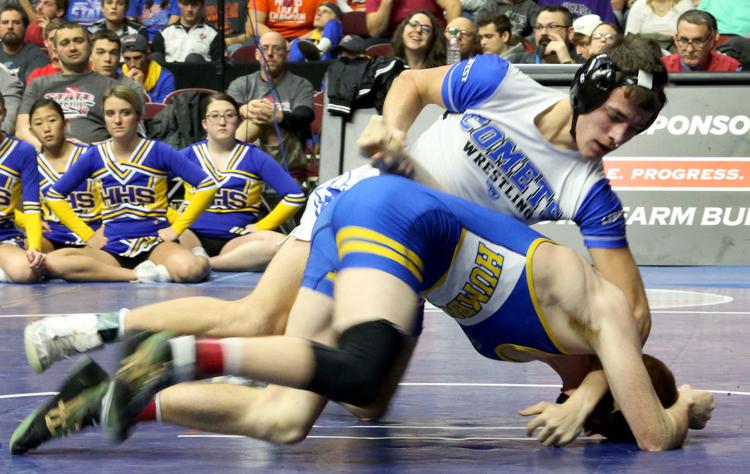 021619-qct-IA-HS-Wrestling-016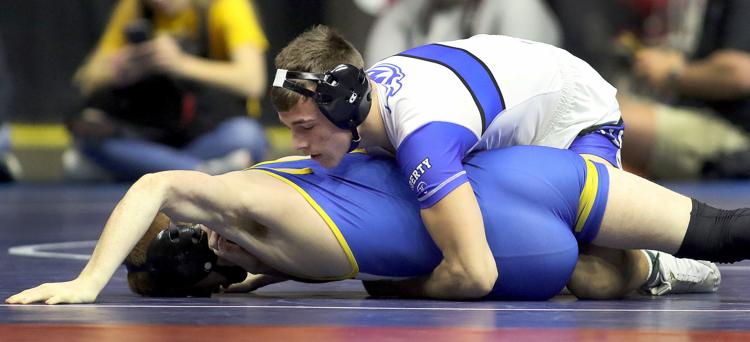 021619-qct-IA-HS-Wrestling-017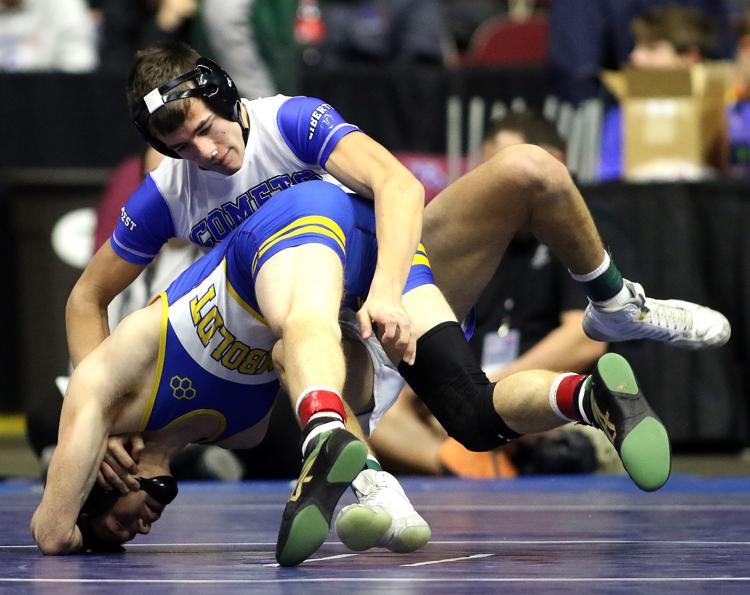 021619-qct-IA-HS-Wrestling-018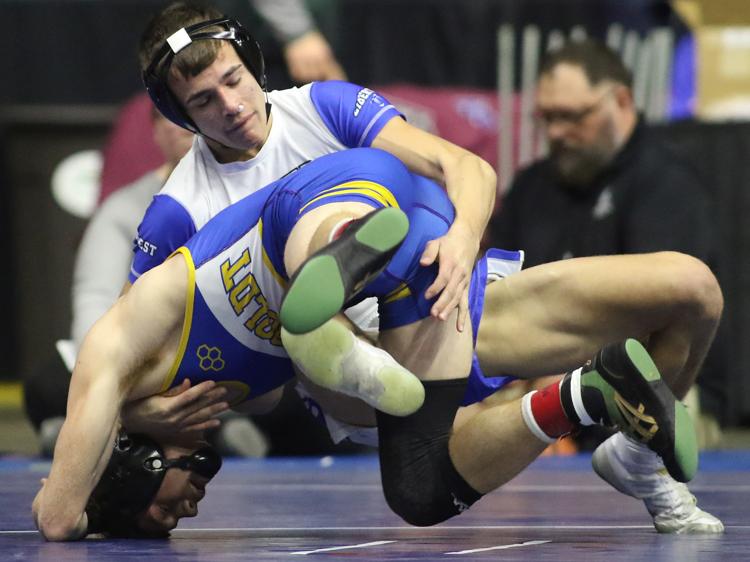 021619-qct-IA-HS-Wrestling-020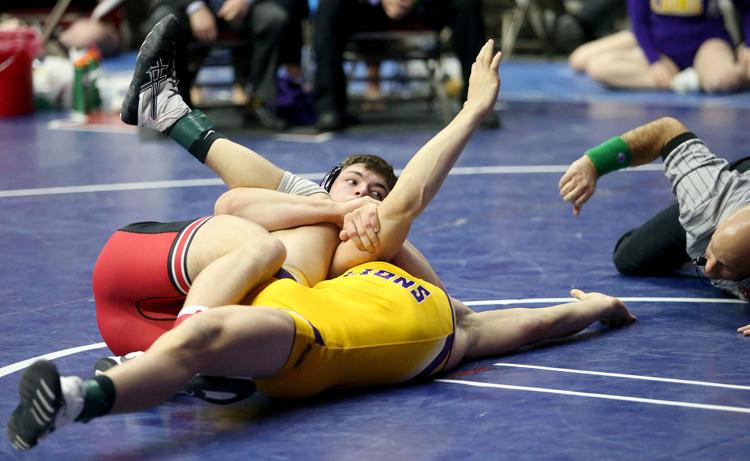 021619-qct-IA-HS-Wrestling-021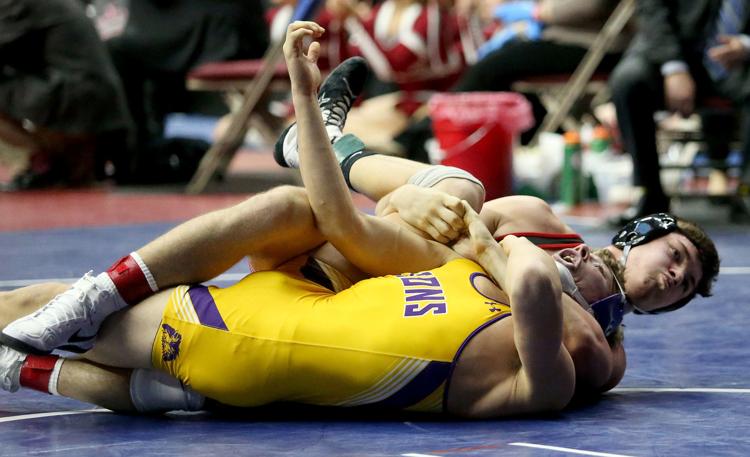 021619-qct-IA-HS-Wrestling-022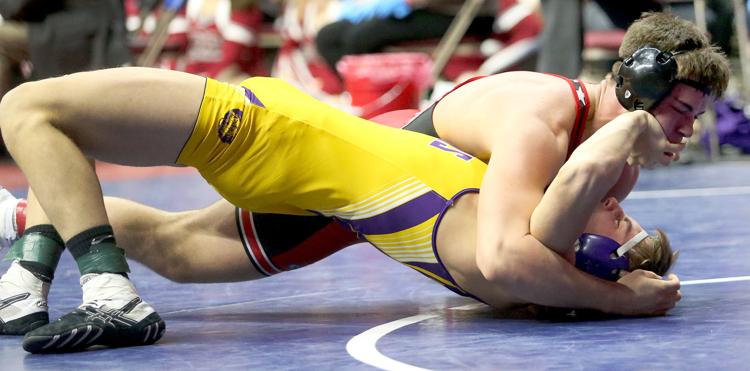 021619-qct-IA-HS-Wrestling-023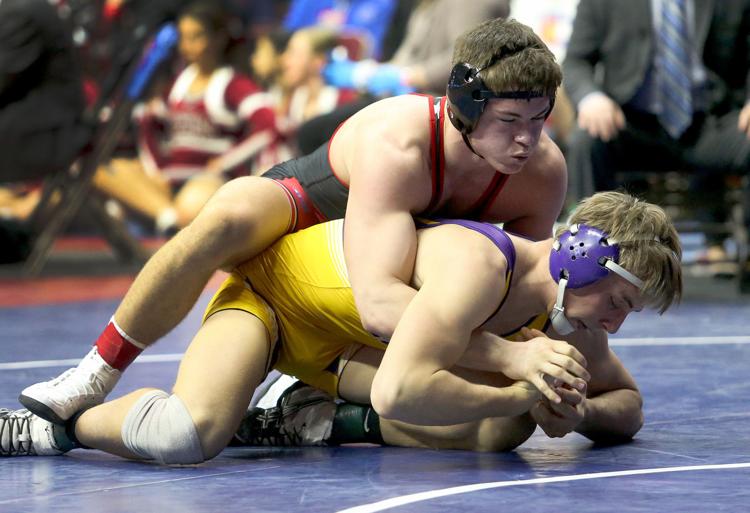 021619-qct-IA-HS-Wrestling-024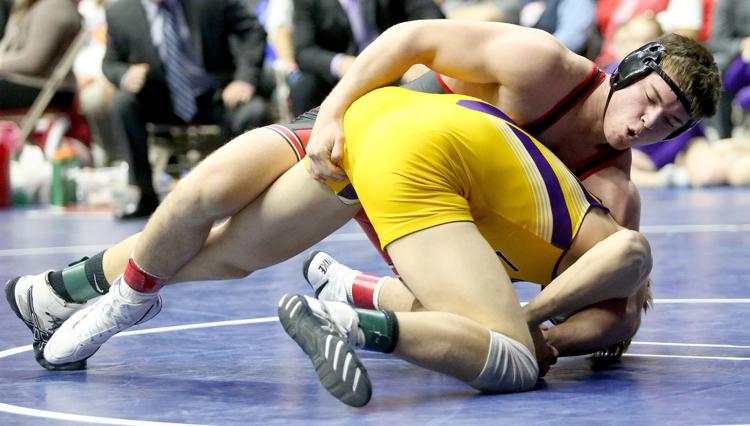 021619-qct-IA-HS-Wrestling-025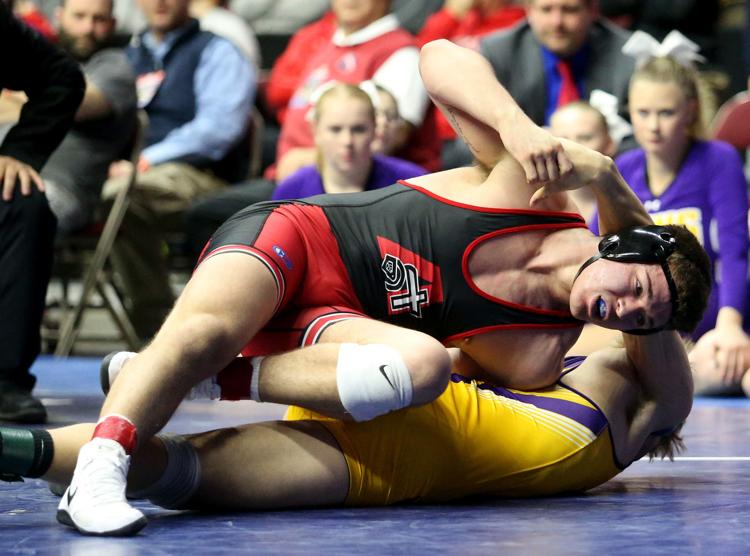 021619-qct-IA-HS-Wrestling-026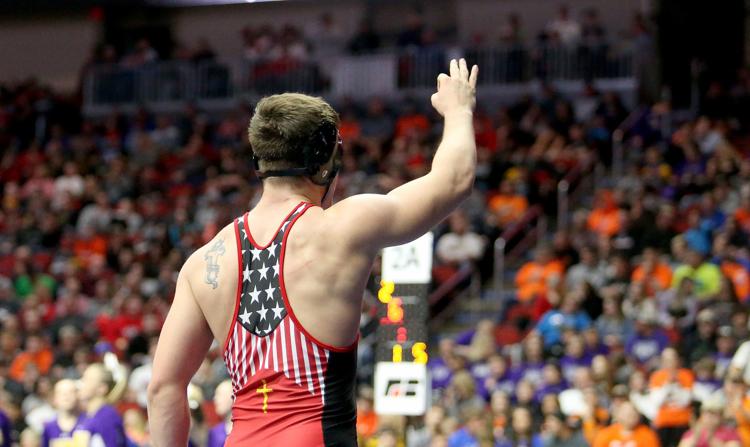 021619-qct-IA-HS-Wrestling-027
021619-qct-IA-HS-Wrestling-028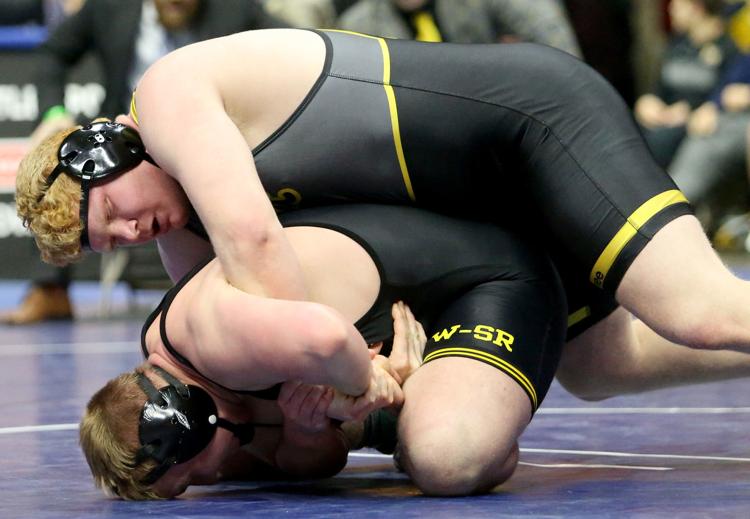 021619-qct-IA-HS-Wrestling-029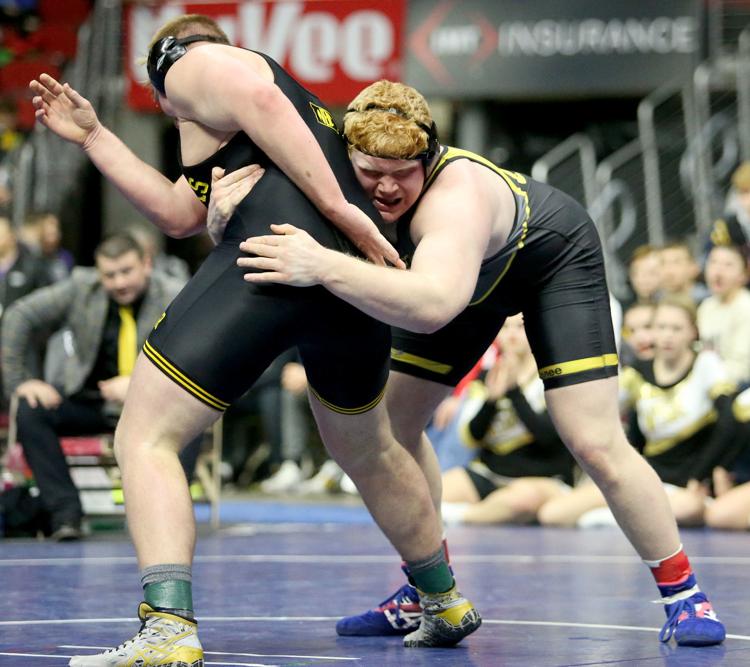 021619-qct-IA-HS-Wrestling-030