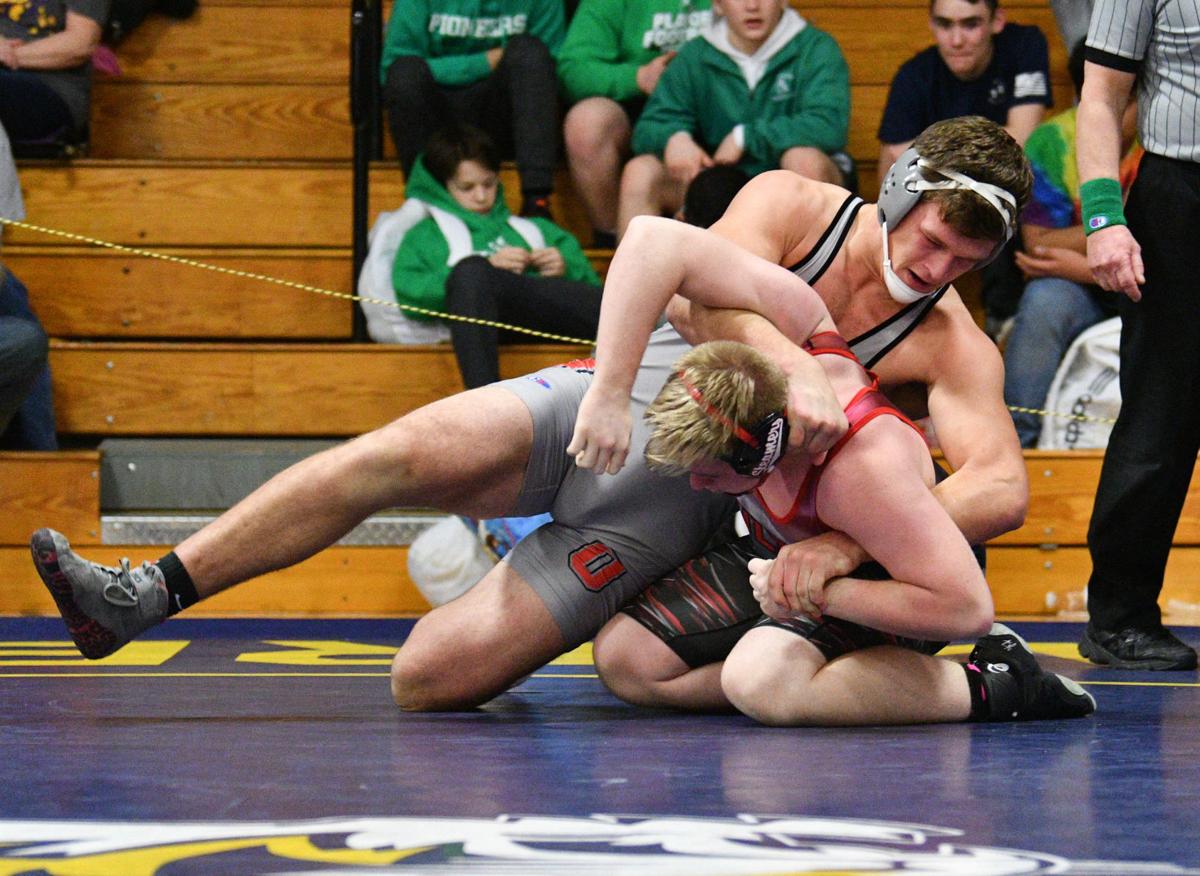 First team
106: Damon Huston 
Credentials: Tri-Rivers Conference, sectional and district champion placed third at Iowa Class 1A state meet. Finished season with 24 pins. 
113: Robert Howard
Credentials: Placed third at 2A district meet despite missing time with illness. His only regular-season loss was to Cascade state champion Aidan Noonan.
120: Colton Linke
Credentials: Finished sixth place at 1A state tournament in his state debut. Lost in sectional opener but rebounded with four straight wins for third.
126: Ethen Doty
Credentials: Just one of two wrestlers in Q-C area to finish year undefeated, Doty didn't allow a point at 1A state tournament en route to title.
132: Dallas Krueger
Credentials: Reached the semifinals at the 1A state tournament before salvaging a fifth-place finish. He was sectional runner-up. 
138: Jarod Kadel
School: Columbus/Winfield-Mount Union
Credentials: Undefeated going into the state tournament, Kadel placed sixth at 2A state meet. He'll continue career as preferred walk-on at Oklahoma State.
145: Nolan Throne
Credentials: Regional and sectional champion finished as state runner-up in Illinois 1A. He posted two bonus-point wins at state tournament. 
152: Coy Ruess
Credentials: River Valley Conference champion was runner-up at sectionals and districts before placing seventh at 2A state meet. 
160: Baylor Crigger
Credentials: Team leader in wins, he accumulated seven bonus-point wins in the postseason en route to third-place finish at 2A state tournament.
170: Steven Speaker II
Credentials: Regional champion and sectional runner-up was one victory from top-six finish at Illinois 1A state meet.
182: Gabe Friedrichsen
School: Erie-Prophetstown
Credentials: Team leader in wins, Friedrichsen won his first regional and sectional titles before finishing fourth at Illinois 1A state meet. 
195: Bryan Caves
Credentials: Illinois 1A regional and sectional champion had perfect season until falling in state final. He had three second-period falls at state. 
220: Eli Pannell
Credentials: Pannell pinned his way through Illinois 1A state tournament to become school's fourth individual to claim a state title. 
285: Logan Lee
Credentials: Iowa football recruit earned his second Illinois 1A state title in three years. He had three pins and a 7-5 decision at state tournament.
At-large: Keaton Zeimet
Credentials: Has recorded more than 80 wins and two state medals in his first two seasons. Wamac champion placed third at 2A state tournament. 
At-large: Will Esmoil
Credentials: Three-time state qualifier won River Valley Conference, sectional and district titles. He was 2A state runner-up at 145 pounds.  
Second team
106;Kael Brisker;Wilton;so.;48-5
113;Colton Meeker;Wapello;sr;23-5 
120;Ben Vogel;Camanche;jr;31-13
126;Eric Kinkaid;Camanche;fr.;40-8
132;Camden Whitenack;Mercer County;sr.;41-6
138;Brody Hawtrey;North Cedar;jr.;35-8 
145;Andrew Rizzo;Geneseo;sr.;21-11
152;Seth Speaker;Mercer County;jr.;35-14
160;Trystan Altensey;Riverdale;jr;22-2
170;Eric Campie;Camanche;sr.;36-5
182;Abraham Michel;Maquoketa;sr.;30-11
195;Tyler Thurston;North Cedar;jr;34-9
220;Kobe Simon;West Liberty;so.;36-12
285;Billy Blaser;Geneseo;sr.;40-7
At-large;Taven Rich;Maquoketa;jr.;39-5
At-large;Brett Schoenherr;Midland;sr.;42-5
Honorable mention
Bellevue: Zach Roeder, jr., 120; Jacob Waller, fr., 152; Hunter Clasen, sr., 160; Camanche: Brennan Kramer, so., 132; Cade Everson, so., 152; Durant: Ethan Gast, fr., 113; Erie-Prophetstown: Cameron Abell, jr., 120; Mat Garrison, sr., 160; Calvin Naftzger, sr., 170; Trevor Platt, sr., 285; Fulton: Max Pannell, so., 285; Geneseo: Anthony Montez, fr., 106; Cade Hornback, jr., 113; Luke Henkhaus, jr., 120; Bruce Moore, so., 132; Louisa-Muscatine: Cody Calvelage, sr., 132; Gabe Hayes, jr., 285; Midland: Griffin Gravel, sr., 126; Morrison: Ryan Kennedy, jr., 132; Kayden White, fr., 138; Riley Wilkens, jr., 220; North Cedar: Chase Gallagher, sr., 285; Northeast: Remington Overstake, sr., 138; Aaron Schoon, sr., 160; Ty Schmidt, jr., 170; Orion: Ethan Meisenburg, jr., 126; Noah Schnerre, so., 132; Mason Loete, sr., 138; Trent Scharpman, sr., 152; Josh Fair, so., 160; Ray Herd, sr., 170; Sherrard: Nate Bynum, fr., 106; Dylan Russell, fr., 120; Josh Bynum, so., 182; Tipton: Kaleb Mesick, jr., 113; Austin Lenz, jr., 126; Jesse Lieger, jr., 285; Wapello: Mitchell Moore, jr., 120; Daniel Meeker, jr., 126; Christopher Ewart, so., 132; West Carroll: Briar Nevills, so., 113; Trapper Hartman, jr., 120; Elijah Dertz, jr., 182; West Liberty: Alex Beaver, so., 106; Sam Gingerich, so., 120; Austin Beaver, sr., 160; Wilton: Coy Baker, jr., 182; Calib Lilly, sr., 220; Briggs Hartley, fr., 285.