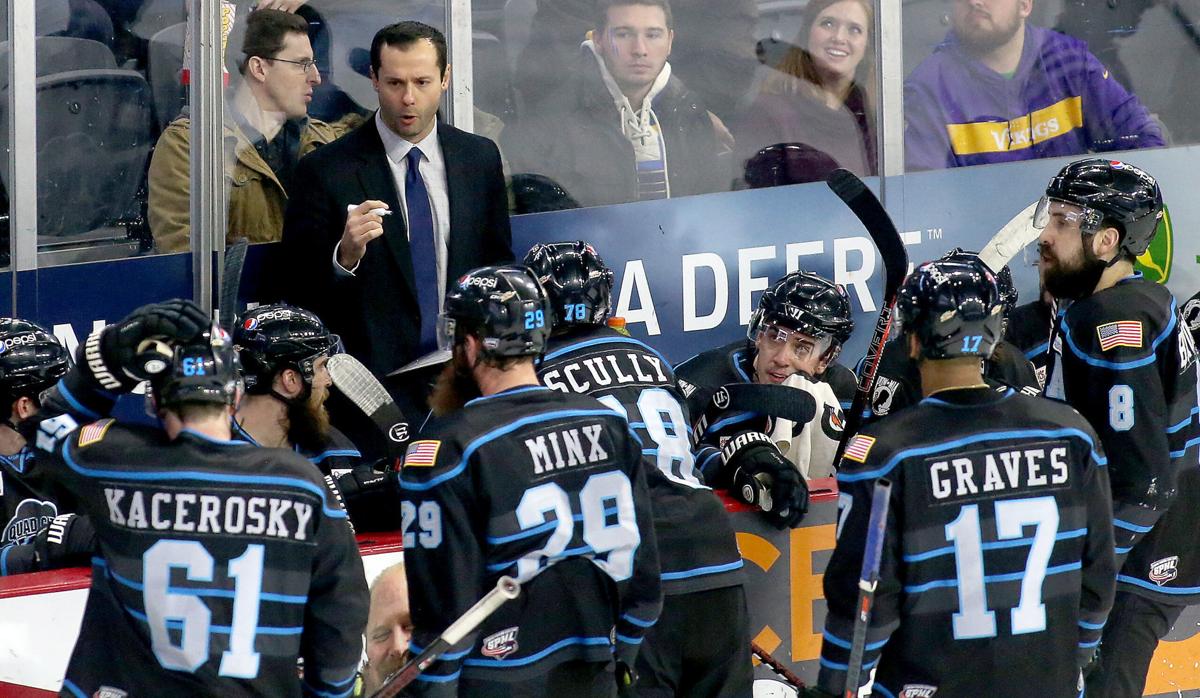 Right now, Quad City Storm head coach Dave Pszenyczny is operating like it is business as usual.
There is a lot of uncertainty surrounding the upcoming SPHL season, thanks to the COVID-19 pandemic that brought the 2019-20 season to an abrupt halt in March.
A schedule hasn't been released and the TaxSlayer Center remains closed.
Pszenyczny, however, is not worrying about things he can't control. He is focused on building a team that can reach the playoffs for the first time in franchise history after sitting tied for the eighth and final spot when last season was canceled.
Already having to act like a salesman at this time of year, Pszenyczny now has to sell players a product that he isn't sure will be available in October when the league usually begins.
"Recruiting is interesting in the fact that you have guys that are worried there's not going to be hockey in North America this year," he said. "You have to remember, these guys bank on making that money come October and if the season doesn't start until later, they have to head elsewhere."
Still, it hasn't affected Pszenyczny too much in trying to build his team.
Pszenyczny said he currently has 15 players signed, including 11 of the 13 that were on the team's protected list released in April. However, he elected not to disclose the players signed until there is more certainty about the upcoming season.
Right now, everything is fluid and ever-changing. That's even at the highest level.
The NHL plans to open training camp on July 10 for its resumption of the season, which might not end until September. The start of the 2020-21 season could happen in December or January as a result.
That could have a trickle-down effect to the minor leagues. Pszenyzcny thinks it's possible the AHL and ECHL might not start until January, which could give the SPHL a leg up for at least a few months if it can start on time.
"At least we give an opportunity for players that are probably ECHL players, a place to play up until then," he said. "It might be an easier sell, saying to them, 'I know you may only be here for a few months but at least it gives you an opportunity to be engaged before you head to a camp at the next level.'"
The SPHL owners are expected to have a meeting in July about the upcoming season. Until then, Pszenyczny plans to be ready to go come October. He feels that's the ideal case for minor league hockey, depending on what the status of the pandemic is at that point.
"If you start a season in January, you're talking about players doing a training camp around Christmastime," he said. "I don't know how that's going to benefit, and I don't know how they're going to do a training camp if they do start in January."
There are other issues too, like what the status of foreign players will be. If the P-1A immigration classification is unaffected, then Pszenyczny can bring players from Canada and Europe over, but if that status is affected by the coronavirus, then things could become more difficult.
With each state having different responses to the coronavirus also makes things difficult. Illinois has been one of the stricter states on handling the pandemic over the past three months in comparison to the rest of the league's more southern states.
Like with the rest of the sporting world, there's no guarantees on anything at the moment, which is why Pszenyzcny chooses to operate under a best case scenario.
"It changes every day. It's always evolving, but it's fun," he said. "There's plenty of time to get going here and we obviously want to have hockey when it's supposed to be played, in October."