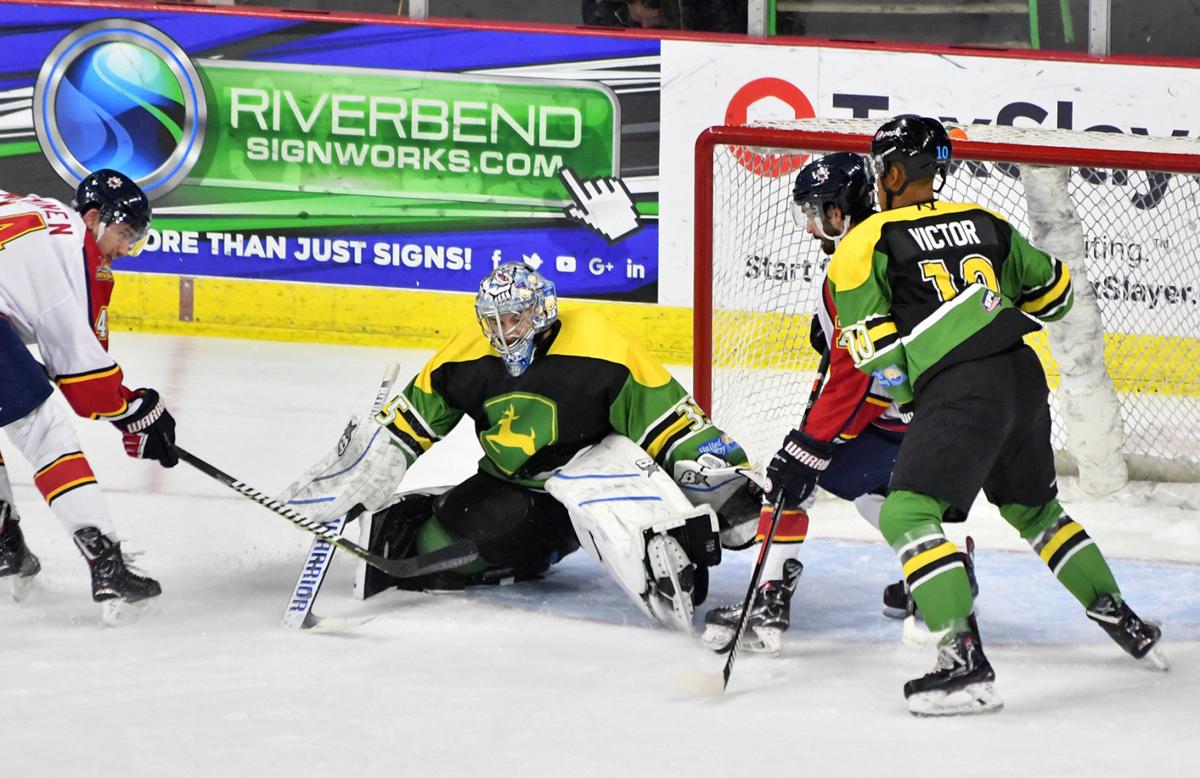 The Quad City Storm made a big statement last week.
With a three-game sweep of the Pensacola Ice Flyers, the Storm showed they can go on the road and contend with a team firmly in control of a playoff spot. But they've done that before, with big wins over Peoria, Huntsville, Knoxville and Evansville, all teams ahead of them in the standings.
Perhaps the bigger statement was made in net, as goaltenders Peter Di Salvo and Ryan Mulder showed they are capable of playing as well as anyone in the league, combining to make 124 saves on 128 shots in the Storm sweep.
In the final two games, both outdueled Jake Kupsky, who leads the league with a 1.84 goals against average and a .933 save percentage and they were named Warrior/SPHL co-players of the week for their efforts, the first time a Storm goaltender has been recognized in franchise history.
"I think it's just about consistency. ... That's been our biggest issue all year, what team is going to show up?" Mulder said. "This weekend really proved that when we play consistent, Storm hockey, we have a lot of success, we can beat any team in this league.
"From a goalie standpoint too, I think there's a lot of belief both of us have played really well this year. ... I'm pretty confident, whether it's Pete or I in the net, we can shut the door and give the guys a chance to win."
The recognition hasn't changed the mentality from either goaltender moving into this weekend's three-game series with the Fayetteville Marksmen.
"We both want to stay level-headed and we don't want to use this week as an excuse, thinking, now we're the top guys," Di Salvo said. "This weekend's over, now we've got a new weekend ahead of us. In terms of what it's done for us, it's made us both happy. It's nice to get a little recognition, but at the end of the day, that doesn't win you a championship."
This is nothing new from Di Salvo, who is fourth in the league with a 2.32 goals against average and tied for second with a .930 save percentage. He's been doing that for the majority of his SPHL career, with a 2.76 goals against average and a .913 save percentage over seven years in the SPHL.
But with the Storm being near the bottom of the league in their first two seasons, this weekend was perhaps a good reminder to the rest of the league that he's still as stout as ever.
"I think he does get overlooked at times, and maybe that's because of the teams he's played on," head coach Dave Pszenyczny said. "He's definitely a consistent goaltender, and I know that, if it's a 2-on-0, I've seen him make those saves. You need your goaltender to be your best penalty killer. ... You need your goaltender to win you games."
This weekend might have provided the biggest confidence boost to Mulder, who made 36 saves in Sunday's 2-1 overtime win. Mulder has shown the potential to shut down teams before, allowing two goals or fewer five times this year. But he's also had some struggles, with seven appearances allowing four or more goals, and he's been pulled from a start four times this year.
So outdueling Kupsky was very beneficial as he's now 5-5-3 and has lowered his goals against average to 3.81 this season.
"It's something I've been working on a lot mentally, to not let a game or season or whatever define how I'm going to play," Mulder said. "This is probably the first year where I honestly could say, I don't really think any game is going to define me. I'm definitely happy with my result but I feel like in the other games, even the ones where I've been pulled, I've played really well and been still confident getting off the ice.
"But it does feel good. We're in the business of winning and I want to win. But I don't really care about my stats, I care about winning."
Mulder has had full support and confidence from the coaching staff because of what he adds to the team, both on and off the ice.
"He brings more to the team than just being a goalie," Pszenyczny said. "When he's not playing, he's the biggest cheerleader, he's always pumping Petey up in between intermissions or during media timeouts and I think that's something you don't get with many goaltenders. They care about their own stats and having that, no matter what, he'll always be there for the team."
While some goalie tandems can lead to friction, that's not the case with Di Salvo and Mulder. They room together on the road and have spent plenty of time after practices working with each other on different skills.
"It's been a healthy tandem for sure. Mulder and I get a long great, there's no tension between us at all," Di Salvo said. "I've been in those situations before. Unfortunately I've had goalie partners that just did not want to be with me. Just with me and Mulds, we just clicked right away."
Don't expect the tandem to stop anytime soon. The Storm's schedule is loaded down the stretch, with three 3-in-3s in the last two months, including this weekend's set against Fayetteville. There's also a stretch of six games in nine days in March and three games in four days to close out the season in April.
That will allow Pszenyczny to avoid making any tough decisions about whether or not to give either goaltender the full-time gig, but if all goes well, he will likely have to make a decision come playoff time.
"It's going to be a difficult situation and I like that," Pszenyczny said. "I'd rather have a difficult situation than a clear-cut one. Regardless of who gets that net come playoff time, we'll be fine."