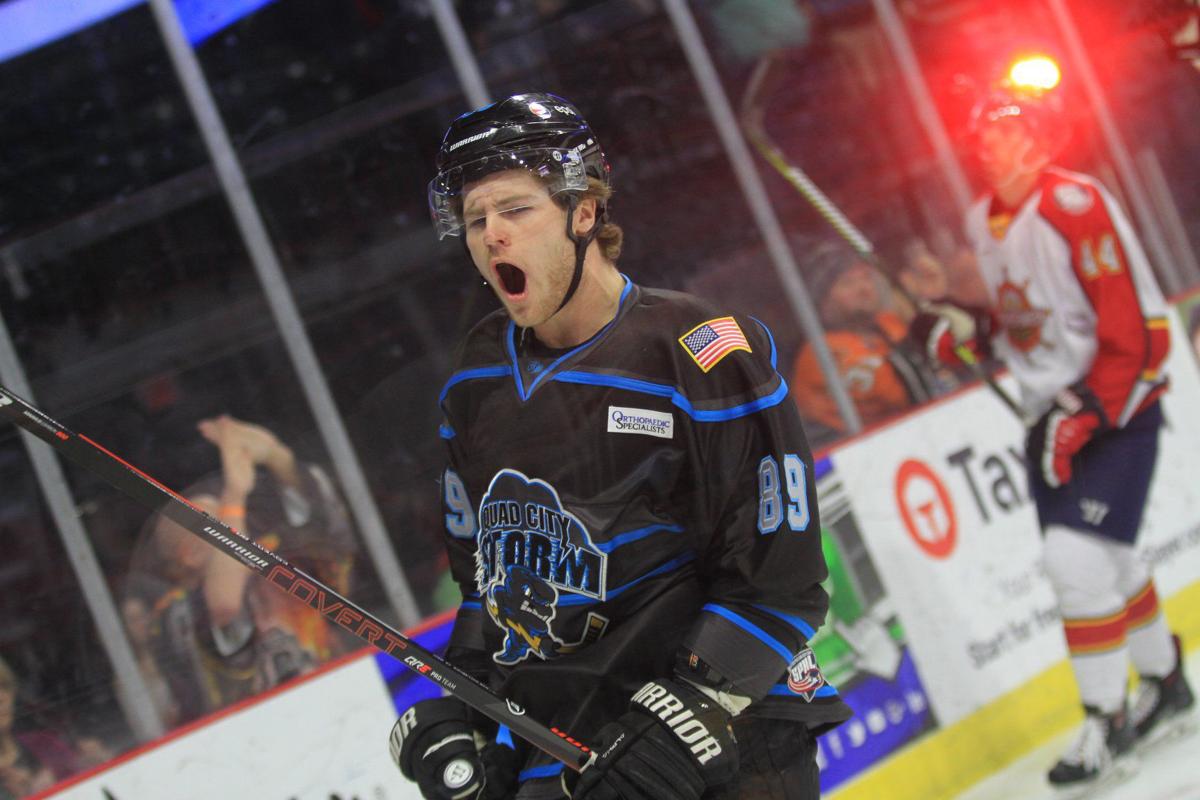 Connor Fries knew it was only a matter of time until things started clicking.
OK, maybe the Quad City Storm forward wasn't expecting exactly last week's breakout performance — six goals, including his first career hat trick against Peoria, two assists and a player of the week honor from the Southern Professional Hockey League — but Fries felt he was figuring things out midway through his rookie season.
"I've just been feeling good, definitely have a lot of confidence going right now, and every guy in (the locker room) helps that out," Fries said. "I'm a big believer in you've got to earn what you get. It doesn't just come to you, it's not just placed there, you've got to work for it."
Fries, 24, has been hard at work since before signing with the Storm in November. The Centerville, Massachusetts, native started the year with the Peoria Rivermen after playing four seasons at Division III New England College. Though not a prolific scorer, Fries was still plenty capable, with 41 goals and 42 assists in 105 career games.
Once he broke into the pro game, however, it was back to square one. He didn't tally a point in two games with the Rivermen and was waived on Nov. 6. However, Fries still felt his time with Peoria was valuable.
"I learned a lot about pro hockey there," Fries said. "It was tough to find the confidence because obviously there's a lot of good players there. I guess it was more trying to find my role. I didn't know what my role was in pro hockey. Was I going to just be a good third-line center, trustworthy, not get scored on, or maybe a goal-scorer? I just didn't know."
Fries signed with the Storm on Nov. 11, and though his production was minimal, with just two assists in his first 10 games, head coach Dave Pszenczyny saw plenty of positives from the rookie, particularly on the defensive end.
"I told him, the harder you play there, the easier you're out of your zone and the more time you're going to spend in your offensive zone," Pszenyczny said. "He's bought in since he's been here and now he's finally getting rewarded. To look at how his year started, I don't know if many guys would have the patience or the mental capacity as him. ... That just talks about his character, so for him to battle through all that and not let it affect him is great."
You have free articles remaining.
The defensive end is what Fries prides most about his game and has been his strong suit even before the points started coming. He leads all rookies with a plus-15 rating, a mark that is tied for fourth among all players in the league. Just four times in 18 games this year has Fries had a minus rating.
To him, that speaks more than the seven goals and six assists he now has in 20 games this season.
"I think I can make plays and I can score, but the main stat I look at is I hate to be scored on," he said. "I'm a big believer in being a plus, so that was helping me out. I was being a plus a lot more than a minus, and you keep building from there, to add to that confidence."
On the offensive side, Fries felt like things were coming together during a three-game road trip to Macon and Birmingham. He scored his first career goal against the Bulls and finished the weekend with two points.
"It took me 10 games to finally get comfortable out there," Fries said. "That's where I started to feel a little bit better, where I could make plays. It all starts with little plays, winning one-on-one battles, winning face-offs, the little things, that's what helps build confidence. It's not necessarily where it just flips, a switch like that, it's just the little plays."
He followed that up with no points in two games against Peoria but has since caught fire, with 10 points in his last five games, including the torrid three-game stint last week. It's something of a validation of all the hard work Fries has put in up to this point.
"Believe in yourself, I guess," he said. "Going into Peoria that game, I didn't think I was going to score three goals, but you just take one step at a time and you don't worry about what's in the future. You just worry about that next shift."
Now, it's about tempering expectations, for both Fries and the Storm, who have earned 11 out of a possible 16 points in their last eight games, building a three-point cushion for seventh in the league standings heading into this weekend's games against the Rivermen.
"You're not going to score every shift, so you can't get frustrated if you don't score, you just keep building," Fries said. "I'll still try to play my same game, and if it goes in the net, it goes in the net."