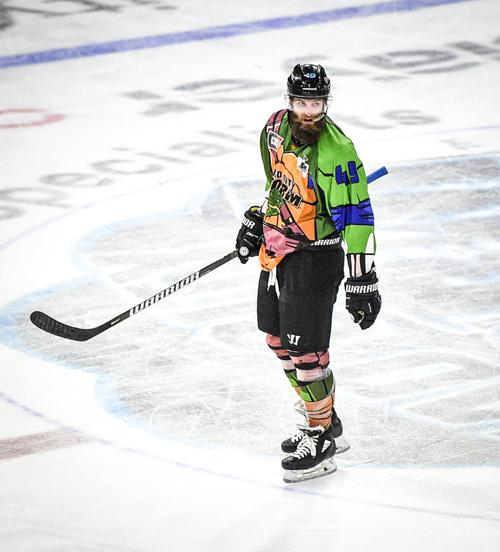 Joe Sova expects it every game.
In a sport where trash talk reigns, it is easy fodder.
"Trust me, I get the chirps from the other team, 'How did you start in the American League and you're here in the (SPHL)?'" the veteran Quad-City Storm defenseman said. "I don't care. You're a year one guy, a year two guy, talk to me when you have 350-plus games, talk to me when you're a vet in the (ECHL).
"I'm just there for these guys and my biggest thing is to see the guys I play with here go up."
Sova's career path definitely grabs one's attention. 
Following a college career at the University of Alaska-Fairbanks, he was signed to an entry level contract with the NHL's New Jersey Devils in 2011 and played 11 games with their American Hockey League affiliate, the Albany Devils.
To start that high up often bodes well for a player's future, but as the years went by, Sova found himself regressing rather than progressing through minor league hockey.
He played 14 games with Albany his rookie season before getting traded to the Charlotte Checkers. He also spent time in the ECHL with the Kalamazoo Wings and the Florida Everblades, where he won a Kelly Cup title in his first season.
Over the next four seasons, the Berwyn, Illinois native spent most of his time in the ECHL, earning a brief three-game call-up to the AHL's Chicago Wolves in 2014.
Then, in 2016, he slipped down another level to the SPHL, where he's basically stayed, earning one call-up to the ECHL two years ago.
"When you're in it, you think you should be in different places and I think over the course of the last nine, 10 years of my career, I've matured beyond my years," he said. "It's been a whirlwind for me. I've been a lot of places, a lot of cities but all are stepping stones of life and lessons that I've learned."
Over the course of his nine-year career, Sova has played for 14 different teams in three different leagues. At times, there was some bitterness, but he's tried to remain positive throughout.
"You've got to live with no regrets because where would I be if I put myself in a mental box like that way back when?" he said. "Life knocks you down, it picks you up, it bends you, twists you and as long as you don't break, you can be there until the end."
Sova knows about being knocked down.
He was diagnosed with Hodgkin's lymphoma when he was 8 and underwent surgery, chemotherapy and radiation treatment until he went into remission near his ninth birthday.
That experience has had a big influence on his life and factors into why he's still playing this game, unfazed by where it's taken him.
You have free articles remaining.
"I don't know how to quit," the 31-year-old Sova said. "I play, not for the dollar amount, I play because I love the game and I can't get away from it yet.
"Is a blocked shot bruise, is a surgery, is getting traded, anything you can talk about this hockey game in a negative sense, does any of that compare to going through chemotherapy or radiation? No. At the end of the day, no matter how bad it gets, you can always go, it's not that bad, and then you've got to start picking yourself up from there."
Sova didn't play last year as he was rehabbing from injury. He started the the season with the Roanoke Rail Yard Dawgs, but he admitted that the time off made it physically tougher to come back.
Still, Sova couldn't stay away, "still addicted to blocking shots and feeling like a bag of garbage on Sunday."
He played 11 games with Roanoke before being traded to the Storm last month in an attempt to add a veteran presence to the Quad-City blue line.
"We needed the leadership, especially on the back end," head coach Dave Pszenyczny said. "What he brings is just a sense of calm on the back end. He keeps it simple, he's a guy that eats a lot of minutes but his leadership is phenomenal."
That leadership has proved valuable as Sova has been partnered with the team's only rookie, Mathias Ahman.
Ahman is in the midst of a strong season, fourth among all defensemen with 14 points. Having a veteran, defensive-minded partner has allowed Ahman to develop into a more complete player.
"It's been great, with all his experience and all his knowledge on the ice, he has such a high hockey I.Q.," Ahman said. "He's taught me a lot out there, just be confident and just play hockey, we've done it our whole lives."
Pszenyczny thinks the discrepancy in experience between defensive partners might be the biggest in the league, but Sova is enjoying playing with someone six years younger and nearly 400 games greener.
"Matty and I are just having fun," he said. "I get older, they all stay the same age in the locker room. Every year, they're typically 24, 25, 26, that's the core group of most minor league hockey. I keep getting older, so they keep me young, whereas I just keep them going and they keep me going."
While Sova doesn't see an end in sight, there are some milestones he definitely wants to reach before he even thinks about hanging it up.
He needs a five-game call-up to have played a combined 300 games in the AHL and ECHL, the top two tiers of minor league hockey. Just three games in the ECHL would give him 300 career games at the AA level.
Then there's the big goal, reaching 500 career games played professionally. He sits at 418, which means, if he stays healthy, he could pass the 500-mark near the end of next season.
He also wants to win another title, the one he won his rookie year still driving him now.
"I would love to play another 200 games, so we're going to get through this season," he said. "It's in my mind that I want to play, and I think that's the first step. If I was iffy about it, that means I'm already one foot out the door and you probably don't want me on your team, my head's in the cloud, already thinking about retirement.
"I'm about as bought in to whatever we're selling, where ever I'm playing because I'd rather do this job than anything else."