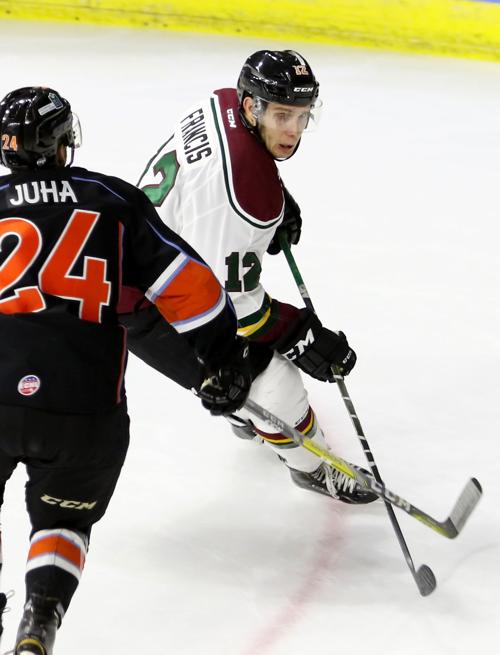 Through all the optimism that comes with a new season, there's also some tough news for the Quad-City Mallards.
The team released last year's captain and leading scorer Chris Francis Wednesday, part of a final set of roster cuts leading into Friday's season opener against Toledo.
"The team's second," head coach Phil Axtell said. "I was sick to my stomach to know this was the situation that he's been dealt."
The Mallards also announced Mike Leone has retired but will stay on as an assistant coach for the season.
Francis didn't clear his entrance physical after suffering an upper body injury right before the start of training camp. He was present during all of camp but never skated. The Mallards didn't rule out a return for Francis at some point in the future, but for the time being they could not keep him on the roster because the injury took place outside of the season.
"He's got to get healthy to play hockey," Axtell said. "Whether it's short term or long term, regardless, he has to get healthy."
Along with taking over the captain's role for the first time in his career, Francis was coming off a strong year in his first season with the Mallards. He scored a career-high 27 goals and added 33 assists to finish tied with Justin Kovacs for the team lead with 60 points.
His loss is certainly a blow, but the Mallards feel confident they have plenty of pieces to still be successful. The team roster currently sits at 23 players after the release of not only Francis, but also forward Stathis Soumelidis, defenseman Kristaps Bazevics and goaltender Kris Joyce.
"The new guys have to fill roles, and we have faith that they can," Axtell said. "They've got to fill his shoes and adjust to a new role, whether that's getting an opportunity or if they were already in a production role, then they need to up it a little bit."
Leone joined the team this offseason after missing last year with injury. He played three pro seasons but has played under an impressive list of coaches. In juniors, he played for Jon Cooper — now the coach of the NHL's Tampa Bay Lightning — with the St. Louis Bandits then also played under current Detroit Red Wings coach Jeff Blashill at Western Michigan University. While with the Toledo Walleye, Leone played under Derek Lalonde, who is currently the head coach of the AHL's Iowa Wild.
"It's what I always wanted to do. At 29 I get to be a professional hockey coach, and I'm excited to get started," Leone said. "At the end of the day it's about winning hockey games and any way I could possibly to do to help is what I'm going to do. It's tough to go from competing in practice to helping coach the team. Obviously it's an adjustment, but I'm fortunate to be in the game at such a young age. It's hard to get jobs like these so I really couldn't pass it up."
Leone, along with Jamie Tardif acting as player/assistant coach, will help ease Axtell into his first full season as head coach.
"It was pretty awesome just sitting in here and having a staff, we can go over practice, we can go over power play," Axtell said. "Tards is running the power play, and Mike and I are going to be on the bench every game. It's valuable to have those extra sets of eyes."
Be the first to know
Get local news delivered to your inbox!