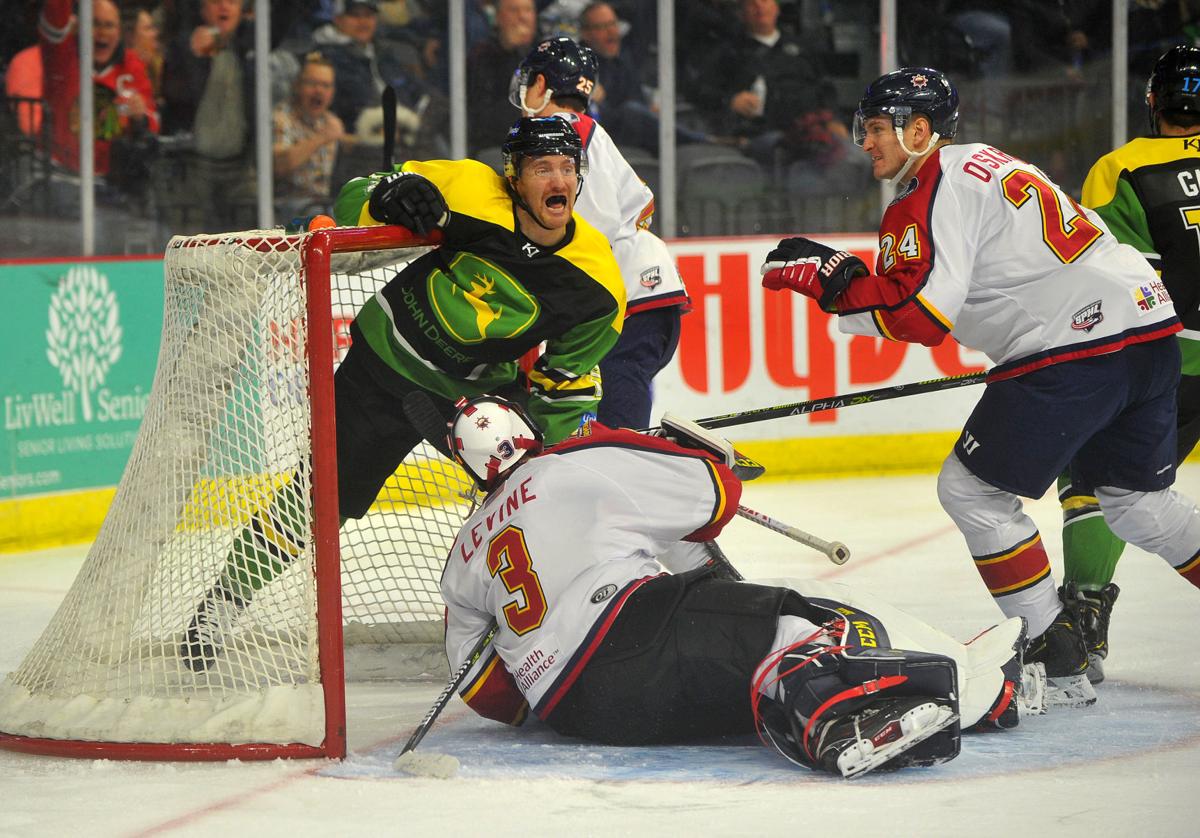 Sometimes, all a player needs is a chance.
That's a mantra that Dave Pszenyczny has utilized thus far in his time as head coach of the Quad-City Storm, often bringing in players buried at the bottom of other teams' rosters and letting them prove what they can do given a little more opportunity.
Taylor Pryce is the latest to make the most of his chance, currently second on the team with five goals and third with nine assists. After coming into the year with just 13 career goals, he's on pace for 23 goals this season and has emerged as a timely playmaker for the Storm, who host the Evansville Thunderbolts Friday and Saturday.
"He just lets you be comfortable and you're not gripping your stick too tight. The little things become easier to do," Pryce said of Pszenyczny's coaching style. "It is a surprise but it feels good, and you try to ride the wave that comes and goes with a long season.
"It makes it feel like the hard work in the long offseasons actually pays off."
A Newmarket, Ontario, native, Pryce played college hockey at Division-III Buffalo State College before breaking into the Southern Professional Hockey League in 2017.
He spent much of his first season as a 10th forward, seeing time in 33 games and scoring three goals and four assists. Last year he saw his minutes increase with the Fayetteville Marksmen but was still mainly a third-line forward and scored 10 goals and added seven assists in 46 games.
You have free articles remaining.
"I was kind of just used as an extra guy, in case someone went down, which is kind of demoralizing," Pryce said. "The more opportunity I get, the more motivated I become."
While looking for a new team in the offseason, Pryce decided to join the Storm on the recommendation of current Storm players Shane Bennett and Cody Walsh, who played with Pryce on the Mississippi RiverKings two seasons ago and thought Pryce's game would fit the system Pszenyczny had implemented last year.
Though Pszenyczny was impressed by what he saw of Pryce last year with Fayetteville, truthfully, even he didn't envision Pryce, 26, having this kind of start to the season. He, like the coaches before him, thought he would serve as more of a third-line forward, but Pryce showed early on he deserved a bigger role on the team.
"What a pick up this offseason," Pszenyczny said. "He's playing phenomenal. ... He plays the game the way it's meant to be played. He's relentless on the forecheck, he's banging bodies, he's willing to fight. He's an all-around good player, and his skill set has blown my mind. I didn't realize he has that much skill."
Pryce has also made a big impact on the power play. He didn't start the year on special teams but after the first week played his way onto a unit and currently is tied for the team lead with two power-play goals this season.
"You work hard 5-on-5 and I'm going to reward you, and he's taken it and done the best that he can," Pszenyczny said. "He's very effective down low, and he's good at making those quick little plays once the puck gets there."
After a 0-for-29 start to the year, the Storm have scored six goals in their last 18 chances, a 33 percent clip that would be tops in the league.
Much of that success has been because of Pryce, whose willingness to get to the front of the net has provided offense, whether through deflections or goalie screens. Even when he's not scoring, he's influencing play, like his screen that helped set up Mathias Ahman's power-play goal in last Friday's game against Peoria, or Bennett's goal the next night.
"It's Chezy believing in us to give us a little bit of time to figure it out," Pryce said. "I know other coaches would have been heated and switching things up and calling guys out, but he's given us some time and it's paying off."