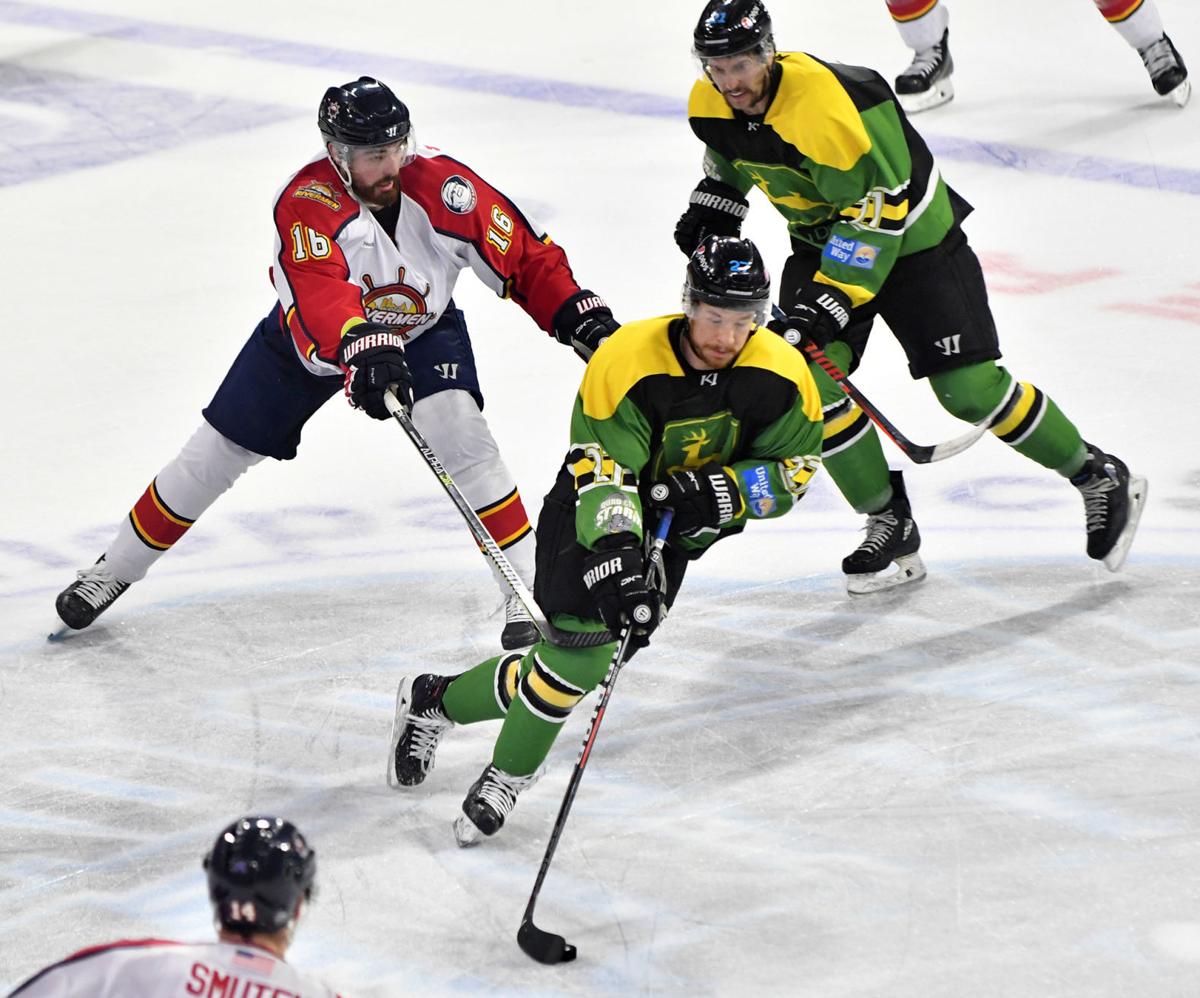 Looking to snap a seven-game losing streak, the Quad-City Storm are hoping this weekend can be just what they need to get back on track.
The Storm play the Macon Mayhem Friday and Saturday in Macon, Georgia, facing one of the two teams that are lower than them in the Southern Professional Hockey League standings. Sunday, the Storm travel to Birmingham, Alabama, to take on the Birmingham Bulls, who are just three points ahead of the Storm in the standings.
"It's a big weekend for us, knowing that team is in the same situation as us, and same as Birmingham," said Storm forward Dakota Klecha, who played a combined 50 games over the past two seasons with the Mayhem. "But at the same time, we can't go in there thinking we're going to take them lightly because that never works out well for us. We need to go in there, play like we need these points desperately and hopefully we come out on top."
All three teams are aching for wins.
The Mayhem have struggled this season, currently in last place with a 3-11-2 record. The Mayhem parted ways with head coach Leo Thomas last month and since then have gone just 1-5-0 under interim head coach Ryan Michel. Birmingham, meanwhile, got off to a solid start but has faltered lately, also going 1-5-0 over its last six games. 
"Quite frankly, Macon is a scary team. They're desperate and so is Birmingham," Storm head coach Dave Pszenyczny said. "There's going to be a lot of desperation out there this weekend, and I've been telling the team, don't look at the standings because at the end of the day, it doesn't mean anything."
Not surprisingly, the Storm have played worse as the streak has evolved. Quad-City held third-period leads in its first two losses and was tied in the third period in its next two losses. The last three, however, the Storm never led and have been shut out twice.
"We can skate well with teams, it's just whenever they start to bring the physicality toward us I feel like we start to crumble a bit," Klecha said. "I think we need to be a little more tough in front of our net and their net. Just finish more checks, obviously when you wear down the other team with hitting them over and over again, that helps create space for us later in the game. I feel like in the third period, we just don't have that extra space that we need, we're usually down a goal or two and it's tough to climb back up."
Despite these struggles, the players still feel confident they can right the ship and get back to playing the way they were to start the season.
They hope this weekend provides the spark.
"We're getting away from the small things," forward Dalton Mills said. "Guys are trying to do too much, I know I'm trying to do too much out there. We've just got to get back to the basics and get this monkey off our back."
You have free articles remaining.
"We know we're a good team but we're not getting the results that we want. We've been putting in the work and focusing on the process, and it will come. But we know these points are huge, especially looking toward the future."
Putrid in Peoria: For some reason, the Storm just do not play well on the road against the Peoria Rivermen, last week's 6-0 drubbing just the latest example.
Since joining the SPHL last year, the Storm have yet to win a regular season game in the Peoria Civic Center, going 0-10-1 in their road matchups, though the Storm did win an exhibition game this preseason.
To be fair, the Storm have struggled against Peoria no matter where they play, as they're just 3-15-2 in the series so far.
Pszenyczny, who played for the Rivermen before retiring to coach the Storm, has trouble figuring out just what makes Peoria so tough at home.
"I don't know what makes it difficult to play in, we just don't perform when we're there. We get intimidated very easily," Pszenyczny said. "I don't think it's anything to do with that arena specifically, it's just more like, when we go there, we grip our sticks and don't play our own game within the system. We just decide we're going to do other people's jobs.
"We just don't have that swagger, and we're going to get it."
This trend is nothing new. Back when both cities had teams in the American Hockey League, Peoria also proved to be a tough opponent. Then the Flames, Quad-City was just 5-10-3 against the Rivermen, 2-5-3 on the road. 
All told, Quad-City hockey teams are just 2-15-4 in Peoria, the last win coming on Dec. 8, 2007.
Casale returning: Forward Michael Casale is expected to be activated off the 21-day injured reserve on Saturday. Casale has been on IR since Nov. 24 with an upper body injury.
Stanley's visit: The NHL's Stanley Cup will be at the TaxSlayer Center on Dec. 20 during the Storm's game against the Rivermen. Fans in attendance can take free pictures with the trophy, which was won this past season by the St. Louis Blues.