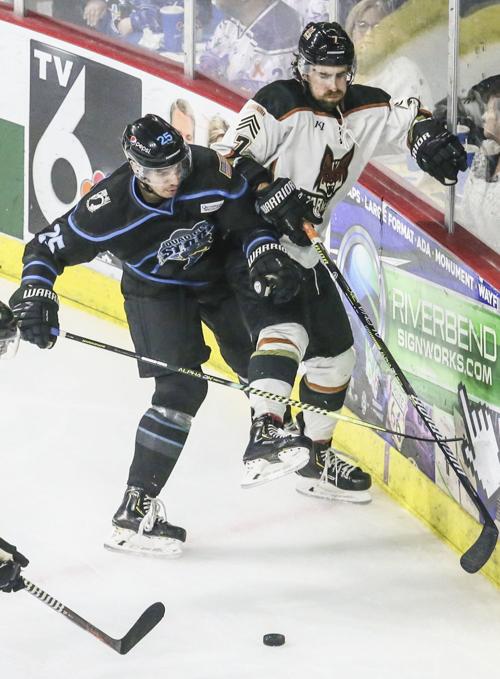 This week is something of a rarity for the Quad City Storm.
With no games scheduled, the Storm are taking the entire week off. No practices, players given the opportunity to go home before returning for the final five weeks of the season.
They'll need the rest, as the final stretch is going to be a grind, with 17 games in the final 37 days and each one with high stakes as the Storm try to secure their first postseason berth in franchise history.
"This is a weird week. It's very rare you're going to have a full week off and weekend off so for us, it's going to be to our advantage," defenseman Joe Sova said. "I think we need to take care of our bodies, make sure we're not just out partying and living it up like it's an All-Star break or something. This is a rare break and I think it's a chance for a certain amount of guys to rest up for this stretch.
"We're a team where everybody needs to pull the rope every night. Top guys need to get their rest and the guys that are our fillers and our meat of our team, we've got to keep doing the same thing."
The Storm sit in seventh place in the Southern Professional Hockey League, four points separating them from another early offseason as Roanoke and Macon are both tied for ninth.
The condensed schedule should make it easy for the Storm to get into a playoff mode. The Storm have three 3-in-3 sets — including one that's part of six games in nine days — and also have a three-game set with Peoria in the final four days of the season.
That's after already playing a pair of 3-in-3s with Pensacola and Fayetteville in the last two weeks.
With the SPHL playoffs a best-of-3 series, it's easy to treat these condensed series as playoff primers.
"We're playing some top-end teams here so we need to make sure we're taking care of our bodies," forward Kyle Moore said. "Come to the rink every day with the right mindset, play a full 60 and show every team we're here to play hockey and to win a championship this year."
Needing 31 points — either gained by the Storm or lost by Roanoke — to seal a postseason berth, the Storm have a huge opportunity with five games against the Rail Yard Dawgs down the stretch. The value of each game in that series essentially doubles, as the Storm can decrease their magic number over Roanoke by four with each win.
"For the most part, it's a hard-working league and as long as you have the guys doing it consistently, you're going to have a lot of opportunities," Storm coach Dave Pszenyczny said.
The Storm aren't worrying themselves about whom they might face in the first round. They have wins over all of the teams currently in a playoff spot, something only Huntsville and Knoxville can claim — Peoria has yet to play Fayetteville this season.
Do the Storm feel there's a team that wants to face them in the first round?
"Talking to teams, they've said no, they know how hard we work and we know we're a systematic team," goaltender Ryan Mulder said. "That's really playoff hockey and at the end of the day, these teams have a lot of skill but I think hard work beats skill when skill doesn't work hard. That's a big part of it and I think we're showing it and proving it to ourselves and the league."
So right now the Storm's main focus is just on making the playoffs, then seeing what happens.
"We've got the team, I think we can do a lot of damage come playoffs," Sova said. "It's just about buying in."
Moore, Pszenyczny suspended: The SPHL handed down suspensions following Sunday's late-game fight between members of the Storm and the Fayetteville Marksmen.
Moore was suspended four games after receiving a minor penalty for instigating, a major penalty for fighting and a game misconduct for instigating in the final five minutes of regulation. He will be eligible to return on Sunday, March 8, when the Storm take on the Birmingham Bulls.
Pszenyczny was given a one-game suspension for the actions of his players and will miss the Storm's game against Evansville on Feb. 28. It's the second suspension of Pszenyczny's coaching career after receiving a two-game suspension last season.
Nobody from Fayetteville received any disciplinary action.