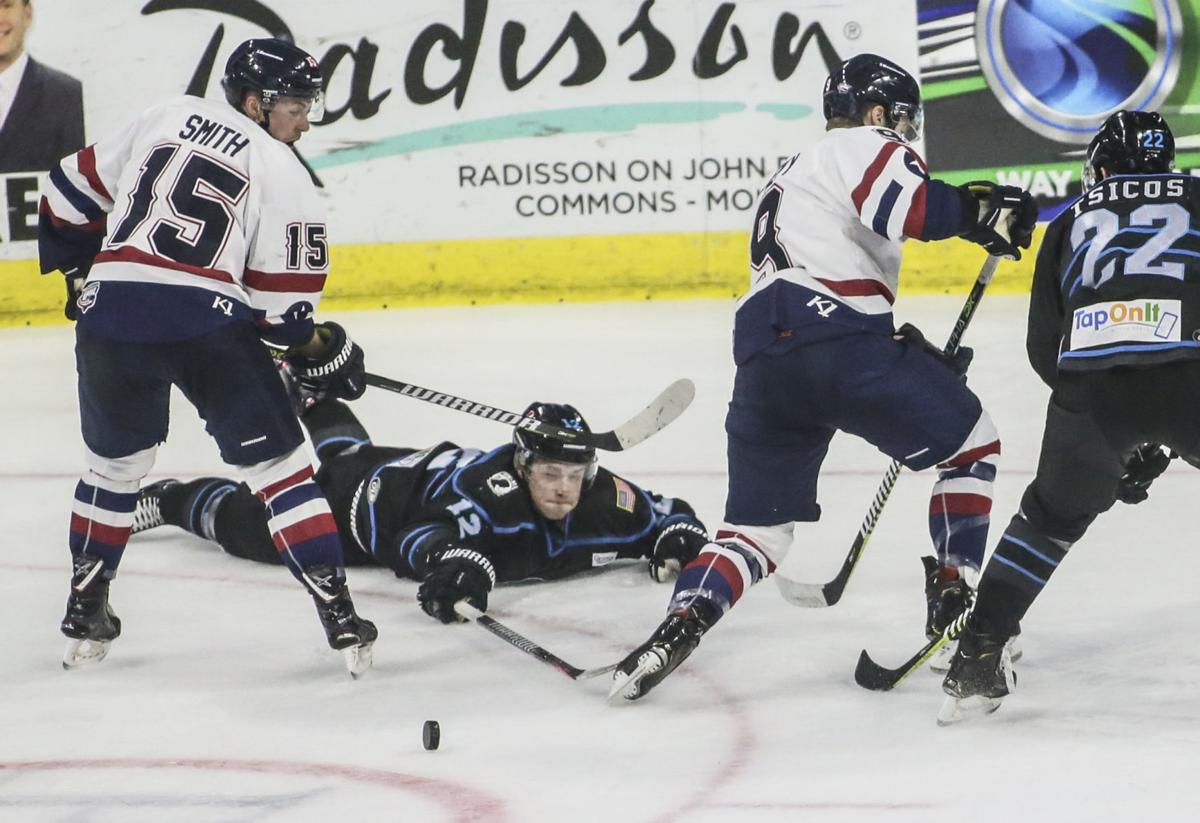 This year was supposed to be different.
With a returning core of players and a couple of key additions, the Quad-City Storm had high expectations for their second season in the Southern Professional Hockey League.
But after a decent start, once again the Storm are searching for answers, mired in a six-game losing streak heading into Saturday's road game against the Peoria Rivermen. The Storm have yet to win a regular season game in Peoria in their time in the league and have gone from tied for fourth to eighth during this streak.
"It's put us a little bit down," defenseman Kristaps Nimanis said. "The mood is not as fun because we know we need to get those points and we can't get those points."
It's the fifth losing streak of at least five games in Dave Pszenyczny's career as head coach of the Storm. He's hopeful each one can help him and his team improve.
"It's tough. It makes me become a better coach because you sit back and ask, 'Is it something I'm doing, is it something the players aren't doing?'" he said. "I think it's always humbling when you go on a losing streak, and if you don't learn from it, you're a loser. I always tell the guys after a loss, what did you learn tonight? Because there's always something you can learn."
What's perhaps most frustrating is how close the Storm are in some of these games, last year included. During these losing streaks, which have ended up totaling 33 combined losses, 15 of those defeats have been by one goal, five in overtime. During this current stretch, four losses have been by one goal, two coming in overtime.
A bounce here or there, a little more effort for a little longer, and several of those losses could have turned into wins.
That's something the players are trying to come to terms with.
"We've just got to keep working. We've been in all these games but it's just little mistakes that are costing us," captain Dean Yakura said. "In a lot of games we have leads and we're doing a lot of good stuff, but we've got to close them out. We've obviously learned our lesson more than once in this skid, we've just got to work out of it and build off the good things we're doing."
You have free articles remaining.
Looking for a kick start, on Monday Pszenyczny traded away John Schiavo — second on the team with 11 points — and rookie defenseman Josh Victor for rookie defenseman Tucker Ross and the playing rights to Will Smith, currently up with the ECHL's Wheeling Nailers. Though the timetable for Smith coming to the Storm is unclear, Pszenyczny felt there was a need to shake up the roster.
"I think guys were just comfortable being here, and once you're comfortable in the game of hockey or anywhere in life, you're done," he said. "You should always be trying to get better and improving so I think my message did get around. ... We know we've got to stop the bleeding somehow, someway and just play our game and play it for a full 60."
The players took note of the intended message.
"It definitely puts guys on their toes, and I think it is a wake up call," Yakura said. "I never feel like being complacent or comfortable is ever good for a team. If there's no pressure to perform and you're given all your ice time and all your opportunities, I don't think it really helps the team be successful. You want to push each other every day and compete for that ice time and show the coach you want to be here."
That said, games can't be won with idle talk. The Storm must improve in several facets if they want to win. Their power play is improving after an 0 for 29 start but is still prone to the occasional shorthanded goal, with four allowed on the season.
The penalty kill is still in shambles, killing off a league-worst 77.3 percent of its opportunities, though fortunately the Storm are one of the better disciplined teams in the league, with the second-fewest minors in the SPHL. But even that was an issue in last Saturday's loss to Evansville, with four unsportsmanlike conduct penalties, one leading to a goal.
"Older guys need to set an example and the rest will follow," Nimanis said. "The young guys need to trust, first of all, themselves because they're really good players."
With the acquisitions of veteran defenseman Joe Sova as well as Ross, the team hopes its defense will begin to shore up and lead to better transition offensively.
If not, there's always more moves to be made.
"I think all of us want to win," Nimanis said. "Coach is trying to send a message that nobody's safe here. There's a lot of good hockey players out there who want to play and be in this league so we need to work hard every day, in practices and in the games.
"As long as you work hard and give it all your best, you should be good."