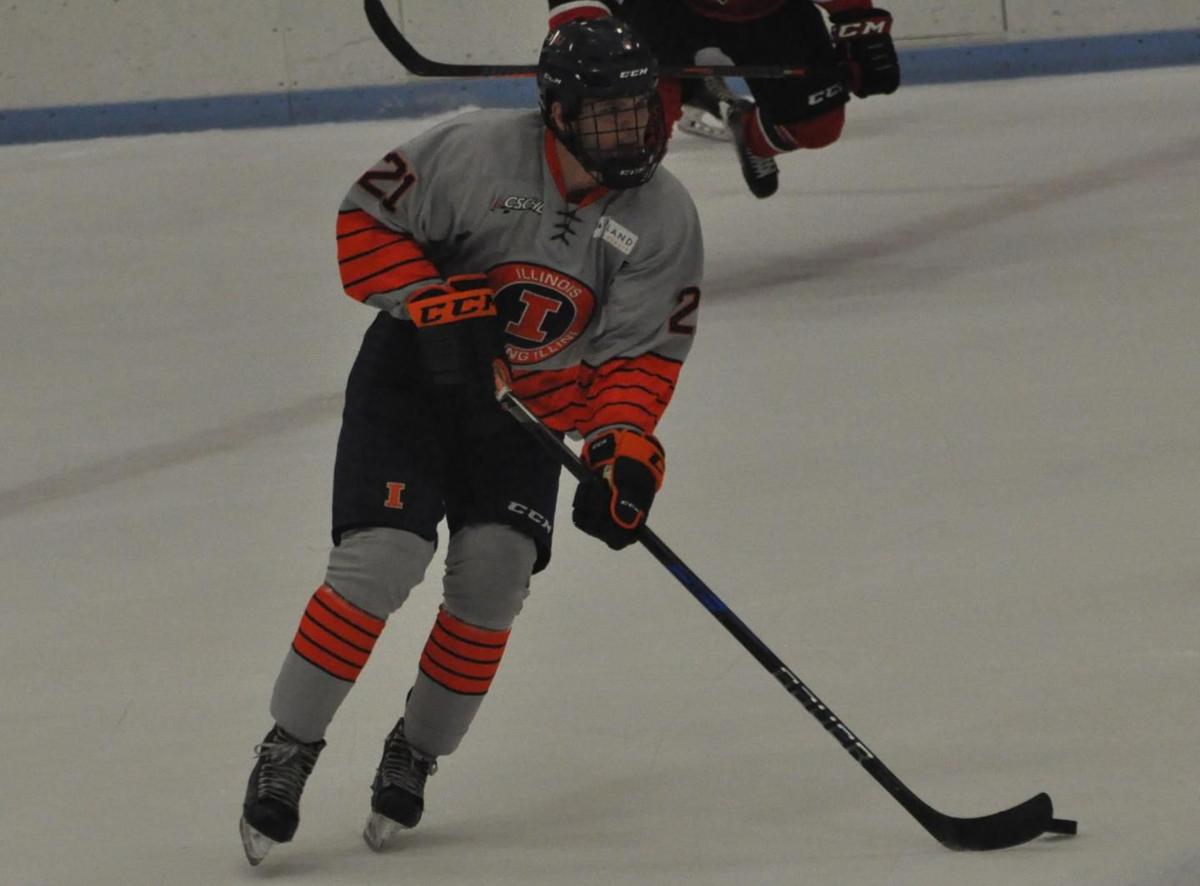 Moline grad Kacper Ryba and the rest of the University of Illinois men's club hockey team had been riding high. Winners of seven of their last eight games, the Illini were carrying a No. 9 ranking into the national tournament.
Then the COVID-19 pandemic struck.
Just a week before heading to nationals, Ryba's sophomore season came to an abrupt end.
"We couldn't show off what we've accomplished," Ryba said. "Most disappointing for me, is our seniors. They worked all this time and our team was officially starting to become a contender for the national championship."
The team understood the gravity of the situation, but the sting remained as the Illini's 23-9-1 season ended before it could start play at the American Collegiate Hockey Association National Championship Tournament in Dallas, Texas. The 20-team tourney was set to begin on March 19. The Illinois would have faced No. 8 University of Arizona on Saturday.
"We were all disappointed," Ryba said. "We were all ready. We've been grinding for six months out of the school year, preparing for this moment to go to nationals and hopefully make it far. It was tough."
Ryba averaged around 25 minutes playing left wing with the team's first line. He led the Illini with 21 goals, despite missing a month with a sprain near his collarbone after receiving what he described as a normal hockey hit on a "nothing play." He was third on the team with 34 points.
Despite the abrupt ending to the season, Ryba said his sophomore campaign was otherwise great. He's contributed ever since he hit the ice as a freshman, scoring two goals in his first game. He led the team with 20 goals and was second with 35 points a year ago.
"I was worried about the sophomore slump and everything, but that wasn't the case at all," he said. "I felt I just matured into my game and into the collegiate level of hockey. I settled in and was more comfortable with the puck."
He scored one more point and one fewer goal last season playing 14 more games.
You have free articles remaining.
Ryba even had a goal emerge of getting to 24 goals this season as a nod to the late Kobe Bryant but fell three goals short.
"It would have been fun," said Ryba, who had a 10-game goal streak at one point. "I was close."
The Illini are in their 55th year as a club hockey team, competing this season in a strong Central States Collegiate Hockey League. The five-team league includes Illinois, Lindenwood, Ohio, Iowa State and Robert Morris. All five teams finished ranked in the ACHA's Top 25 rankings. Third-ranked Lindenwood beat No. 9 Illinois 5-0 in the CSCHL title game on March 8.
Illinois has long been rumored to be close to making hockey an official NCAA varsity program, but the plan's hurdles include funding a multipurpose arena in Champaign. Penn State, Ohio State, Michigan, Minnesota, Michigan State, Wisconsin, and Notre Dame play hockey in the Big Ten.
Ryba, who has played hockey since he started whacking things with an old hockey stick around age 2, considered the Cyclones' program before not getting the interest he'd hoped for. Ryba was drafted by Green Bay in the eighth round of the USHL Phase I Futures draft when he was eligible at 16 but chose to go to a college with hockey instead of playing as an amateur in the top junior league.
He played for the AAA Chicago Young Americans club hockey team in high school during which time he also played tennis four years and qualified for state doubles as a senior with Dylan Wiemers. During hockey season, he made the three-hour-plus trip to Chicago, with he or his dad, Wojciech, driving four times a week, often getting home after 1 a.m.
"It was tough, but we got through it," Kacper said. "I definitely feel like I took it a lot more seriously than some kids, considering the sacrifices that I've made."
Now, Ryba is spending his time hitting pucks in the basement and studying as a kinesiology major, who plans to eventually attend grad school and become a physical therapist.
Education tops his priorities, but hockey remains a possibility after college.
"I talked to one of my old coaches, and he said if I keep playing really well at Illinois, I could go pro in Europe or something and figure it out from there," Ryba said. "That's a Plan 'B'. If it happens, great, I'd love to do it before grad school or something. But if it doesn't, that's OK, too."
The way this season ended left a bitter taste in his mouth, but it has created an added hunger for next season.
"I'm sitting at home right now just thinking about the next time I can skate," he said. "I'm texting all my teammates. … We're all just waiting to get a sheet of ice just to play for fun. For the love of the game."
Be the first to know
Get local news delivered to your inbox!