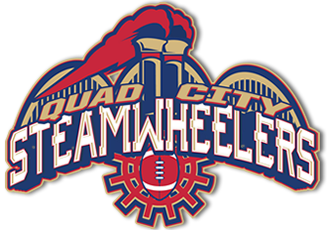 GREEN BAY, Wis. — The Quad City Steamwheelers suffered a bad case of deja vu Friday night.
For the second straight weekend, the local Indoor Football League squad saw a winnable game snatched away in the final seconds by the Green Bay Blizzard.
This time, the hosts converted a fourth down on a long pass to set up a short, tie-breaking scoring strike with 8.7 seconds remaining to claim a 53-47 decision over the Wheelers at Wisconsin's Resch Center.
Green Bay (4-2) rallied with a pair of final-minute touchdowns last weekend at the TaxSlayer Center to wriggle away from the Wheelers (2-4), who have dropped three straight heartbreakers heading into next week's bye.
The game-winning, 5-yard touchdown catch by KeShawn Taylor followed B.J. Hill's leaping grab between two Q-C defenders on a fourth-and-short from midfield. A bad snap on the extra point kept alive Q-C's hopes of winning in regulation, though.
After the ensuing kickoff went out of the end zone, Q-C had a chance, only 30 yards from a tying score.
However, replacement rookie running back Zavier Steward took a short check-down pass in the flat, and instead of trying to get out of bounds to stop the clock, zig-zagged crossfield before getting tackled to end the game.
The finish was a bitter pill for the Wheelers, who rallied from a 34-20 deficit just before halftime despite suffering an empty second-half possession on a drive that included first-and-goal from the Green Bay 7.
The Wheelers also missed a field goal and extra-point kick, and misfired on a pair of two-point conversion attempts, besides coughing up a rouge point on a kickoff return that failed to get out of the end zone.
Green Bay also missed a field goal, plus a pair of PATs, and suffered a bad snap to scuttle a third.
Steward followed that scoreless possession with a pair of short TD runs in the fourth quarter, the last coming before a successful two-point conversion by Steward to knot the contest at 47 with 43.3 seconds showing.
Steward also caught a first-quarter TD pass, one of four on the night by E.J. Hilliard. The Q-C quarterback also scrambled for another score on the first possession of the second half to get the Wheelers within 34-33.
Davenport Central grad Keyvan Rudd was on the receiving end of two long scoring strikes. Carlos Wiggins caught the other Hilliard TD toss on the final play before intermission.
The first quarter alone was the exact opposite of last weekend, when both offenses struggled.
The Wheelers scored TDs on their first three possessions to match their old af2 rivals for a 20-20 tie early in the second period.
However, a pair of sacks derailed Q-C's next possession, which ended with a missed field goal, and allowed Green Bay back-to-back touchdowns for a 34-20 lead with 56 seconds remaining before intermission.
The Wheelers answered on the last possession before halftime, though.
Wiggins snared a 2-yard TD pass with no time on the clock after the final six seconds included a pair of Quinton Pedroza TD receptions that were negated, first by an offsides penalty after a replay review, and then an inadvertent whistle on the next snap.
Hilliard also was stopped short on a last-second scramble, but officials ruled the Q-C quarterback down with a half-second remaining to allow for the Wiggins score.
The Wheelers host the expansion Tucson Sugar Skulls on Saturday, April 20.
Be the first to know
Get local news delivered to your inbox!