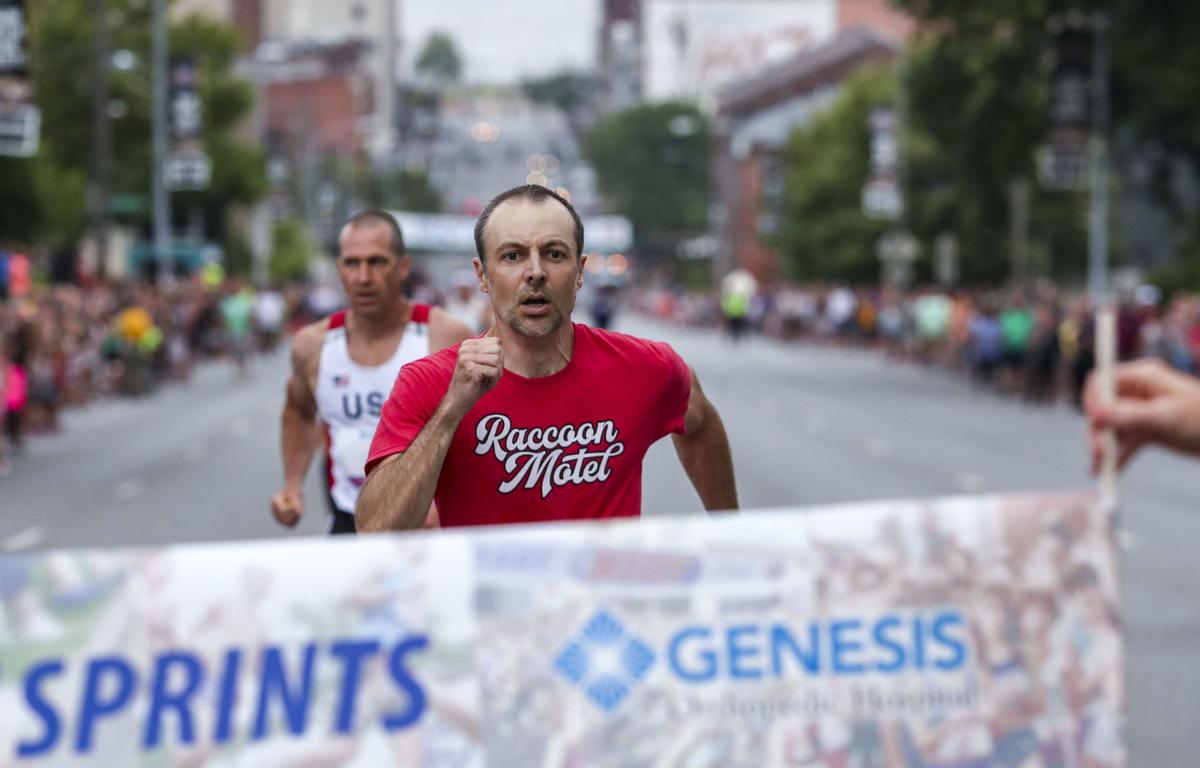 Ed Froehlich remembers exactly where the idea began.
As a kid in the 1950s, he and his family lived briefly in Des Moines and he recalled that there was a local event in which neighborhood kids staged their own little track meet on the city streets.
"There were people lined up on both sides and they're running the 100-yard dash, and they were doing it barefoot and I still remember that it was so exciting because the people in the city came out to watch it," Froehlich.
"It was just a neighborhood thing but it was a lot of people and a lot of excitement."
Froehlich filed the moment away in the back of his head for four decades or so.
When the long-time director of the Quad-City Times Bix 7 was looking for something new to add to Bix weekend in 2001, he went to his memory bank and made a withdrawal.
That's how the Brady Street Sprints were born.
The event, sponsored this year by Genesis Sports Medicine, will be held for the 20th time Thursday night as the traditional kickoff to a weekend of running activities.
Runners of all ages from around the Quad-Cities and beyond will sprint a quarter mile up Davenport's steep and iconic Brady Street Hill in an attempt to win relatively small amounts of prize money and loads of bragging rights.
Froehlich, who has handed off the race director duties to Michelle Juehring, said the sprints very quickly became his favorite part of Bix weekend, even above the traditional Saturday morning seven-mile race.
"It's really caught on," he said. "It's just flooded with people. Fifteen minutes beforehand you wonder if people are going to come out and then it floods. People are lined up all the way down the street. It's really exciting."
As with other aspects of Bix weekend, the sprints have evolved through the years.
In the early days, they were held on Friday night after the Arconic Jr. Bix 7 and Froehlich said they once were postponed by weather until Saturday morning prior to the main race.
In 2005, he had the great idea of running the event later in the evening and bringing in Musco Lighting to illuminate that quarter-mile stretch of Brady.
"It was going to be so neat because it was pitch black and we had these lights," he said. "But we had these shadflies that came down and swarmed the lights, and the runners were running and they were getting in their faces.
One participant described it as "running into a cloud of bugs."
"We only did that the one year," Froehlich said. "If that would have worked, that would have been a great tradition."
Gary Roberson, who has helped oversee the sprints for 18 years, has vivid memories of the Musco fiasco. He also remembers that the first year he was involved with the event, Assumption student Chelsea Kazcmarek arrived at the last minute after competing in a different athletic event.
"She jumped out of a car with her softball pants on and won women's open," Roberson said.
In the beginning, there were only four sprint races: The men's and women's open and the men's and women's masters.
In 2003, high school relays for both boys and girls were added with the high school kids having the chance to earn money for their schools.
"Over the years, the sponsors have given high schools about $40,000," Roberson said. "That's a nice little deal for their track club or their booster club or whatever they choose to give the money to."
A corporate relay, involving the employees of local businesses, was added in 2005. In 2014, the 30-39 age group races were added for both men and women along with a relay for companies that are sponsors of various aspects of Bix weekend.
The sprints themselves have had several different sponsors through the years. This is the first year for Genesis Sports Medicine.
"Over the years the Brady Street Sprints have provided some of the most exciting competition of Quad-City Times Bix 7 weekends," said Dr. Jose Armendariz, the group's medical director. "Genesis Sports Medicine is proud to help showcase our area athletes in this unique event."
The nine races will begin at 7 p.m. Thursday and, as always, will be televised locally on KWQC.
Qualifying for the sprints is held in conjunction with the weekly Thursday night Bix at Six training runs. This year, the qualifying was done on Perry and Pershing streets, but the final show will be on the 54-foot wide expanse of Brady.
Roberson said that although runners such as Marek Wensel, Jen Paul and Kathy Evanchyk have dominated their respective age groups through the years, he is expecting some close battles Thursday.
"Every race should be competitive," he said. "We've got some new people this year that ran well during the trials. We'll see what happens."