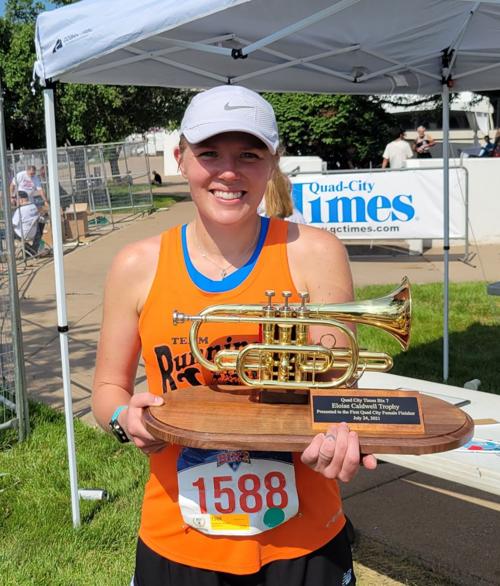 With three children under the age of 6, Kelsey Allbaugh has been a spectator at the Quad-City Times Bix 7 the past several years, cheering on her husband.
The 30-year-old from Bettendorf made her Bix 7 debut Saturday morning and left with a shiny brass cornet trophy.
In hot and muggy conditions, Allbaugh completed the seven-mile race through the streets of downtown Davenport in 46 minutes, 43 seconds to claim the Eloise Caldwell Trophy presented to the fastest female Quad-Citian.
"The heat was a factor, obviously, and the fifth mile was a little rough," Allbaugh said. "Other than that, I was just trying to stay within my means."
Pleasant Valley incoming freshman Grace Boleyn, a 14-year-old, was the second female from the area to cross in 47:01. Bettendorf's Morgan Meseke was third in 47:38.
Jen Paul, a seven-time Caldwell winner, finished in just over an hour.
Originally from Rosemont, Minn., Allbaugh said it took a while for her to adjust to the summer humidity in the Quad-Cities.
"I've gotten used to it now, but when I first moved here, I would melt in the heat," she said. "Minnesota was a lot cooler. I've gotten better as we've been here now for six years."
Allbaugh met her husband, Devin, a former Pleasant Valley running standout, in college at Minnesota State-Mankato.
The second grade teacher at Riverdale Heights in the Pleasant Valley school district said she runs approximately 45 miles per week. She is training to run a 10-mile race in the Twin Cities later this fall.
"Throughout the day, I have 24 kids in front of me and then three kids at home," she said. "Running is my sanity and my me time.
"We're very busy, but I'm really lucky. Devin and I make time for each other to run."
Allbaugh has run the course on multiple occasions during the Bix at 6, a set of training runs available for participants in the month leading up to the race.
"It is completely different racing it," she said. "The hills are a little rough."
She had Devin pushing her throughout the race.
Devin, a 2007 Iowa state cross country champion for the Spartans who started his collegiate career at Iowa State before transferring to Minnesota State, crossed the finish line a second in front of his wife.
"We always think each other can do more than we intrinsically think we can do," Allbaugh said. "He told me (Friday night), 'I want you to run fast.' After that tough fifth mile, he just said, 'Alright, time to regroup and let's go.' 
"It was nice to have him out there."