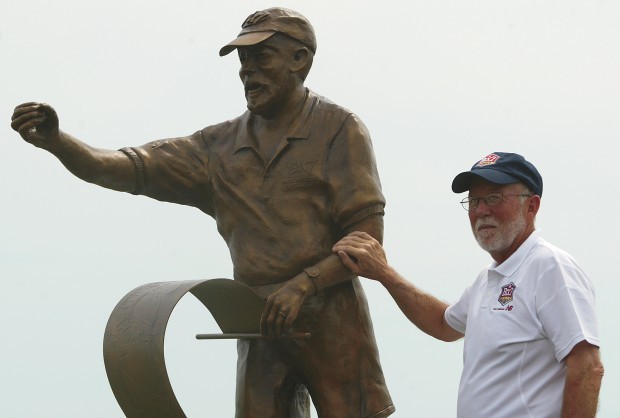 Anthony Famiglietti is familiar with the rich history of the Quad-City Times Bix 7.
He has heard about the warmth of the community and the elite makeup of the field.
The course upon which the race is run? Not so much.
"I haven't heard that much about it," said Famiglietti, who is regarded as one of the favorites in today's 35th running of the Bix 7. "I think the people who have run here keep quiet about it because they don't want the rest of us to know how tough it is. They think maybe we'll think it's not that bad and then we'll feel a little worse when we get into it."
Famiglietti took a look at the course early Friday so he has some idea of what he's facing. He knows that he'll be running either uphill or downhill for the full 7 miles.
"It's an interesting course. It's the way road races should be," he said. "I like the distance. It's a good distance."
The runners will be competing today for the U.S. 7-mile championship and an expanded purse. The winner receives either a new car or $12,500, up from the usual $10,000.
Famiglietti is not alone in his unfamiliarity with the terrain. Three-fourths of the elite entrants in the 8 a.m. race never have run Bix before.
That could give a distinct advantage to the few who have been here. As Famiglietti explained, those runners "know how to manage their energy."
"The harder the course, the bigger the hills, the more it helps to have run it before," noted Bill Rodgers, who won the Bix in 1980 and '81 and will be running it for the 30th straight time today. "To me, it's definitely an advantage.
"But most of the people here are on an even plane. Almost none of them have run it before."
The one guy among the favorites who has done Bix is Meb Keflezighi. The 2004 Olympic silver medalist won the race in 2002, the last time it served as the American championship, and he has run it three other times.
"I know Meb has been here at least once before, and he's a smart guy to begin with," said James Carney, one of several top contenders who pointed to Keflezighi as someone to watch.
"After you've done a race like this once, you know where to push and where to just let gravity take control," Carney added.
Keflezighi said he's hoping he'll have the crowd on his side since he's a familiar face and yes, he thinks his knowledge of the course could help.
"But the experience of running the hills means nothing if you're not fit," he said.
He figures Famiglietti, Carney and fellow 2004 Olympian Dan Browne will give him all he can handle.
Many expect Famiglietti, a two-time Olympic participant in the steeplechase, to be the frontrunner even though he's never even been to Iowa before and has never run a 7-mile race.
"I've taken a break from the steeplechase and am trying some different races," Famiglietti said. "I went to the (Gate River) 15K in Jacksonville, which was a new distance for me, and I did the 5K in Carlsbad and just missed the American record by a couple of seconds. I've been jumping around to different distances, just having a good time."
The women's race should be equally competitive with 2008 Olympic marathoner Magdalena Lewy-Boulet, former Missouri star Serena Burla, former Duke runner Sally Meyerhoff and 20-year-old prodigy Ilsa Paulson all having a shot at winning.
Organizers of the Quad-City Times Bix 7 often give a navy blue Bix cardigan to people who have volunteered to help with the race for 25 or more years.
On Wednesday night, at the annual sponsor's dinner, they gave one to Joan Samuelson for all her years of participating in the race.
Samuelson had been sitting there in a sleeveless dress in the ballroom of St. Ambrose University's Rogalski Center apparently thinking they had the air conditioning turned up a bit too high.
"I'm really honored and now I'm finally warm,'' she said as she slipped on the sweater.
"I thought it was cold back home in Maine but I was cold here in the Quad-Cities for the first time I can remember.''
Samuelson and Bill Rodgers, the two legendary runners who were the first to be immortalized with statues in Bix Plaza, were asked what kind of times they expected to run today.
"What did I run last year?'' Samuelson asked. "I would take that again.''
The 52-year-old former Olympic gold medalist ran the race in 42 minutes, 36 seconds a year ago, breaking the course record for the 50-over age group.
"I'd like to do a little better than last year," he said.
For many years, John and Ed Antao of Davenport have hosted a post-Bix party for the African runners who come to town for the race.
The Antaos speaks Swahili, and their home has become a comfortable refuge for runners from Kenya and other nations.
With this year's race serving as the American championship for 7 miles, there are no Kenyans. They're having the party anyway.
"We're really hoping Meb will be able to come," John Antao said, referring to Meb Keflezighi, a naturalized U.S. citizen who was born in the African nation of Eritrea.
There was only one late withdrawal from the elite field for the race. Kathy Newberry, the track and cross country coach at William & Mary and a top-flight distance runner, pulled out because of an illness.