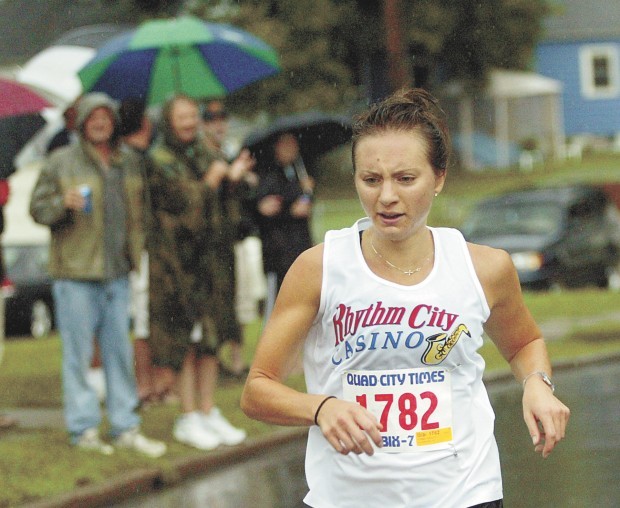 Race organizers eagerly anticipated the showdown.
Ashley Kamba dreaded the prospect.
Whatever the viewpoint, that neck-and-neck battle to the finish never materialized in Saturday morning's 36th running of the Quad-City Times Bix 7.
The 24-year-old Kamba stayed out of the big-name frontrunners' sights until it was too late. She cruised to a record win in the Rhythm City Casino Race for the Jackpot, clocking in at 30 minutes, 30 seconds, a full 2:25 ahead of Bix winner Ryan Hall.
"Definitely, I was scared," Kamba said. "I didn't want to have him come right around the turn because I knew I wouldn't have anything left at the end to kick.
"I was just going to go run my race and try to keep my pace."
The steady mindset yielded a $3,600 payday.
As the Jackpot runner, Kamba started the race with a lead from a fixed point, predetermined 2.4 miles into the 7-mile course as officials attempted to create an exhilarating chase down Third Street in Davenport.
But Kamba, a Wisconsin native and Davenport resident, had huffed her way to Brady Street while Hall was back on Kirkwood Boulevard.
The fastest any of the past six Jackpot runners had finished was 30:57 - three years ago. But that year, Christy Lazaridis ran only 4.3 miles. Kamba, who tried to coax race director Ed Froehlich into a larger head start, also surpassed the best mark for margin of victory, previously held by Lazadaris at 1:18.
Kamba's victory made Jackpot females 3-for-3. Overall, five of seven contestants have come away winners.
"I didn't want to be the person that lost by 4 minutes or whatever," Kamba said. "There was a lot of pressure. It's just the hype of the whole thing.
"I didn't want to lose in front of all those people."
Hall never had a shot at tracking down Kamba and barely caught a glimpse of her.
"Not 'til I came across the final turn," he said. "I was glad she beat me. If I could at all help, I didn't want to beat her.
"I didn't want to take her money."
Kamba, who traces her running days back to middle school, ran the Bix each of the past two years. Last year, she finished in 52:07 and in 2008 in 53:35.
This year's Bix nearly passed her by.
Working as a massage therapist, Kamba had twice requested Bix weekend off since February and had been denied both times. Then the Jackpot offer came through, an invitation she initially was reluctant to accept because of the attention.
"I think things mellow out now," Kamba said. "I'm glad I did it. I enjoyed it, and it was an awesome experience."
Be the first to know
Get local news delivered to your inbox!