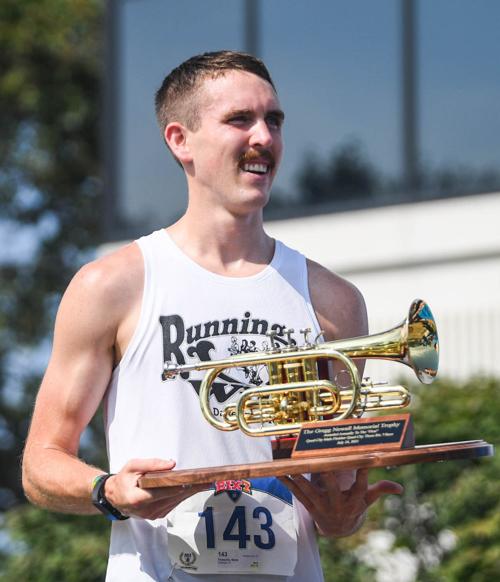 Steve Froeschle was never serious about running in high school. He went to college at St. Ambrose University and did not even run recreationally.
In the past five years, running has evolved into a passion for Froeschle.
The 27-year-old from Davenport had his crowning achievement in the sport Saturday morning at the Quad-City Times Bix 7.
Froeschle claimed the Gregg Newell Trophy as the "fastest male Quad-Citian." He navigated the seven-mile course through the streets of downtown Davenport in 37 minutes, 19 seconds. He was 18th overall in a field of more than 5,500 competitors.
"I never thought this would be something that was achievable," Froeschle said. "I always knew of the Newell Trophy when I was younger as something the Hird family always won. It became an annual Hird award.
"I didn't consider myself one of the fast guys until recently."
Froeschle finished about a minute ahead of his brother, Dan, as the top local male.
"Dan is who motivated me to get into running," Froeschle said.
Froeschle, a Davenport Assumption High School graduate, has run the Bix on numerous occasions. In 2017, he decided to run his first marathon — the Quad-Cities Marathon.
"It was 90 degrees and horrible," Froeschle said. "I walked the last six miles. At that time, my dad said I bet you'll never do another one of those because of how it was and how poorly it went.
"I've done five since then."
Froeschle, who works for an insurance company in Davenport, ran in Grandma's Marathon in Duluth, Minn., last month.
"I had a moonshot goal of qualifying for the Olympic Trials in the marathon," he said.
He was on pace for the 2 hour, 19 minute cutoff through the first half of the race before fading in the second half. It still ended up being a memorable day as he proposed to his girlfriend after the race.
Froeschle felt there was an outside chance he could compete for the Newell Trophy on Saturday. One of his training partners, Devin Allbaugh, had an ITB injury and didn't make a serious push for it.
"He ran with his wife, so I knew it could be there for the taking," Froeschle said. "I kept it in the back of my mind, but it wasn't my main goal."
He plans to put the brass cornet trophy he received in his office.
"This will definitely be the centerpiece," Froeschle said. "It definitely is more elegant than anything else I've ever won."