Saturday July 29, 2017 at 8 a.m.
You and me, Bix 43!
This year Bix will host the USA Track and Field 7 mile American National Championships. You and your friends and neighbors can run alongside the best American athletes including our own Bill Rodgers, Olympic Gold medalist Joan Samuelson and Olympic Silver Medalist Meb Keflezighi.
Join the mass of runners and walkers as you brave the hills and experience the thrills of Bix 7. KWQC-TV will broadcast your journey on live TV! Once you have conquered the course, celebrate your victory at the best-ever post-race party.
I will be there, will you join me?
Premier Buick GMC Dealers Presents:
2017 Prize Money
The Quad-City Times Bix 7 is one of the largest non-marathon prize purses in the U.S! Thousands in cash will be awarded.
Same prize structure for both men and women: First Place – $12,500 Cash
Special awards are presented to the top 10 finishers for both the men's and women's divisions. Special awards are also presented to the top three Masters' Division (41+) finishers for both men and women.
Categories are: 15 and under, 16-19, 20-24, 25-29, 30-34, 35-39, etc., ending with the 80+ category. Each category will be first through fifth place for both men and women.
Participants Receive:
The Official 2017 Quad-City Times Bix 7 Dri-FIT Race Shirt
Free Commemorative Poster
Yearly award pin for 2, 5, 10, 15, 20, 25, 30, 35 & 40 years
Publication of name and official finish time in the Quad-City Times
Official printable Cerificate of Participation with official finish time and ranking available online
Walmart's Greatest Post Race Party
4 FREE Bix at 6 training runs for registered runners
VERY IMPORTANT! NUMBER ASSIGNMENTS
ALL COMPETITORS will be assigned to a color group based on estimated 7-mile finishing times for proper positioning at the starting line.
Please be accurate: A slower runner who gets ahead of faster participants at the starting line creates a severe hazard. Properly assess your time and list it accordingly. Runners not supplying estimated times will be placed in the slowest running group!
Walkers: there is a separate area for walkers.
* Top Seeded Elite Runners: Runners expecting to be seeded in the fastest group are required to attach written verification (i.e. copy of printed race results or finisher certificate), that they have run a 10,000 meter time under 33:00 min/men or under 38:00 min/women within the last year.
Elite entries sent without written verification will be put in a slower group. Elite entries are mailed to a special address:
Bix 7
1225 E River Dr, Ste 230
Davenport, IA 52803
Bix Hotline
To reach the Bix Hotline call the Quad-City Times information center at (563) 383-2489
Premier Buick GMC Dealers' High School Challenge
Be the first male or female high school runner from Iowa or Illinois to cross the Bix 7 finish line and the Premier Buick GMC Dealers will present a check for $1,000 to your high school! Simply sign up for the Bix 7 and provide the name of your high school in the registration area. You could win your school $1,000!
Run the Quick Bix
Swiss Valley Farms is proud to sponsor the Quick Bix, a two-mile fun run or walk up the famous Brady Street hill. It starts at the same time as the seven mile Bix 7. You decide on race morning which route you want to take. The Quick Bix is a fun and festive way to do the Bix. The course is lined with live bands and other entertainment. You'll have a great time and get to participate with over 15,000 others as we "Run with the Best." Sign up now! Everyone will be timed using the Chrono Track® Timing System, sponsored by Swiss Valley Farms. Your name and time will appear in Sunday's Quad-City Times newspaper.
Isle Casino Hotel Bettendorf Beat the Elite
An event where anyone has a chance to cross the finish line first! All Bix 7 entrants who register for the Bix 7 before June 14, 2017 will be eligible. Isle Casino Hotel Bettendorf will draw at random a name from those registered. This person will be given the opportunity to race and beat the overall winner of the Bix 7 road race. The person selected will be given a head start, 2-3 miles, possibly more, depending on the needed handicap to make the event competitive. If the chosen runner "beats the elite" to the finish line, he or she will win …$2,500! 
Awards to the fastest male and female runners in the Quad-City area!
First male runner will receive the Greg Newell Memorial Award, named after the only Quad-City area runner to have won the Quad-City Times Bix 7 in 1979.
First female runner will receive the Eloise Caldwell Award, named after Quad-City area runner Eloise Caldwell who was a nationally ranked masters runner for many years and one of the only two female runners in the first Bix 7 in 1975.
Brady Street Sprints
It's an uphill battle! Are you up for the Brady Street Sprints?
The race is exactly a quarter mile climb, steeply ascending Brady Street hill. Ten races highlight the evening. Two men's and women's open races (29 & under and 39 & under for each), two Masters' races (40 & over, men's and women's), High School relays (boys' & girls'), Bix 7 Sponsors Race (Bix sponsors only) and the Corporate Challenge Race (any Quad City company may recruit the fastest runners they can find). The finals will be televised on KWQC with cash prizes for top finishers. Time trials take place during the first three Bix at 6 training runs - 7 pm at 5th and Brady Street. The top 3 finishers each night will make it into the final round, which will take place at 7 pm on Thursday, July 27, 2017.
Participant or spectator – these are events you'll want to be part of.
Iowa American Water Bix at 6 Training runs
The Iowa American Water Bix at 6 training runs start at 6 p.m. on Thursdays -- June 22, June 29, July 6 & July 13. If you have registered for the Bix, join the hundreds that train every Thursday on a safe and secure course. It's a Bix tradition!
Special note: Runners who register at one of the training runs or volunteer will receive a special "Bix at 6" t-shirt FREE. Training runs are free only to registered participants! The start line is at the intersection of 4th and LeClaire Streets. Parking is in the Quad-City Times parking lot.
Best of Bix Costume Contest
Walk or run - let's have fun! Great prizes awarded for the Costume Contest. Contest takes place in the Quad-City Times parking lot after the race. Contest sponsored and hosted by 101-3 KISS-FM and Q106.5.
Walmart Post-Race Party
Celebration time begins after the race and Walmart knows how to throw a party! After you cross the finish line, make your way to the Quad-City Times parking lot. Walmart, along with our other great sponsors, will be waiting with food, fun and beverages.
Scott County Regional Authority All-City Challenge
Which city runs the Bix 7 the fastest? Last year Davenport won the "All-City Challenge." The award is compiled by taking the 5 fastest men and women from each city. These times are divided by 10 to get the average time of all 10 runners from each city. Then we'll name the fastest city. The Scott County Regional Authority will present the traveling "Nancy Kapheim Memorial Trophy" to the winning city's mayor.
Cedar Graphics 2017 Bix 7 Poster
Each participant will receive a commemorative 2017 Quad-City Times Bix 7 poster, a wonderful reminder of all the fun and enjoyment of participating in the race. Presented by Cedar Graphics.
Cornbelt Running Club
Cornbelt Running Club, a nonprofit organization promoting health and fitness through running and walking, is the host of the Quad-City Times Bix 7. As part of its commitment to the local community, Cornbelt supports many area charitable events and programs. The Quad-City Times Bix 7 is a major financial partner of the Cornbelt Running Club.
Honoring Our Local Veterans
One of four Americans at the end of life is a veteran of military service. You can help Genesis Hospice honor area veterans by making a donation to the "We Honor Veterans Program'' when you register for the Bix 7. This national program, led by the Veterans Administration and hospice care providers across the country, honors veterans nearing the end of life by celebrating their military service. In their final days, many veterans have a story to share.
"We Honor Veterans'' ceremonies are an opportunity to recognize veterans while also giving them the chance to share their personal stories with their loved ones. Veterans receive an honorary pin, a certificate and a chance to bring closure to a significant chapter in their lives. Your donation will help provide recognition ceremonies for veterans at the end of life and also make it possible for hospice nurses to accompany veterans in hospice care on Honor Flights.
With your help, it's never too late to give a veteran a hero's welcome home.
Blakeman Engineering proudly presents FREE entry for Active Duty U.S. Military
To celebrate our American Pride, Bix 7 is inviting all active duty military and active duty reserve forces to enter for FREE. Complete the entry form, enter your military ID number where indicated and mail your entry to us. You must pick up your packet in person at the Bix 7 Expo and show your military ID.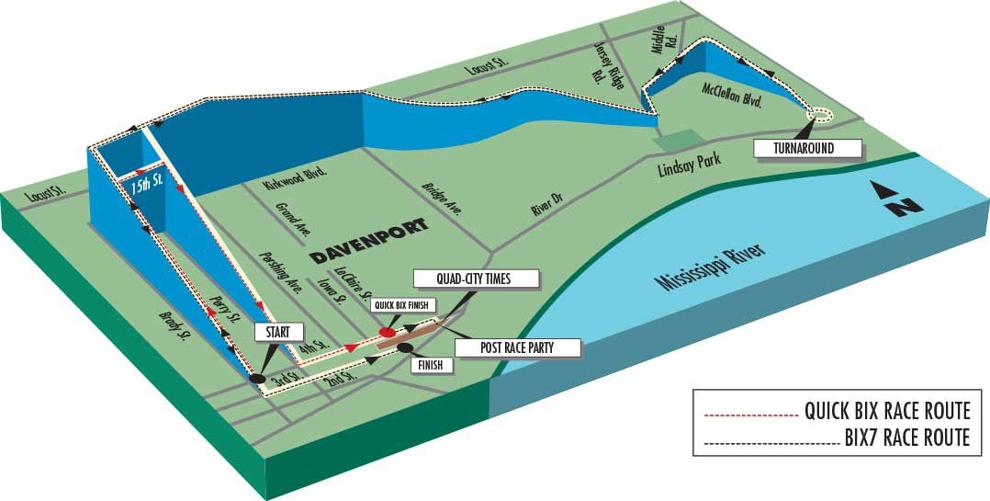 2017 Quad-City Times Bix 7 & Quick Bix Race Course
USAT&F-certified seven-mile course starts and finishes in Davenport. This year the finish line is at 3rd and Iowa Streets, where the Bix 7 Finish Line Party will be held.
The course includes two severe hills, one right at the beginning.
Water is available at seven stations along the course.
Showers are available at the Davenport Family Y, 606 W. 2nd St. Towels provided, cost $5.00
SPECIAL NOTICE: Due to the nature of this type of event, no refunds will be made if for some reason the event would be canceled. For the safety of all participants, wheeled vehicles are NOT allowed (i.e. baby strollers, roller blades, bicycles, etc.). Wheelchair participants are allowed to compete.