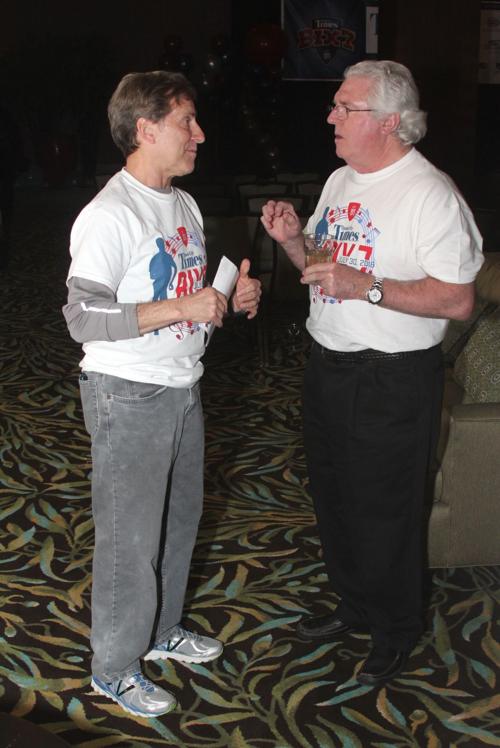 In 41 years of recruiting and overseeing volunteers for the Quad-City Times 7, Jeff Bassman has dealt with a lot of things.
The number of volunteers needed to handle the race through the streets of Davenport has risen almost nonstop through those years, ballooning from a small gathering of running pals to a huge community celebration with an international presence.
There has been all sorts of adversity thrown into Bassman's path at times, but there never has been as much uncertainty as there is for this year's 47th annual race, scheduled for July 24.
"It's kind of unpredictable this year for everyone because we don't know how many people we're going to need,'' Bassman said.
Because of the COVID-19 pandemic, the Bix 7 was run on a virtual basis last year with runners and walkers doing their own race at a time and place of their own choosing, then logging in their times online.
The situation has improved enough this year that people will be able to get back out and run up the Brady Street Hill in person on Saturday morning, but they also have the option of still doing a virtual race, if they want.
"We're kind of in uncharted territory …'' Bassman said. "We've survived floods, weather, hot weather, cold weather, thunderstorms and everything. But we've never envisioned what we had to go through last year with basically closing everything.''
As a result, Bassman still isn't clear on how many volunteers he needs and what he is going to need them to do. He admitted he may not have a clear picture until the week of the race.
At its peak two years ago, the Bix 7 required nearly 5,000 volunteers to coordinate and orchestrate the race and the ancillary events that go with it.
It likely won't take quite that many this year, but Bassman still is trying to recruit as many people as he can, especially since there was a considerable turnover in volunteers when long-time race director Ed Froehlich turned the reins over to Michelle Juehring in 2019.
Anyone interested in volunteering can sign up by calling a 24-hour hotline at 563-383-5353 or online at bix7.com/getinvolved.
"I'd rather have too many instead of scrambling at the last minute,'' Bassman said.
"Due to the dual type race with both virtual and physical, we can't guarantee that everybody is going to be put on a committee or on the committee that they want to be on,'' he added. "We don't know. It's just more up in the air.''
One thing that is new is that anyone volunteering to help with the Bix 7 will need to sign a waiver, simply as a precaution.
"We've never had to do that before,'' Bassman said. "I understand it. We probably should have had them sign something a long time ago just in case something happened.''