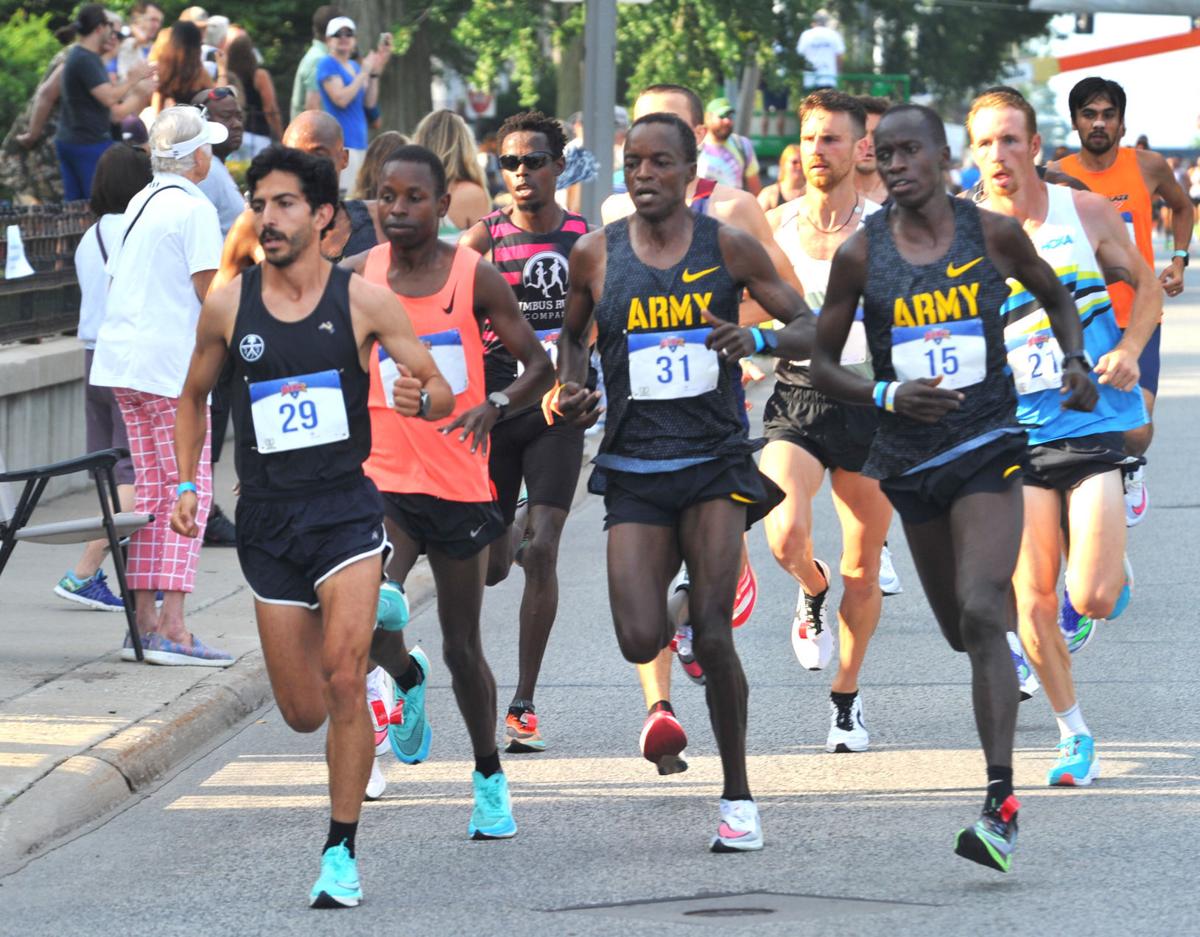 For competitors in Saturday's Quad-City Times Bix 7, it felt like old times on the seven-mile course through the streets of Davenport.
And that in itself felt great.
Frank Lara, who led his first-ever Bix 7 for the first six miles, joined long-time Bix 7 participants Bryan Glass and Dan Lawson in appreciating the energy and enthusiasm the crowds brought to the race.
"This was the first time in a long time that things have felt like they used to," Lara said. "The people along the course, the music, you could feel the way the community embraces this race."
As more races return to in-person competition after going virtual during the COVID-19 pandemic last year, crowds are slowly returning to line the course as well.
An Aledo native and two-time Bix 7 men's masters champion, Lawson welcomed a little noise along the course.
"It felt like a Bix again," Lawson said.
Glass, a Geneseo native who won the men's masters division, said Saturday was the first time since running the Bix 7 in 2019 that he competed in a race where there were noticeable crowds along the course.
"The people who come out, they make a real difference with the support they give everybody," Glass said. "I didn't know what to expect, but the people were out there and it was great."
Lawson and Glass said plentiful water and volunteer support as well as music along the race course were also reflective of another Bix 7 tradition, a well-organized race.
And all of that wasn't the only hint that things are getting back to normal at the Bix 7.
"The heat and humidity, that's Bix, too," Glass said.
Veteran efforts: Glass won the men's masters race for the fifth time since 2014.
The 47-year old who now lives in Springfield finished in 38 minutes, 10 seconds to claim first place among runners age 40 and over by 3:50 over Trent Corey of Vancouver, Wash.
"The way it warmed up, it was a challenge out there," Glass said.
Kate Maurer of Urbandale, Iowa, won the women's masters race for the first time. The 49-year old finished in 48:29, five seconds in front of runner-up Jennifer Vande Vegte of Sioux Center, Iowa.
Hot start: A 78-degree temperature at the race's 8 a.m. start combined with 82% humidity made this the hottest start for a Bix 7 in 15 years.
The last time it was that warm at the start of the race was in 2006, when the starter's pistol went off on a 79-degree day with 84% humidity.
Saturday's temperature equaled the third-warmest start for a Bix 7, topped only by an 83-degree day in 1997 and the 79-degree start in 2006.
Different perspective: With Michelle Juehring overseeing her first in-person Bix 7, longtime race director Ed Froehlich enjoyed things from a different perspective Saturday.
"It's a lot easier just watching it all play out," Froehlich said. "It's a little warm, but it's a great day."
Froehlich said one thing did not change with his transition from race director to spectator.
"The starting line, it was as exciting as always, and that started with Jack Carey singing 'God Bless the USA' as he always does. That really sets the tone for the whole day," Froehlich said.
Only one: Given the heat and humidity, all-but-one age-group record remained intact following Saturday's race.
The only men's age-group winner to top a previous record in the era since current age groups were used came in the 80-and-over men's division.
Frank Bay of Milan finished in 1 hour, 7 minutes, 21 seconds. The 81-year old's time topped the previous mark of 1:08.49 set by Herb Townsend of Naples, Fla., in 2018.
Repeat the feat: While there was no in-person Bix 7 in 2020 because of the COVID-19 pandemic, that didn't stop three men's entries from repeating as champions in the same age group they won in 2019.
Rick Torres of Elizabethtown, Ky., won the 55-59 men's age group for the second straight Bix 7 and even managed to cut time from his effort two years ago. Torres finished in 43:50 after finishing in 44:21 in 2019.
Joseph Reda of DeForest, Wis., repeated in the 65-69 men's age group and Angelo Rinchiuso of Decatur, Ill., repeated in the 70-74 age group.
Davenport's Janelle Swanberg won a second straight age-group title in women's competition, although she accomplished that in two different age groups. She won 65-69 division in 2019 before graduating to the 70-74 age group for this year's race.