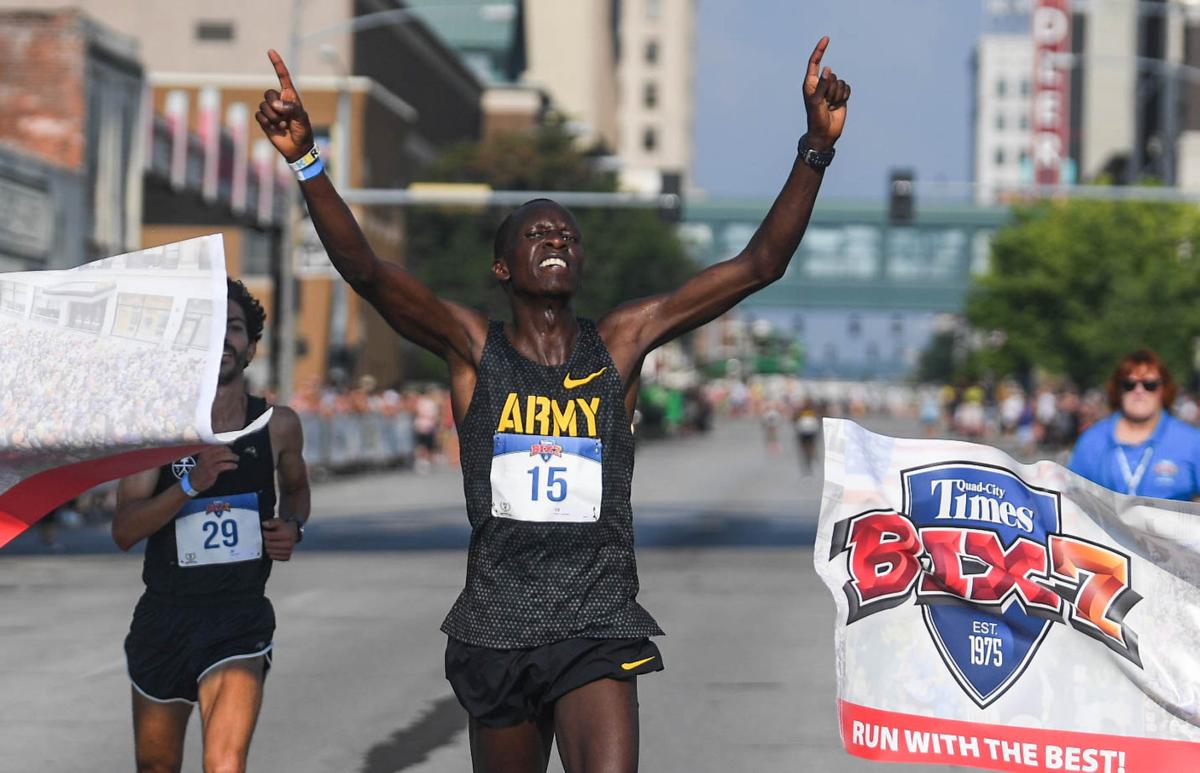 The 34-year-old native of Kenya who now makes Colorado Springs his home won his third Quad-City Times Bix 7 on Saturday, holding off Frank Lara in a sprint to the finish.
Korir pulled ahead with a little over a mile remaining and crossed the finish line in 32 minutes, 48 seconds to edge Lara by one second for first place and the $5,000 prize presented to both the men's and women's winners in the 47th seven-mile run through the streets of Davenport.
"Experience and training," Korir listed as the difference makers in his winning effort. "I trained well for this race."
Korir, who also won the Bix 7 in 2013 and 2015 in addition to finishing third in 2018, appreciated the pace Lara set as he took an early lead and maintained it.
Building on a strong performance at the United States Olympic Trials in the 10K, Lara watched Korir slip ahead a little over five-and-a-half miles into the race.
"At the end, he was able to hold off every move I made," Lara said. "I tried to put together one last burst with around 50 meters to go and I felt like I was gaining on him, but I didn't quite have it. It was his day."
Lara noticeably made one last attempt to catch Korir as the race neared its Third Street finish line but was unsuccessful in catching him in what turned into a brief sprint toward the finish line.
Korir said his previous Bix 7 experience taught him how to the approach the final stretch of the race.
"With two miles to go, I was ready for the downhill and then the flat that comes with the last turn," Korir said. "I knew it was time to go faster, to put myself where I wanted to be."
Korir moved in front of Lara at around the six-mile mark and never trailed again.
"It was a good race. Frank really pushed it, ran a strong race," Korir said. "He set a good tone."
Korir's winning time on a hot, humid July morning was the 10th-fastest time for an American runner at the Bix 7.
A former NCAA champion for Iona and 2016 Olympian for the United States, Korir welcomed the race's downhill elements as it approached the finish.
"I like the hills on this course and I knew that to be where I wanted, I needed to run the downhill fast and smart," Korir said. "It was good to me today."
Lara, a former Furman All-American and United States 15K champion from Boulder, Colo., started quickly and held that advantage for much of the race.
"I got off to a good start. About a mile in, I looked around and I was in front so I figured I might as well keep going, see where it could lead," Lara said. "I just kept pushing."
That push kept Lara in front of a pack that included Korir and eventual third-place finisher Augustus Maiyo among a group of around a half-dozen runners as the race neared the three-mile mark.
He continued to maintain a margin on the long, steady incline on Kirkwood Boulevard as the race moved toward the five-mile mark.
Lara led, while Korir and Maiyo started to work their way in front of the rest of the pack.
A 10th-place finisher at the Peachtree Road Race in Atlanta on Independence Day, Maiyo felt he ran a strong race.
"I felt good, was out there with the group of two, three guys, but in the last two miles, things started to separate," Maiyo said. "They pushed it, and I didn't have anything left."
Maiyo, a Kenyan native who also lives in Colorado Springs, said Lara set an aggressive pace.
"He ran well," said Maiyo, who finished in 33:07.
Collin Bennie of Charlottesville, Va., finished fourth in 33:18, with Scott Fauble of Flagstaff, Ariz., taking fifth in 33:39.
The top six finishers and seven of the top nine were American runners, unique in recent years when the Bix 7 is not a USA national championship race.
Lara said while he didn't end up with the first-place effort he sought, he found his first-ever Bix 7 experience to be a good one.
"You never run a race you don't want win," said Lara, who earned $3,000 for his runner-up effort.
"That part is a little bittersweet, but this was a cool experience. The crowds, the music along the course, there was a lot of energy that made it an exciting event."
Korir fed off of that energy as well.
It all played into him becoming the one of only three men to win more than two Bix 7 titles, joining five-time winner John Korir, who is not related to this year's champion, and three-time champion Silas Kipruto in that elite company.
"To win three times, I am so grateful and thankful for that," Korir said.