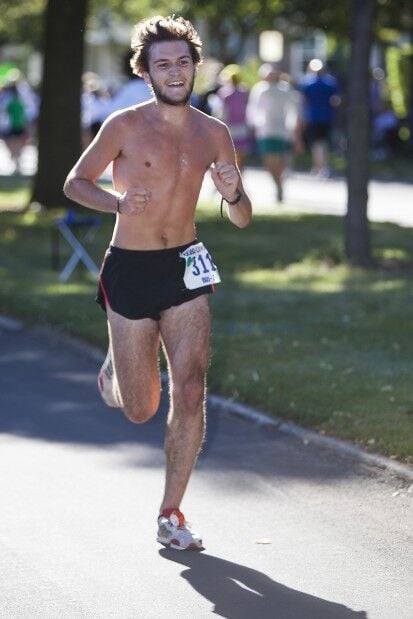 The Quad-City Times Bix 7, which was to be run for the 46th time Saturday, will feature one additional competitive twist this weekend.
Although the race is being held on a virtual basis this year because of the coronavirus pandemic, a team of runners representing the Quad-Cities still will compete against runners from Minnesota and Colorado in the Isle Casino Beat the Elite Team Challenge.
Bix 7 elite athlete coordinator John Tope said a few similar competitions have taken place elsewhere.
Runners from Kenya and Norway engaged in a virtual 10,000-meter race against one another. Coloradoan Jake Riley, who was supposed to be running the marathon in the Tokyo Olympics next week, competed against Utah marathoner Jared Ward in a virtual race. And the same Boulder team that will compete in the Bix event also competed against the Michigan-based Hansons Brooks Distance Project in a virtual race.
"I thought we could see what we could put together, and here we are," Tope said.
Male and female runners representing T.E.A.M. Boulder and Minnesota Distance Elite will run a virtual Bix in their home areas at 8 a.m. on Friday. The nine-member Bix Ice team then will run at 8 a.m. Saturday to see if it can beat the times posted by the Minnesota and Colorado runners.
The local runners will not necessarily run the actual Bix 7 course. Each will run his own race on a course of his or her choosing and certify their time using high-tech timing apps.
"Because of social distancing measures we won't be running as a group ...," said Kyle Ekberg, an Augustana College administrator who is helping to coordinate the Bix Ice team. "In another universe, we would've met and run as a pack, but we didn't want to risk anyone's health and safety."
Since the Boulder team will be running at high altitude, its runners will receive a 60-second deduction from their times, based on a formula devised by former Olympic marathoner Benji Durden, who also is doing a virtual Bix.
The winning teams will be decided by the top two men's and top two women's times. Isle Casino will give a $500 donation to charities designated by the winning men's and women's teams.
The Bix Ice team includes runners who all have won numerous local races and frequently have been among the top 50 finishers in the Bix 7.
In fact, the four female runners all were in the top 30 in last year's Bix 7. Marisa Hird of Naperville, Ill., placed 17th, former Wartburg College All-American Ashlyn Bagge was 19th, Lydia Hocker of Iowa City was 20th and Amanda Edwards of Dubuque was 26th.
The Bix Ice male runners will be Ben Lloyd and Phil Young of Davenport, Devin Albaugh of Bettendorf and Nick and Tim Hird of Naperville. The Hirds, both former Rock Island Alleman runners, ran for the powerhouse North Central College program, Lloyd ran at Iowa after starring for Davenport Central, Young is an Assumption graduate who also attended Iowa, and Albaugh ran at Iowa State and Minnesota State after winning two 3,200-meter state titles at Pleasant Valley.
As with the women, the local men have a history of doing very well in the Bix 7. Tim Hird is a three-time winner of the Gregg Newell Trophy as the top Quad-Cities finisher. He was 43rd in the Bix last year while Nick Hird was 37th, Lloyd was 40th and Young was 88th.
The Boulder team, which has only four members, is led by Riley, who finished second in the U.S. Olympic marathon trials earlier this year, and Tim Rackers, who was eighth in the USATF 15k championships.
The Minnesota team includes Dhruvil Patel, another North Central alumnus who was 12th in last year's Bix 7, and the husband-wife duo of Tyler and Katy Jermann, both of whom ran at Iowa State. Katy, who ran at ISU as Katy Moen, was third in last year's USATF 10-mile championships.
The team also includes a couple of former University of Iowa runners in Kevin Lewis and Meghan Peyton, who is now the men's and women's cross country coach at Augsburg College. Lewis and another team member, Danny Docherty, each have placed in the top 15 in the Bix in the past.