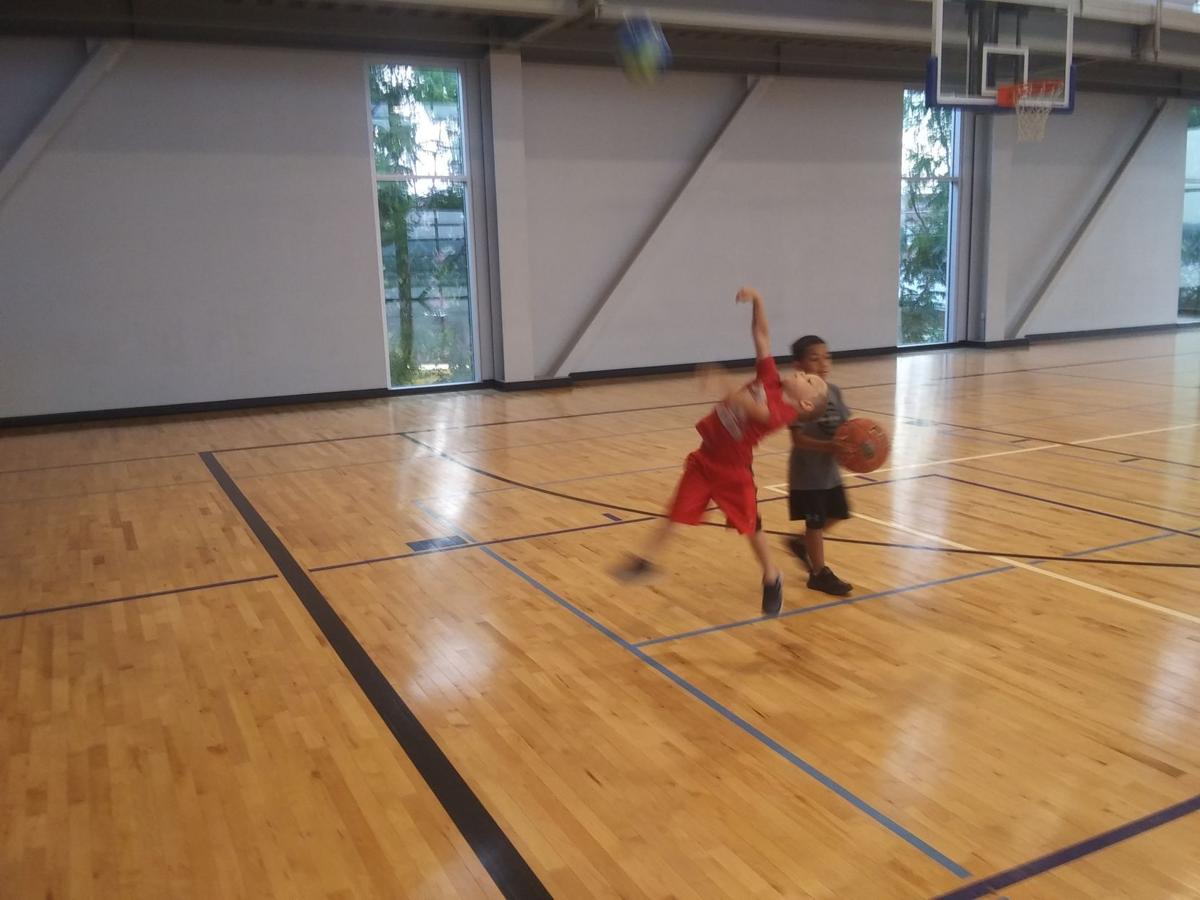 The six kids clustered in the foyer at first, a handful of hesitant, half-sized people, but Laura Luciani, of the YMCA, soon had them in hand and in motion. 
The YMCA of the Iowa Mississippi Valley offered to watch runners' children during the Quad-City Times Bix 7. The program was open to children ages 2 to 12. This bunch was in the low and middle range of that.
"What do you want to do first?" Luciani asked as she herded them into the lobby of the R. Richard Bittner YMCA on Fourth Street, steps from the Prairie Farms Quick Bix finish line.
"Play some games!" a boy shouted.
From there it was like letting a bunch of balls loose in a pinball machine all at once. Imagine watching people at a rave dancing while lights strobe. Trying to make sense of young kids at play is a little like that.
They whirled about a mat trying to catch brightly colored, slowly rotating images of party favors cast by an overhead projector: one foot, two feet, hands beat! The game room filled with the sound of skin and shoe soles slapping and thudding. 
A blue ball caught one boy's eye. He bounced at that for a hot minute, got bored then: Yeet! The ball got hurled into the corner and he's off to do something else. 
Then there was the rattle of plastic toys being inspected and put to use and the tiny rumble of a bright pink push car being driven across the floor. Somebody was always dancing or zooming. 
All of this was happening a the same time. 
Then they boomed up the stairs, heading for the basketball court. Whoops! Too far. Back down one flight and then it was shooting hoops and dribbling — "Watch Me!" — the drubbing of rubber on court and backboard creating its own thunder.
A moment later, the raquetballs got their chance in the closed court next door, they and the kids zinging about like electrons. 
Then downstairs again. More games. Coloring. Chasing those party favors that just refuse to be caught. 
In the midst of all this, Luciani cheerfully looked at her watch.
"We're hoping to have them napping by nine," she joked.