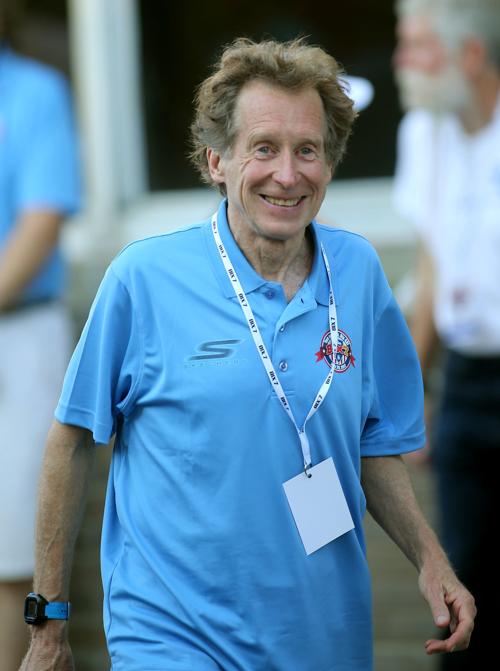 After running in the Quad-City Times Bix 7 for 40 years in a row, you didn't really think Bill Rodgers was going to let a little pandemic stop him from doing No. 41, did you?
The annual run through the streets of Davenport will be done on a virtual basis this year because of COVID-19 with participants doing their own races between July 1 and 25 at a place and time of their own choosing.
Rodgers plans to participate. He wouldn't consider not doing it.
The 72-year-old winner of 22 marathons will run his own 7-mile race somewhere around Boston, probably sometime in the next week or so. But he said he'll miss physically being in the Quad-Cities and seeing all the friends he has made here since first running the Bix 7 in 1980.
"I'll run with the Bix spirit,'' Rodgers said.
"It's just not being there. It's like we're in outer space or something.''
Rodgers already has done a few other races on a virtual basis, events that he has gone back to year after year, just as he does with the Bix. He did Green Bay's Bellin 10k on a virtual basis and also a little race in Staten Island that has brought him back many times through the years.
In August, he plans to do the virtual Falmouth Road Race, the only event he has done as many times as Bix.
He already has identified a route through Boston that he will use for his virtual Bix.
"I thought 'Where is a course like the Bix?' There's not many that are like the Bix,'' he said. "I really don't want to make it as tough as the Bix.
"There is one course I've got that has a pretty big downhill. It's out-and-back and it's about 6 (miles) but I can make it 7. Coming back, you've got to go up one pretty big hill of maybe half a mile or so and then you've got some other pretty good upgrades. I think that will be my Bix, my virtual Bix.''
Rodgers runs with a group of friends a few times a week, but said he likely will do his virtual Bix alone. It will be just him and 40 years of memories.
"I'll be thinking about the Bix and everything about the race,'' he said.
Rodgers said he actually is in pretty good shape right now, better than he sometimes has been at this point in the year.
"I've been running nonstop,'' he said. "I've been running since the winter and I was ready to do all the races. But it's just different mentally. If you love running, you find a way. ''
He said he has not been greatly impacted by the COVID-19 pandemic. He doesn't really know anyone who has been afflicted with the virus.
Probably the biggest consequence is that he hasn't been able to visit his 97-year-old mother, who lives in a nursing home in Connecticut and has been unable to have visitors. He and other family members stay in contact with her via Zoom.
"She's doing OK,'' Rodgers said. "She's pretty feisty.''
He said he thinks it's important for people to try to maintain as normal an existence as possible during these times. Running, he said, is an "anchor'' for the people who do it.
"I think these sports are so key today because COVID is hitting so many people and it's a time when we really need to think about our health a little bit and what does it mean,'' he said "As Benjamin Franklin said, 'Our health is our first wealth.' That's a pretty good quote, isn't it? Old Ben knew.''
Although he will enjoy his virtual Bix, Rodgers already is looking forward to July 2021, when the Bix 7 (and other races) hopefully get back to normal. He'll be able to come back to the Quad-Cities and see all his old friends.
"Runners are always looking ahead,'' he said. "We know the Bix is going to be there and will be stronger than ever next year. It's going to be intense. I want to be there. I've got to do it.''